2018 Materiality Assessment
In our report, a material topic is one that reflects our company's significant economic, environmental and social impacts, or one that could substantively influence the assessments and decisions of our stakeholders, in accordance with guidance from the Global Reporting Initiative. The content of our annual sustainability reporting is determined through a detailed materiality assessment, which is a process for identifying and evaluating the topics that mattered most to our business and to our communities of interest during the previous year and for the near-term future.
Our annual process for determining material topics follows a three-year cycle and involves three steps: identification, prioritization and validation. The first year involves intensive consultation and research to identify a full list of topics that is analyzed by internal experts and external stakeholders and validated by our senior management team. Topics in the mining industry are typically consistent year over year, given the long-term nature of operations. As such, the second and third years build on the results from the first year, and the assessment is updated to reflect emerging issues.
Figure 6: Materiality Assessment Process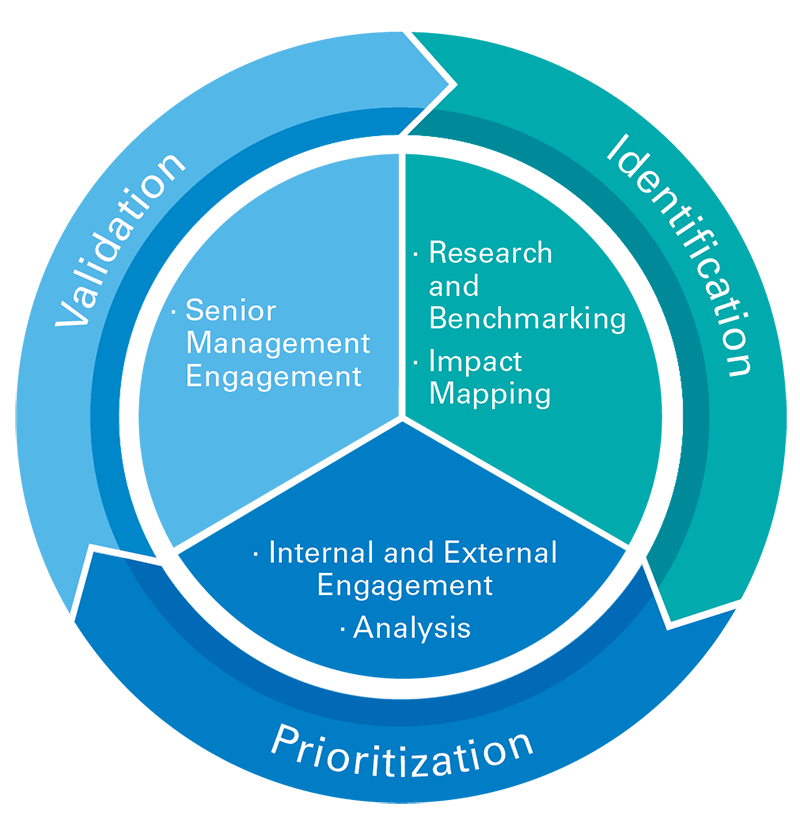 In 2018, we built on the comprehensive materiality assessment we conducted in 2017. This year, during the identification phase, we conducted research on trends in our industry and evaluated internal strategy documents, including the five-year plans for each of our business units. We also took existing information from our 2017 comprehensive assessment, which mapped our impacts and the boundary of our material topics across the value chain. In this phase, we identified 26 potentially material topics.
During the prioritization phase, we conducted one-on-one interviews aimed at further understanding the current state of sustainability within the company, and our outlook for sustainability. We conducted interviews with 37 internal and external stakeholders and used more than 20 inputs such as industry reports, survey results and internal workshops to determine the most significant risks and opportunities facing our business and our communities of interest in the past year. During interviews with internal and external stakeholders, a range of topics were identified as most significant in terms of risks and opportunities in 2018. For internal stakeholders, the most significant topics were health and safety, energy and climate change, water quality and management, and community relationships. For external stakeholders, the topics considered most significant were energy and climate change, biodiversity, and water quality. In this phase, 11 topics were identified as potentially meeting our threshold for reporting.
During the validation phase, we engaged several members of the senior management team. We recognize that many of our material topics are interrelated; for example, a topic such as Relationships with Indigenous Peoples is connected to several other topics, such as Biodiversity and Reclamation, Water Stewardship and Human Rights. For a detailed description of each topic and to see how the topics interconnect, view our interactive materiality matrix below.