Investors
As one of Canada's leading mining companies, Teck is committed to responsible mining and mineral development with major business units focused on copper, zinc, and steelmaking coal, as well as investments in energy assets.
Our Purpose
To provide essential resources the world is counting on to make life better while caring for the people, communities, and land that we love.
Our Businesses
Copper
A significant copper producer in the Americas and a global leader. With QB2 as our cornerstone, we have one of the best copper production growth profiles in the industry.
Zinc
One of the largest producers of mined zinc globally. We own one of the world's largest fully integrated zinc and lead smelting and refining facilities.
Steelmaking Coal
The world's second largest seaborne exporter, with some of the highest-quality steelmaking coal required for the low-carbon transition.
Energy
Interest in an oil sands mine that produces a low-carbon intensity product with a wells-to-wheel emissions intensity equivalent to that of the average barrel of crude oil refined in the U.S.

Transformational Growth Rebalances Portfolio to Copper
QB2 at full production rebalances our portfolio to copper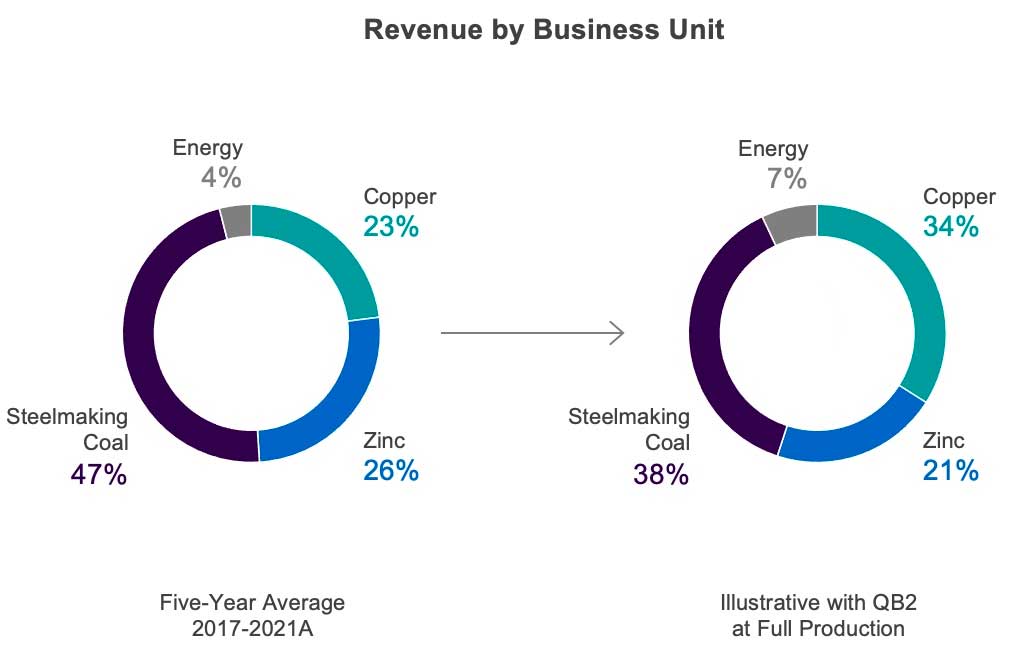 Revenue by business unit "Illustrative with QB2 at full production" assumes historical five-year average commodity prices 2017-2021A of US$186/t HCC, US$3,10/lb Cu and US$1.24/lb Zn.
Our Investment Proposition:

Copper Growth
Driving long-term sustainable shareholder value through:
Industry leading copper growth
QB2 expected to double consolidated copper production by 2023

Portfolio of attractive projects has the potential to add 5x current copper equivalent production
Rebalance portfolio of high-quality assets to low-carbon metals
Proven operational excellence and RACE21TM underpins cost competitiveness

Average 5-year adjusted EBITDA margins of 41% (2017-2021)

Maximize cash flows to fund copper growth
Balance growth and cash returns to shareholders
Investment grade balance sheet

Rigorous capital allocation framework distributes 30-100% of available cash flow to shareholders

Approaching cash flow inflection and potential increase in cash returns
Leadership in sustainability and operational excellence
Sustainability embedded into operations and strategy

Industry-leading sustainability rankings

Among world's lowest carbon intensities for copper, zinc and steelmaking coal production

Net-zero operations by 2050
Footnote: Adjusted EBITDA margin is a non-GAAP ratio. For more information on our use of non-GAAP financial measures and ratios, see "Use of Non-GAAP Financial Measures and Ratios" in our most recent Management Discussion & Analysis, which is incorporated by reference herein and is available on SEDAR at www.sedar.com