In this section, we report on protection of water quality and improving water use efficiency.
Protecting Water Quality
Throughout the year, we continued to identify risks to mitigate possible impacts and plan for potential changes in our water management strategy. For example, our Elk Valley operations modified blasting products and practices in order to reduce the potential for nitrate to enter the watershed.

We continue to implement the water quality management measures required by the Elk Valley Water Quality Plan, which was approved in the fourth quarter of 2014 by the B.C. Minister of Environment. We completed commissioning of our first water treatment facility under the Plan at our Line Creek Operations in early 2016. In 2016, we spent approximately $40 million towards implementation of the Plan and, in 2017, we expect to spend approximately $100 million.
In 2016, we identified an issue regarding selenium compounds in effluent from our water treatment facility at Line Creek Operations. This issue does not pose an immediate risk to aquatic or human health, but we believe it affects the overall effectiveness of the facility. We are working to assess the potential implications of this issue and, if associated environmental effects are identified, modifications to operating parameters or facilities may be required. Design and construction of future water treatment facilities will incorporate the lessons learned.
Improving Water Efficiency
We track water data for all our operations; however, we assess water reused/recycled both company-wide and for our mining operations only (excluding Trail Operations, which is our zinc and lead smelting and refining facility). Water reused and recycled, expressed as a percentage of new water use, was 150% at our operations. At our mining operations only, this percentage was 391%. This means that our mining operations recycled and reused the same water approximately four times on average before returning that water to the environment.
Table 42: Water Used, Reused and Recycled in 2016
| | | | | |
| --- | --- | --- | --- | --- |
| | 2016 | 2015(2) | 2014 | 2013 |
| Total water inputs (m3) | 346,462,000 | 323,993,000 | 391,398,000 | 442,839,000 |
| Total water outputs (m3) | 353,414,000 | 334,149,000 | 388,667,000 | 430,870,000 |
| New water use (m3) | 294,287,000 | 113,116,000 | 128,355,000 | 132,261,000 |
| Water reused/recycled (m3) | 117,930,000 | 181,127,000 | 206,246,000 | 197,294,000 |
| Water used ÷ water recycled (%)(1) | 150 | 160 | 161 | 149 |
(1)The percentage calculation is based on the total volume of water reused/recycled divided by the total volume of new water used.
(2) 2015 figures have been restated due to availability of new data in the 2016 reporting period.
Trail Operations accounts for nearly 25% of our total water use and about 62% of our new water use. Almost all of the water used at our Trail Operation is for cooling purposes, meaning that it does not come into contact with chemicals or reagents, and the only change it undergoes is a slight increase in temperature before being returned to the environment within regulatory approved conditions. Therefore, we track this water separately from the data for our mining operations.
Figure 21 shows the new water and total water use trend. In 2016, our total water use trend remained relatively constant compared to 2015, even as 11 of our operations increased their production. These results reflect our continued efforts to improve our water use intensity.
Figure 21: Total and New Water Use (m3)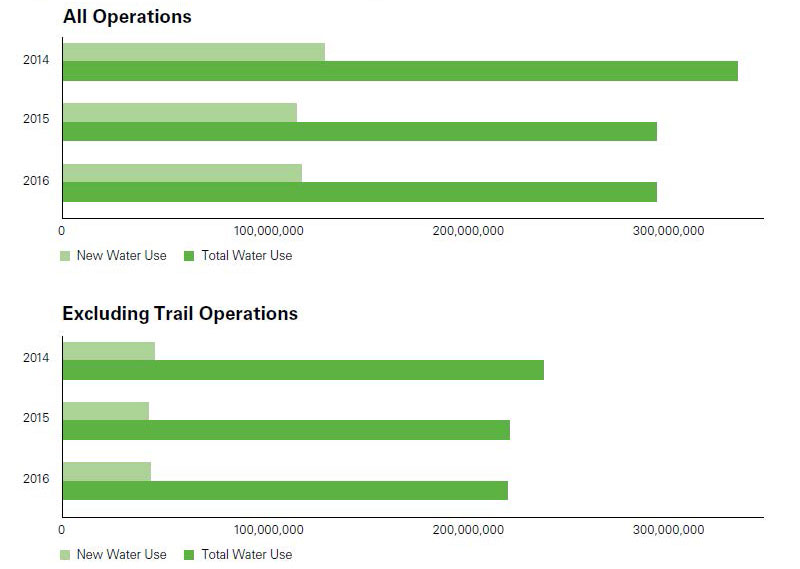 Water Intensity
We benchmark our water performance on the basis of a new water use intensity metric, as shown in Table 43. Our new water use intensity is defined as the annual volume of new water used per unit of material processed by our steelmaking coal and base metals, milling and flotation operations. These water metrics allow us to more consistently evaluate our water performance independent of variations in annual precipitation and ore grades. In addition, these metrics will allow us to inform water management decisions and improvement projects at our operations.
Table 43: 2016 New Water Use Intensity
Coal Operations(1)

Milling and Flotation Operations(2)

2016

2015

2014

2013

2016

2015

2014

2013

New water use, in million cubic metres (m3)

15.5

14.9

15.4

16.6

28.0

27.2

29.5

30.7

Quantity processed or produced

38,871,000 tonnes of raw coal processed

35,302,000 tonnes of raw coal processed

40,424,000 tonnes of raw coal processed

38,941,000 tonnes of raw coal processed

72,262,000 tonnes of ore processed

69,186,000 tonnes of ore processed

72,565,000 tonnes of ore processed

67,357,000 tonnes of ore processed

New water use intensity

0.40 m3/tonne of raw coal processed

0.42 m3/tonne of raw coal processed

0.38 m3/tonne of raw coal processed

0.43 m3/tonne of raw coal processed

0.39 m3/tonne of ore processed

0.39 m3/tonne of ore processed

0.41 m3/tonne of ore processed

0.46 m3/tonne of ore processed
(1) Includes Cardinal River, Coal Mountain, Elkview, Fording River, Greenhills and Line Creek operations.
(2) Includes Red Dog, Pend Oreille, Highland Valley Copper and Carmen de Andacollo operations.
Our 2016 new water use intensity metrics showed that our coal operations improved relative to 2015, and that the performance of our base metal milling and flotation operations remained constant relative to 2015. The improvements at our coal operations can be attributed to a continuous focus on reducing our water use intensity across the business unit.
For Quebrada Blanca and Trail operations, an intensity metric for new water is not meaningful because the volume of new water used at both operations is largely independent of the quantity of material processed or produced. Therefore, we assess our water performance at Quebrada Blanca Operations and Trail Operations based on the absolute amount of new water used.
Table 44: New Water Use (in million m3) at Quebrada Blanca and Trail Operations
| | | | | |
| --- | --- | --- | --- | --- |
| Year | 2016 | 2015 | 2014 | 2013 |
| Quebrada Blanca (water used primarily in metal leaching process) | 1.6 | 1.7 | 1.7 | 1.9 |
| Trail (water used primarily for cooling) | 72.8 | 71.7 | 81.6 | 83.4 |
Figure 22: Company-Wide 2016 Water Balance in million cubic metres(1),(2),(3)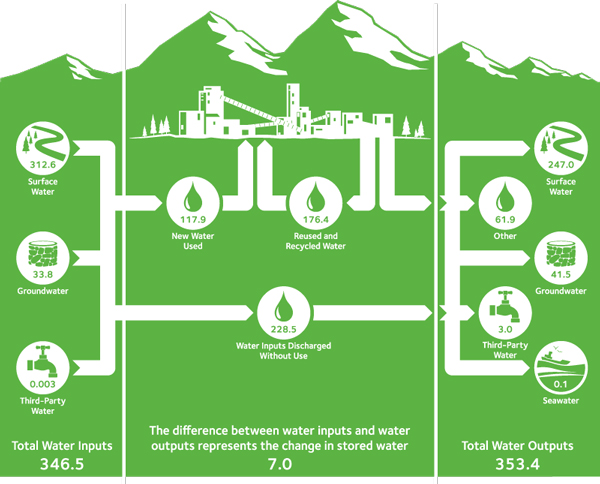 (1) Surface water includes water from precipitation and runoff that is not diverted around the operation, and water inputs from surface waterbodies that may or may not be within the boundaries of our operations. While we do not actively collect rainwater for use in our operations, the quantities of rainwater and runoff inputs to our operations constitute the majority of our surface water inputs, except at Trail Operations.
(2) Third-party water is water supplied by an entity external to the operation, such as from a municipality. We do not use wastewater from other organizations.
(3) Other includes water that has evaporated and/or is not recoverable (e.g., contained in ore concentrate or tailings).
How to Read a Water Balance
Water inputs: Water that is received, extracted or managed (i.e., collected and conveyed through an operation's infrastructure). Water inputs exclude water diverted away from operational areas. Water inputs can come from:
Surface water

Groundwater

Seawater

Third-party sources
Water use: Water used for mining or operational processes, such as for mineral processing, cooling, dust control or truck washing. Water use includes:
New water: water that is used for the first time
Reused water: water that is reused without being treated between uses
Recycled water: water that is reused and is treated prior to reuse
Water discharged without use: Water that enters the site, not used in any processes and is released to the receiving environment
Water outputs: Water that is returned to the environment or is not available for further use after it has been collected, used, treated or stored. The destinations for water outputs include:
Surface water

Groundwater

Seawater

Third-party entities

Other
Water accumulated: The difference between water inputs and water outputs. This is indicative of the change in the stored water volume at our operations.