In the section below, we report on our engagement on actual or potential impacts, on our progress in implementing the SMART Framework and feedback, and on grievances and disputes.
Engagement on Actual or Potential Impacts
All operations, projects and exploration sites continue to demonstrate a high level of performance on engagement with COIs to address current and emerging issues and to maximize opportunities that provide strategic value for both Teck and those communities. We demonstrate our performance in community engagement by reporting on impact management, general feedback received, grievances and disputes.
Activities across the mining life cycle may result in a range of social, economic and environmental impacts, both positive and negative. Examples of specific impacts experienced at our operations in 2016 and how we responded are discussed in Table 36.
Table 36: Selected Actual and Potential Impacts from Our Activities and Major Engagement Activities in 2016
Actual or Potential Impacts on Communities from Our Activities

Sites

Major Engagement Activities

Community: concerns about Red Dog Operations (RDO) activities related to subsistence resources, traditional land use, and community health

Red Dog Operations

We established a working group and developed a Memorandum of Agreement with the community of Kivalina. The objective of the Memorandum of Agreement was to establish clear expectations and activities related to community health and promotion of traditional land use and subsistence.

We worked with the Subsistence Committee, which has representatives from NANA, local residents and the mine, to create a safety communication plan for hunting caribou on the haul road, and hired NANA security to improve safety and communications on the road between the port and operation.

Socio-economic: activities related to local taxation

We met with the Northwest Arctic Borough to advance negotiations around a new taxation agreement that supports both the region and the mine.

Environmental: impacts on land and recreational regions

Cardinal River Operations

We hosted an annual meeting with recreational trail users and shared key messages related to proposed reclamation activities, certification plans for the Sphinx Lake area, and progress towards an alternate route to Cadomin Mountain.

Socio-economic/Environmental: impacts associated with exploration activities

We communicated with First Nations and high-priority stakeholders that the company is submitting a Coal Exploration Program for the Mackenzie and Redcap areas of the Cheviot Mine. As Teck consults and engages with Indigenous Peoples and COIs about the exploration program, we will better understand how the program impacts their rights and interests, and how these impacts can be avoided, managed or mitigated.

Socio-economic: impacts associated with closure

Coal Mountain Operations

We continued to engage with the local community to assess social risks associated with planned closure in late 2017 and we incorporated social considerations into the site closure plan.

Environmental/Socio-economic: actual and potential impacts on livelihoods and community well-being due to dust from mining activities

Elkview Operations

We held discussions with individual residents on feedback related to dust, provided information about actions taken to mitigate and manage dust, and established a process for various departments to record all activities that potentially influence dust generation and conditions, or non-operational dust controls.

Socio-economic: impacts associated with expanding operations at Quebrada Blanca

Quebrada Blanca Phase 2 Project

We held discussions with local fishing unions to avoid and mitigate the impacts of our proposed port development. We also held discussions regarding a proposed road bypass with potentially affected communities near the Coposa region.

Environmental/Socio-economic: actual and potential impacts associated with expanding operations at Quebrada Blanca

After submitting the regulatory application for Quebrada Blanca Phase 2 in September 2016, we initiated a public consultation process, building on the pre-submission consultation already conducted.

Socio-economic/Environmental: actual or potential impacts associated with developing a new copper-gold-molybdenum mine

NuevaUnión Project

In collaboration with our joint venture partner Goldcorp, we engaged Diaguita community leaders to establish a process for dialogue on the project and strengthen Indigenous People's participation in the consultation process. Additionally, we continued engagement with local stakeholders on the environmental impact assessment and associated studies.

Environmental/Socio-economic: actual and potential impacts on Indigenous Peoples

Frontier Project

We signed a participation agreement with the Fort Chipewyan Métis Local 125, Fort McKay Métis and Fort McKay First Nation. We also advanced negotiations with other Indigenous Peoples near our Frontier project.

Environmental: actual and potential impacts on the environment

We held workshops in Fort McMurray in July 2016 to introduce Teck's biodiversity management process and to advance the fisheries offset plan, the wildlife mitigation and monitoring plan, and the land access management plan for Frontier.

Environmental: impacts on land and water

Exploration – Turkey

We held meetings with local residents regarding our environmental impact assessment for exploration activities in Turkey.
Feedback, Grievances, Incidents and Disputes
Feedback and grievances are a key source of social information for our sites and corporate teams. In the same way our environment teams monitor environmental outcomes, our community teams monitor positive and negative feedback from our COIs. Having a widely accessible feedback mechanism, and providing effective remedies through this mechanism, is an important way for us to understand our impacts on communities, which in turn allows us to work to minimize negative impacts and maximize positive impacts. In 2016, we completed a company-wide review of feedback mechanisms and began introducing social incident reporting procedures.
Feedback in 2016
In 2016, we received 1,006 instances of feedback through direct feedback mechanisms established across our sites. Figure 17 illustrates a breakdown of feedback received through those mechanisms, categorized into environmental questions and concerns, Indigenous-related concerns, opportunities related to community investment, and our mining activities.
Figure 17: 2016 Total Feedback Received through Feedback Mechanism by Topic Category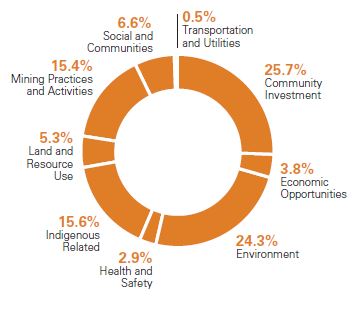 In 2016, we received more community feedback through our mechanisms than we did in 2015 and less than we did in 2014. Feedback levels will vary from year to year for several reasons, including the level of permitting or project activity, which tend to increase the amount of feedback, and community utilization of feedback mechanisms. As practices at our sites improve, this will also improve the extent to which feedback mechanisms are utilized and therefore the amount of feedback received.
We believe that continued proactive engagement with our communities has created more opportunities for COIs and individuals to provide feedback directly to company representatives, which has complemented formal feedback mechanisms. Teck will continue to monitor the performance of feedback mechanisms and engagement processes to ensure that communities continue to have diverse opportunities to engage with and provide feedback to all of our operations, major projects and key exploration projects.
Grievances in 2016
In 2016, of the total feedback received, 140 were considered grievances (classified as level 3 or level 4 feedback).
It is important to note that grievances are reflective of perceived or actual events taking place as a result of company activities, and therefore do not necessarily constitute an actual negative impact or non-conformance event by the company. Teck's practice is that all feedback is acknowledged, assessed and a response is communicated to the complainant, with the goal of providing a satisfactory reply or resolution in a timely manner.
In 2016, our corporate community team worked with sites to review their feedback/grievance management practices. The purpose of the review was to enhance the internal identification, tracking, resolution and reporting of feedback as part of a unified approach to improving social performance across the company.
Figure 18: 2016 Total Grievances Received through Feedback Mechanisms by Topic Category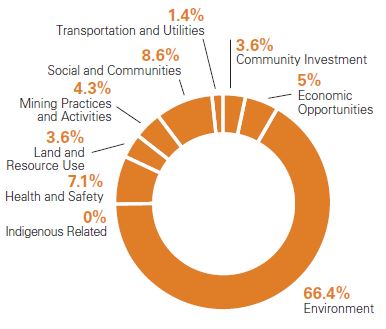 Disputes in 2016
Disputes are considered significant when they cannot be resolved jointly with the complainant, are repeated or widespread, are breaches of law or company policy, are accusations related to human rights or the rights of Indigenous Peoples, or are related to death or serious illness. In 2016, three of Teck's operations experienced significant disputes, which are summarized below.
Red Dog Operations (RDO)
The Northwest Arctic Borough (NAB) severance tax dispute with RDO continued in 2016. RDO continued to work on strengthening the relationship and encourage negotiations. A payment in lieu of taxes (PILT) proposal was collaboratively developed by the NAB and Teck. As of the end of 2016, parties continued to advance discussions on the long-term status of the severance tax ordinance and a potential negotiated solution.
An employee of a Red Dog contractor, NANA/Lynden, was reported to have made insensitive remarks regarding the Kivalina residents' caribou hunt that resulted in significant community concern. RDO community and human resources collaborated with NANA/Lynden and, following an investigation, removed the employee, and issued letters of apology to impacted employees. RDO also expanded training to include more employees and contractors.
Quebrada Blanca
In October 2016, a group of approximately 30 people from a nearby community illegally entered the Quebrada Blanca property to draw attention to local concerns about perceived impacts of the Quebrada Blanca Phase 2 project. The project team is continuing to engage with community members to identify and respond to community issues.
Carmen de Andacollo
In August 2016, residents of Andacollo marched in the street and occupied land owned by Teck, although not actively in use, to raise awareness of housing issues. In response to heightened community concerns, CdA will seek to strengthen its engagement with the community through participation in a local housing commission that has been created to address the issue.
Internal Reporting of Community Incidents
To ensure we are capturing and responding to all community concerns in addition to those raised through our usual feedback mechanisms, we piloted a community incident reporting system with selected sites in 2016. The identification and rapid internal reporting of significant community incidents supports the timely resolution of community concerns, and assists with post-incident analysis and efforts to prevent future recurrence. We expect to continue to roll out the internal reporting system to all sites in 2017.