The safety challenge facing Highland Valley Copper (HVC) seemed straightforward. Develop a plan to eliminate dangerous collisions between heavy vehicles, such as haul trucks, and light vehicles.
The solution, or solutions as it turned out, are complex and took a significant shift in both mine design and employee training. In 2015, Health and Safety Superintendent Aaron Wylie led an analysis of all the high-risk events at HVC between 2012 and 2015 to identify priority safety projects.
"We identified that light-heavy vehicle interaction was our highest risk and we see the most of them out of any high potential event," says Wylie. "Such collisions represented 35 percent of all high-potential safety events."
Tackling the Highest Risk Collisions Head On
Wylie, along with senior management, mine maintenance and mine operations team members, quickly realized that reducing such incidents would require a three-pillared approach.
The first project, completed in the first half of 2017, was planning and building a service road network where light vehicles could get around the mine with minimal interaction with haul trucks. The new network reduced the overall amount of light vehicle traffic in the active mining area, and reduced the number of pit access points from over 14 to just five and the number of haul road crossings from nine to two, thus reducing the overall chance of collisions. Watch Chris Hercun, Senior Environmental Engineer, tour the new service road in the video below.
The second project was to develop and implement a pit licence program that required anyone driving in the active mining area to successfully complete a customized pit driving safety course and get a licence. Anyone without a pit licence is not permitted to drive in this area and the program provides the ability to suspend pit licences for those who fail to follow the mine's rules of the road. The licensing program began in late 2016 and more than 700 employees and contractors have been licensed to date.
Re-design of the Ready Line
The third, and most complex project, involved a complete redesign and reconstruction of the ready line where heavy vehicles are serviced. It's one of the most congested spots in the mine because of its proximity to the crusher, maintenance area and main access point for all major mine facilities.
"Over a five or six-year period we were seeing one or two events every year," says Mark Baker, General Supervisor, Mine Maintenance. "We tried signs, different policies and procedures, and we were still having these close calls."
A solution would require innovative design and significant construction. The goal was to overhaul the maintenance yard to eliminate the key safety risks.
"The most important thing for us was identifying the blind spots on the haul trucks causing a lot of the collisions. There are big blind spots on haul trucks so when they have to go in reverse, there's always a risk," says Wylie. "We needed to re-design the site so that everything just moves forward instead of backing up on its first move."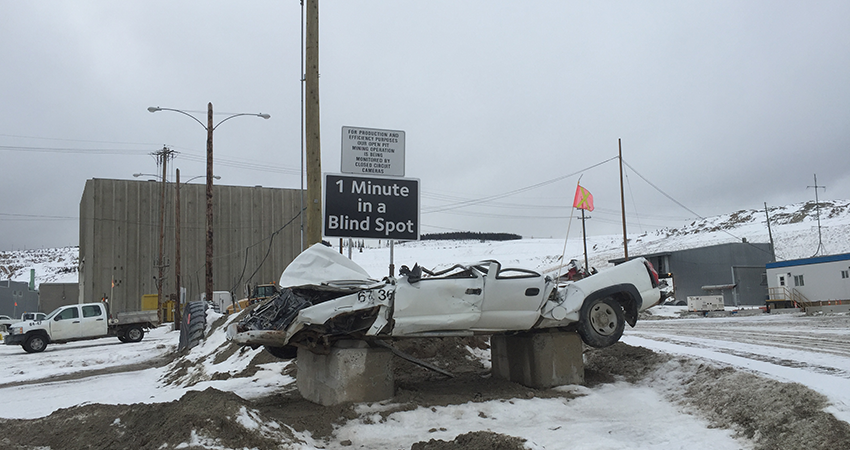 Photo caption: Light vehicles like this one are seen along the service roadway and are a powerful reminder of what can happen if a driver spends one minute in a haul truck's blind spot. Installations like this are helping encourage use of the new service roadway.
Planning began at the end of 2016 and was completed in early 2017 after the winter thaw. The final design included a separate drive-thru lane for down equipment, completely separate from the ready line and separate bays so operators know where to go to pick up equipment when it's ready. It also included a pedestrian walkway, double service lanes so mechanics can move service trucks around easily and meridians made of buried truck tires that separate lanes so there is no chance of collision.
"The Ready Line redesign wasn't a small feat by any stretch but we now have complete segregation," says Baker. "There are tremendous learning opportunities to pass on to other operations. From a design perspective, the best thing you can do is build these into your plans before a shovel hits the grounds. Hopefully this can apply to other operations as well."
Safety by the Numbers
9: Haul truck and light vehicle crossings before new light vehicle network
2: Haul truck and light vehicle crossings after new light vehicle network
700: HVC employees and contractors who are trained and have received a new pit licence
0: The number of haul trucks that have to travel in reverse when leaving on the ready line