We aim to be a leader in water stewardship by moving beyond compliance, towards collaborative water management practices that focus on sustaining and restoring water resources. Our approach to water management is based on three key elements: maintaining water quality, collaborating with our communities of interest to ensure the fair allocation of water, and using water efficiently.
Our commitment to water stewardship is embodied in our HSEC Management Standards and our sustainability strategy. Our Water, Ecosystems and Biodiversity management standard defines our company-wide approach to managing water, including the following basic elements:
Engaging with communities to identify diverse watershed interests and concerns
Developing and implementing water management plans and water balances and site-specific water management plans
Training employees in water management
Collaborating with local and international organizations to contribute to effective water management
In 2013, each of our operations completed integrated water management plans (IWMPs) and site-wide water balances, which are central components of our water management strategy. IWMPs are updated annually in conjunction with the update of each operation's water balance. Each plan also describes how the operation fits into the local watershed and its associated regulatory context.
IWMPs, which were developed as the framework to guide water management activities at each of our operations, describe how water is managed now and in the future. They help us work towards operation-specific objectives and performance, as well as our company-wide 2015 water goals. Specifically, they describe how water will be managed, in order to:
Contribute to meeting our sustainability goals
Provide direction and strategy to address water management risks and challenges
Establish how water management infrastructure performance will be monitored and reviewed
Determine staffing resources that are required for water management
Site-wide water balances provide an understanding of water inputs, of consumption, and of reuse/recycle and discharge volumes at each operation. Water balances are used as a decision-making tool to assess water management alternatives, to evaluate an operation's water management performance and to provide water data for our company-wide reporting.
In 2014, we continued to make progress towards our 2015 water goals. Our operations have identified their site-specific 2015 water targets, and are working towards implementing projects and/or initiatives to meet these targets. Performance of these projects and/or initiatives will be assessed at the end of 2015. Our targets include water quality targets to reduce long-term risks related to water quality through improved water management practices or new treatment facilities, as well as water quantity targets to increase the volumes of water reused.
Protecting Water Quality
Protecting water quality is a key part of our sustainability strategy. Our efforts are focused on keeping clean water clean through a strategy that avoids affecting water quality whenever possible. In order to ensure compliance with applicable standards, regulations and permits, we monitor the quality of water that is discharged from our operations and returned to the environment.
Managing Selenium in the Elk Valley
We are committed to managing water quality constituents related to our mining activity to ensure the health of the Elk Valley watershed near five of our steelmaking coal operations in southeast British Columbia.
The mining process generates large quantities of waste rock that contains naturally occurring substances, such as selenium. Water from both precipitation and runoff flows through these rock piles and carries selenium and other substances into the local watershed. While selenium is an essential element for human and animal health in small amounts, it can potentially impact aquatic health in higher quantities. We are implementing solutions to stabilize and reverse the increasing trend of selenium and other substances in the Elk Valley to ensure the ongoing health of the watershed, while at the same time allowing for continued sustainable mining in the region.
Beginning in the spring of 2013, Teck led a ground-breaking process to develop an area-based management plan to address water quality challenges in the Elk Valley – the Elk Valley Water Quality Plan. The Plan was developed with input from the public, First Nations, governments, technical experts and numerous other stakeholders. Feedback was collected through an extensive three-phase consultation process with the public, Ktunaxa Nation and other interested parties that generated over 160 written feedback submissions. In addition, a Technical Advisory Committee (TAC) provided close to 700 pieces of science-based advice to Teck on the Plan development. The TAC included representation from the Ktunaxa Nation Council, the provincial government, the government of Montana, the Canadian and U.S. governments, and a third-party independent scientist.
The Plan is based on detailed research and study into aquatic health in the Elk Valley and consideration of current and future mining activity, conducted by a world-class team of over 45 Teck staff and expert consultants. We also conducted a comprehensive evaluation of potential effects of selenium on human health and groundwater, which concluded that current concentrations of constituents in water, sediment or fish do not present unacceptable human health risks for these activities.
The Plan sets out short-, medium- and long-term water quality targets for selenium, nitrate, sulphate and cadmium to protect human and aquatic health and our approach to achieving them. This includes a process for ongoing monitoring of the ecological health in the Elk Valley and the effectiveness of the water management options employed. An adaptive management approach will ensure that implementation evolves in step with changing circumstances, monitoring results, and the outcomes of Teck's R&D program, as well as advances in the science and technology available to manage water quality.
The Plan was submitted to the B.C. Ministry of Environment in July 2014 and was approved by the B.C. government in November 2014 as a guide to future regulatory decision-making regarding water quality and mining in the Elk Valley.
Key components of the Plan are:
Water treatment facilities to remove selenium and other constituents from mine process water before we discharge the water back into the watershed. Our first water treatment facility has been constructed at our Line Creek Operations and is going through start-up in 2015
Water diversions to divert water around waste rock dumps to prevent it from picking up unwanted substances; three water diversions have been built to date at our operations (keeping 'clean water clean')
Research and development to improve water quality management technologies and techniques
Monitoring to assess the effectiveness of our strategy, so we can adapt as needed
The implementation of the Plan will initially involve the construction of three active water treatment facilities and diversions to reduce selenium and nitrates in the receiving environment. Previous cost estimates for water quality management contemplated total capital spending of approximately $600 million over a five-year period, including the $120 million already invested to build the facility at Line Creek Operations. In light of the approval of the Elk Valley Water Quality Plan, we expect capital spending over that period to remain in this range.
Promoting the Fair Use of Water
Access to clean and sufficient water by users in our areas of influence is important to us and to our communities of interest. When implementing our water management practices, we consider and engage with other water users in the watersheds where we operate.
We promote the fair use of water at all of our operations. Two of our operations are located in regions where water is scarce, and it has been particularly important for us to consider our neighbours' water needs at these locations. We are implementing various strategies to manage our impacts on local water availability at our Carmen de Andacollo Operation, and at Quebrada Blanca Operations and the associated Quebrada Blanca Phase 2 project.
Looking ahead, we recognize that competing demands in these water scarce regions could result in water resources becoming less available or more costly over time, which could increase operating costs and intensify COI concerns related to water. To manage these risks, we have been developing and utilizing alternative water sources such as seawater and municipal wastewater, and we are engaging with our COIs to collaborate with them on fair water allocation.
We continue to make progress towards reducing our water needs in these water-stressed regions. Our Quebrada Blanca and Carmen de Andacollo operations are maximizing water reuse: 86% of the water used at these sites is from recycled or reused sources, while the remaining 14% of the water used at these sites is from new water. In addition, we are planning to use desalinated seawater for our Quebrada Blanca Phase 2 project in order to protect and conserve local water sources. This water will be pumped approximately 170 kilometres from the coast via pipeline to Quebrada Blanca.
Improving Water Efficiency
We continuously work on optimizing our water use and minimizing our impact. In 2013, we developed site-specific water balances at each of our operations and reported on our company-wide water balance for the first time. Our water balances consist of data on the volume of water input, use, reuse, recycling and outputs at each operation. The company-wide water balance is complex, due to the variability of natural factors such as rainfall, snowmelt and the diversity of the climate where we have our operations. These factors can affect the flows within aquifers and surface water. Understanding our water balance is key to improving water management practices and enabling better decision-making.
Our company-wide water balance for 2014 is shown in Figure 19.
Water Used, Reused and Recycled
We used a total of 334.1 million cubic metres (m3) of water in 2014, of which 128.7 million m3 was new water, and 205.4 million m3 was reused or recycled water. This was similar to 2013, when we used 329.6 million m3 of water, of which 132.3 million m3 was new water, and 197.3 million m3 was reused or recycled water.
We track our water data at both the company-wide and operational levels. Water reused and recycled, expressed as a percentage of new water use, was 160% across the company. At our mining operations only, this percentage was 407%. This means that our mining operations recycled and reused the same water just over four times on average before returning that water to the environment.
Our zinc and lead smelting and refining facility at our Trail Operations accounts for approximately 28.5% of our total water use and 63.4% of our new water use. This water is primarily used for cooling purposes, meaning that it does not come into contact with chemicals or reagents, and the only change it undergoes is a slight increase in temperature before being returned to the environment. Therefore, we track this water separately from the data for our mining operations.
Figure 19: Company-Wide 2014 Water Balance in million cubic metres (m3)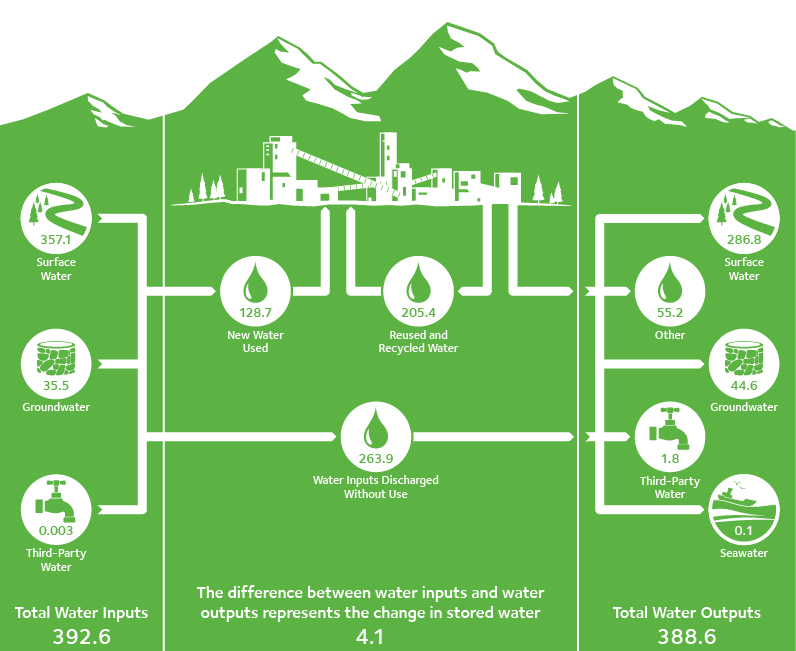 (1) Numbers may not add up due to rounding
How to Read a Water Balance
Water inputs: Water that is received, extracted or managed (i.e., collected and conveyed through an operation's infrastructure). Water inputs can come from:
Surface water (1)
Groundwater
Seawater
Third-party sources(2)
Water inputs exclude water diverted away from operational areas.
Water use: Water used for mining or operational processes, such as for mineral processing, cooling, dust control or truck washing. Water use includes:
New water – water that is used for the first time
Reused water – water that is reused without being treated between uses
Recycled water – water that is reused and is treated prior to reuse
Water discharged without use
Water outputs: Water that is returned to the environment or is not available for further use after it has been collected, used, treated or stored. The destinations for water outputs include:
Surface water
Groundwater
Seawater
Third-party entities
Other(3)
Water accumulated: The difference between water inputs and water outputs. This is indicative of the change in the stored water volume at our operations.
(1) Surface water includes water from precipitation and runoff that is not diverted around the operation, and water inputs from surface waterbodies that may or may not be within the boundaries of our operations. We do not directly collect rainwater for use in our operations.
(2) Third-party water is water supplied by an entity external to the operation, such as from a municipality. We do not use wastewater from other organizations.
(3) Other includes water that has evaporated and is not recoverable (e.g., entrained in the ore concentrate or tailings).
New Water Intensity
We benchmark our water performance on the basis of new water use intensity, as shown in Table 15. Our new water use intensity is defined as the annual volume of new water used per unit of material processed for our coal, milling and flotation operations. These water metrics allow us to more consistently evaluate our water performance independent of variations in annual precipitation and ore grades. In addition, these metrics will allow us to establish new water use efficiency targets that will inform water management decisions and improvement projects at our operations.
Table 15

Our 2014 new water use intensity metrics showed an improvement for our coal operations and our milling and flotation operations relative to 2013. The improvements at our coal operations are largely attributable to Fording River, where a water supply source was changed to a tailings pond, effectively maximizing water reuse. The improvements at our milling and flotation operations are largely attributable to Highland Valley Copper Operations (HVC). In 2014, an increase in water use was required at HVC to support an increase in production throughput. This water was mainly sourced from the tailings storage facility, which is primarily reused water; as a consequence, the quantity of new water used at HVC remained relatively constant in 2013 and 2014.
For Quebrada Blanca Operations and Trail Operations, an intensity metric for new water is not meaningful because the volume of new water used at both operations is largely independent of the quantity of material processed or produced. Therefore, we assess our water performance at Quebrada Blanca Operations and Trail Operations based on the absolute amount of new water used. In 2014, Quebrada Blanca Operations used 1.8 million m3 of new water, a minor decrease from 2013, when 1.9 million m3 of new water was used. In 2014, Trail Operations used 81.6 million m3 of new water, a decrease from 2013, when 83.3 million m3 of new water was used.3
(3) New water volumes in 2013 at Trail Operations have been updated because of a recalculation of this data.