Health and safety is a core value at Teck, and we continued our focus on health and safety performance in 2014. The frequency of high-potential incidents (HPIs) reduced compared to 2013 and total reportable injury frequency was 25% lower; however, our lost-time injury frequency increased by 10%. While overall improvements were made, we were deeply saddened by the loss of two of our team members during the year.
We introduced the Disabling Injury classification in 2014 to better understand the number of injuries in which our team members were unable to perform their full range of regular work duties on their next scheduled shift.
Table 9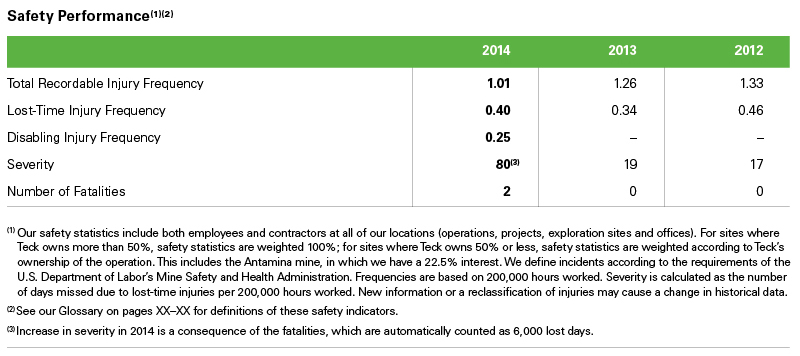 Fatalities
Despite our progress in safety, we are deeply saddened to report that we had two fatalities in 2014. On March 16, 2014, an incident occurred at our Coal Mountain Operations in southeastern British Columbia that took the life of Miles Lorenz, a serviceman and a long-time employee. A separate incident led to the death of Heriberto Rojas in November on an exploration project in Chile. These are tragic incidents and we extend our condolences to their families, friends and co-workers.
The loss of Miles and Heriberto is a critical reminder of the need to constantly improve our management of safety hazards and risks at all levels of our organization. We have comprehensively investigated each incident and are implementing actions to prevent a reoccurrence.
Our Commitment
We believe that all incidents that could cause serious harm to our employees or contractors are preventable. We are responsible for providing a safe workplace by effectively managing workplace risk. We are also committed to providing leadership and resources for managing health and safety to ensure that all employees and contractors have the knowledge and ability to safely perform their duties.
We identify and manage occupational health and hygiene exposures for the protection of longer-term health. We also strive for continual improvement and hold ourselves accountable through verification and reporting of our performance.
We expect all employees and contractors to be leaders in health and safety through identification of hazards and the elimination and control of high-potential risk. We all share in the responsibility for our safety and that of our co-workers. Working together, we believe we can eliminate fatalities and serious injuries in the workplace.
Our Approach
The health and safety of our people is paramount. We have a three-pillar approach – embedding a culture of safety, learning from HPIs and sharing best practices, and operating with excellence – that drives continual improvement and supports our vision of everyone going home safe and healthy every day. Our strategy is to continue to strengthen and achieve a balance between the cultural and technical aspects of our health and safety program – and to ensure that these two streams are complementary with one another.
Safety Culture
We believe that employee engagement through leadership and commitment is the key to achieving our health and safety vision, and we have developed two major initiatives to foster a culture of safety at Teck.
Courageous Safety Leadership (CSL) focuses on challenging existing values, beliefs and attitudes towards safety, and builds commitment from individuals to work safely and foster safe practices at our operations. CSL requires personal leadership and emotional connections from both employees and contractors to drive change, and the program seeks to empower every employee to be a safety leader by playing an active role in their own safety as well as the safety of those around them. Building on the success of the program, we are currently revising and updating the CSL program to align with our High-Potential Risk Control Strategy, and we are developing the next stage of the initiative, which will be rolled out across the company in 2016.
Visible, Felt Leadership (VFL) is another key program designed to foster and demonstrate strong management commitment to safety, and to reinforce our safety principles and expectations, by having management actively engage in meaningful safety discussions with employees and contractors. This program has been designed to encourage management teams across our business units and operations to interact and engage with our workforce on a regular basis to foster relationships and gain mutual understanding of the issues the workforce may be facing, particularly with regard to working in a safe way. Management teams are required to complete a number of site tours each week in order to interact with employees and contractors directly. Given our approach of continuous improvement, progress was made in 2014 to improve the VFL program, including developing a requirements and guidance document to assist our sites with their implementation of the program. In 2015, this guidance document will be rolled out to each of our sites.
An Organization that Learns and Responds
We foster a culture of continuous learning and improvement in safety performance by analyzing HPIs, sharing best practices in safety through employee training and development, and participating with our peers in mine safety working groups, including the Mining Safety Roundtable and the International Council on Mining and Metals.
We aim to continuously improve injury reduction efforts and to improve our ability to identify, control and verify the effectiveness of fatal risk reduction efforts. In 2010, we began tracking HPIs and, in 2012, we recognized the need to standardize our process for identifying their root causes and key contributing factors. In 2013, we evaluated three incident investigation methodologies and selected the Incident Cause Analysis Method (ICAM), which was rolled out across the company in 2014.
We track all safety incidents and classify significant incidents as HPIs, serious HPIs or potentially fatal occurrences (PFOs). Analyzing and learning from these incidents allows us to identify and target actions for high-risk tasks and areas. Once we identify the root causes of PFOs, our operations also conduct a gap analysis and implement corrective actions to help prevent incidents from reoccurring.
High-Potential Risk Control
In 2014, we developed and began implementing a new High-Potential Risk Control (HPRC) Strategy at all business units and operations across our company. The HPRC strategy aims to continue to build our safety culture by focusing our efforts and resources on those events that have the greatest ability to seriously or fatally injure our team. At the heart of the strategy is the evaluation of the procedural, physical and behavioural controls that are in place to prevent serious injuries and fatalities. Based on our safety performance history, we have analyzed those scenarios that pose the highest potential risk to understand where mitigation efforts should be focused.
As part of our emphasis on reducing HPIs, in 2014 we continued to develop and roll out requirements that establish minimum controls for various areas that may result in HPIs, including specific procedures for the following:
Energy isolation and lockout
Heavy mobile equipment and other vehicle interaction
Working at heights
Barricading
Performance
Since tracking of HPIs commenced in 2010, we have seen an overall decrease in HPI frequency (Figure 12). This improvement has been driven by our focus on HPIs and PFOs, on learning from past incidents, and on sharing lessons learned and associated best practices across our company. Equally, while HPI frequency has declined, our operations continue to generate HPIs every year that could have seriously or fatally injured one or more of our employees or contractors, and we continue to focus on improving performance.
Figure 12: High-Potential Incident Frequency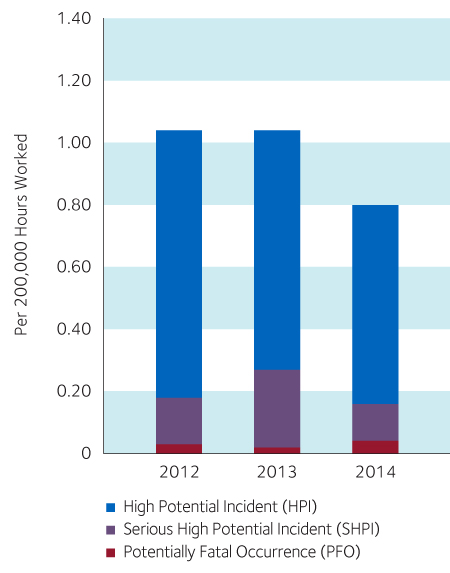 We are committed to investigating all HPIs to comprehensively understand root causes and key contributing factors, and we take actions to prevent HPI recurrences. Using ICAM, we consider the contributing factors at the individual, team and organizational levels that led to each incident. The ICAM approach to incident investigation emphasizes the following:
Establish the facts
Identify root causes and key contributing factors
Review the adequacy of existing controls and procedures
Recommend corrective actions that can reduce risk and prevent reoccurrence
Detect organizational factors that can be analyzed to identify specific or recurring problems
Identify and report on key learnings
Throughout 2014, we continued to provide ICAM participant and facilitator training courses to increase our pool of investigator capacity and capability, as well as ongoing coaching to trained personnel on executing quality investigations. Training and refreshers will continue in 2015 to ensure prompt and effective completion of incident investigations. We are pleased that we have met our commitment to train over 950 personnel in ICAM investigation methodology, and our focus has now shifted to maintaining our pool of capable investigators.
In 2014, we also developed and rolled out requirement and guidance documents to all our operations on the following reporting and investigative tools:
HPI Classification model
HPI Incident Reporting and Investigation Requirements
ICAM flowchart
In 2014, there were eight PFOs, all of which were investigated using ICAM, and corrective actions were developed. The ICAM results are shared with all of our operations in order to facilitate a local gap analysis against the findings to prevent similar occurrences.
Operating with Excellence
Operating with excellence in safety means that we focus on managing high-potential risks by implementing supporting systems that build our culture of safety. These include the identification of fatal risks and associated critical controls, as well as standards, auditing, reporting on leading and lagging indicators, technological tools, and ongoing communications and training.
Our Health and Safety Policy defines our corporate commitment to providing leadership and resources for entrenching core values of health and safety across our company. In 2014, the policy was updated to reflect the greater focus we have today on identifying and controlling high-potential risks, as well as a greater emphasis on the management of occupational health and hygiene for the benefit of longer-term health. Our full Health and Safety Policy is posted on www.teck.com.
Accountability and oversight of health and safety performance rests at the highest level of our company. Health and safety incidents are reported on a quarterly basis to the Health, Safety, Environment and Community Risk Management Committee, which is made up of several members of our executive management team. The Safety and Sustainability Committee of the Board also plays an oversight and governance role in monitoring health and safety at Teck. In 2014, we also formed an executive Health and Safety Steering Committee to provide additional oversight of performance and to evaluate emerging health and safety improvement initiatives.
Health and Safety at Exploration Sites
Exploration activities often occur in remote and rugged locations, and we take special precautions to ensure that our workforce is healthy and safe within these work environments. At each of our exploration offices and project sites, Field Level Risk Assessments (FLRAs) and Job Safety Analyses (JSAs) are conducted to inform our understanding of location-specific health and safety hazards. These inform the development of appropriate management programs, including Emergency Response Plans (ERPs). ERPs are tested periodically, with certain projects running full emergency simulations. We also conduct exploration-specific health and safety training, such as off-road vehicle operations, advanced security training and wilderness first aid.
Occupational Health and Employee Wellness
The occupational health systems and procedures at our operations help prevent occupational illness. These systems and procedures are designed to limit worker exposure to harmful substances and other sources of occupationally related illness or disease. This includes exposure to dust, noise, vibration and hazardous materials. Where appropriate, our operations have education, training, counselling, prevention and risk control programs, as well as committees for managing and minimizing potential occupational exposures and diseases. We will continue to develop our occupational health and hygiene strategy to identify and minimize exposure of employees and contractors to chemical, physical and biological health hazards.
Aligned with our vision statement of everyone going home safe and healthy every day, we are raising the profile of occupational health and hygiene. In 2014, an Occupational Health and Hygiene Committee, consisting of corporate and business unit health and safety representatives, was formed to assist in the development of Teck Occupational Health and Hygiene Principles and to inform strategy development beyond 2015.
In 2013 and into 2014, we developed a company-wide Health and Wellness strategy that focuses on improving physical and mental well-being. The strategy brings together initiatives and resources across the company and builds on work already underway at sites and offices.
In 2014, in addition to conducting several on-site flu vaccination clinics, we continued a voluntary health testing initiative called Know Your Numbers at a number of operations. The value of this program continues to be apparent, as 371 personnel received key data to help them understand their unique health status, which often catalyzes actions to improve personal health.
Building on our Health and Safety Performance
In 2015, we will continue our focus on attaining our Health and Safety objectives. We will continue to implement our HPRC strategy across our business and continue to improve PFO investigation quality. Our goal is to have no repeat PFOs in 2015. Our plans in 2015 include developing leading indicators for health and safety, and augmenting existing efforts by placing a greater emphasis on occupational health and hygiene.​