Introducing our new Water Policy
We have long recognized that water is an important sustainability challenge. Moving forward, this challenge will continue to increase unless we find opportunities to improve our water stewardship and water use efficiency. Our longevity also requires us to be effective water stewards so we can maintain acceptance by the communities where we operate and build trust in the locations where we plan to develop projects. In response to these challenges, Teck's Board of Directors approved a new Water Policy in November 2017 that commits us to apply consistently strong and transparent water governance, to manage water at operations efficiently and effectively, and to collaborate to achieve responsible and sustainable water use.
Protecting Water Quality
Throughout the year, we continued to monitor water quality and implement controls to mitigate risks. For example, we continued the construction of a multi-layer groundwater interception system at Quebrada Blanca Operations, began development of site-wide groundwater models at Highland Valley Copper, Red Dog and Carmen de Andacollo operations, began operation of a groundwater treatment facility at Trail Operations, and are continuing the implementation of the Elk Valley Water Quality Plan, including construction of a full-scale trial of a saturated rock fill to reduce concentrations of selenium and nitrate.
Managing Water Quality in the Elk Valley
We continue to implement the water quality management measures under the Elk Valley Water Quality Plan (EVWQP), which was approved in 2014 by the B.C. Minister of Environment. The goal of the EVWQP is to stabilize and reverse the increasing trend of mine-related constituents to ensure the health of the watershed while allowing for continued sustainable mining in the region. The plan establishes short-, medium- and long-term water quality targets, which are protective of the environment and human health, for selenium, nitrate, sulphate and cadmium, as well as a plan to manage calcite formation.
Monitoring Aquatic Health
We are conducting extensive monitoring to improve our understanding of water quality and aquatic health. Our activities include:
Regular water quality monitoring at more than 100 surface water stations.
Quarterly regional groundwater monitoring at 37 wells.
Monitoring of aquatic health through our Regional Aquatic Effects Monitoring Program and Local Aquatic Effects Monitoring Programs, which includes monitoring water quality, sediment quality and calcite; periphyton (algae); benthic invertebrates (bugs); and fish. In some cases, monitoring also includes birds and amphibians.
Active Water Treatment Facilities
We are implementing the EVWQP, which includes progressing design and construction of active water treatment facilities. Our first facility, the West Line Creek Active Water Treatment Facility (AWTF), was constructed at our Line Creek Operations, and we are advancing development of a Fording River Operations AWTF, planned for operation in 2021, and the Elkview Operations AWTF, planned for operation in 2022.
We have been working to address a challenge in the performance of our West Line Creek AWTF related to selenium compounds in discharge water. In late 2017, we completed the successful piloting of a new advanced oxidation process (AOP) that has been identified as a solution to this challenge. We are now preparing for full installation of the AOP at the water treatment facility, which is anticipated to be completed in summer 2018.
In 2017, we constructed our full-scale trial saturated fill project at Elkview Operations at a total cost of $41 million and commissioned the project in January 2018. This alternative treatment strategy has the potential to replace active water treatment plants in the future and/or enhance our ability to meet the objectives of the Elk Valley Water Quality Plan. We also completed the successful installation and commissioning of our first calcite management system at Greenhills Operations to support our understanding of calcite treatment and prevent calcite precipitation in the environment downstream from our operations.
We plan to spend approximately $86 million on water treatment in 2018, taking into account facility design modifications as well as the engineering and commencement of construction of the Fording River AWTF.
Based on our current plans, the total spend on water treatment in the Elk Valley from 2018 to 2022 is expected to be in the $850 to $900 million range. This includes completion of modifications to the Line Creek AWTF, the construction of the Fording River AWTF and two others in the Elk Valley, as well as the commencement of construction of a fifth AWTF.
See this page for more information.
Collaborating to Ensure Fair Allocation of Water
Access to clean and sufficient water by users in our areas of influence is important to us and to our stakeholders. When implementing our water management practices, we consider and engage with other water users in the watersheds where we operate. We promote water stewardship at all of our operations.
At Carmen de Andacollo Operations in Northern Chile, we are working to reduce our intake of fresh water by increasing recovery of water from the thickener, by reducing water used for dust suppression and by implementing other projects.
We are also evaluating alternative approaches for meeting water needs in new development projects. At Quebrada Blanca Phase 2 (QB2) and NuevaUnión, which are both located in water-stressed regions of Chile, we are evaluating the use of desalinated seawater in order to protect and conserve local sources of fresh water for community and agricultural use. At the same time, using seawater is a significant investment, as it requires the construction of desalination plants and associated pipelines, along with additional energy to desalinate the water and pump it from the coast to our sites (approximately 170 kilometres to QB2 and 125 kilometres to NuevaUnión). For these two projects, we are focusing on the protection of local supplies of fresh water while simultaneously exploring opportunities to offset some of the emissions from the required electricity generation through using renewable sources.
At our Zafranal project, we are evaluating the use of brackish groundwater, which is not suitable for farming or human consumption, to minimize impacts on local watersheds.
Improving Water Efficiency
We track water data for all our operations using site-wide water balances. Site-wide water balances provide an understanding of water inputs, consumption, reuse/recycle and discharge volumes at each operation. Water balances are developed using a mix of measurements and modelling computation. The company-wide water balance is complex, due to the variability of natural factors such as rainfall, snowmelt and the diversity of the climates and geological conditions where our operations are located. Understanding our water balance is key to improve water management practices and to enable better decision-making.
Key water performance metrics include total water use, water reused and water recycled. In 2017, 60% of our total water use was from reused/recycled water. Water reused and recycled, expressed as a percentage of new water use, was 149% across the company. At our mining operations only (excluding Trail, which is our zinc and lead smelting and refining facility), this percentage was 378%. This means that our mining operations recycled and reused the same water approximately four times on average before returning that water to the environment.
Table 6: Water Used, Reused and Recycled
| | | | | |
| --- | --- | --- | --- | --- |
| | 2017 | 2016 | 2015 | 2014 |
| Total water inputs (m3) | 365,399,000 | 346,462,000 | 333,150,000 | 391,637,000 |
| Total water outputs (m3) | 376,285,000 | 353,414,000 | 340,227,000 | 388,667,000 |
| Total water use (m3) (1) | 291,930,000 | 285,268,000 | 285,864,000 | 326,727,000 |
| New water use (m3) | 117,319,000 | 117,930,000 | 115,466,000 | 128,355,000 |
| Water reused/recycled (m3) (1) | 174,611,000 | 167,338,000 | 170,371,000 | 198,372,000 |
| Reused/recycled as % of total new water use(1),(2) | 149% | 142% | 148% | 155% |
(1) The figures for 2014-2016 have been restated due to improved methodology for reporting total water reuse at our Red Dog Operations.
(2) The percentage calculation is based on the total volume of water reused/recycled divided by the total volume of new water used.
Trail Operations accounts for nearly 25% of our total water use and about 60% of our new water use. Almost all of the water used at our Trail Operation is for cooling purposes, meaning that it does not come into contact with chemicals or reagents, and the only change it undergoes is a slight increase in temperature before being returned to the environment within regulatory approved conditions. We track this water separately from the data for our mining operations.
Figure 8: Company-Wide 2017 Water Balance (million m3)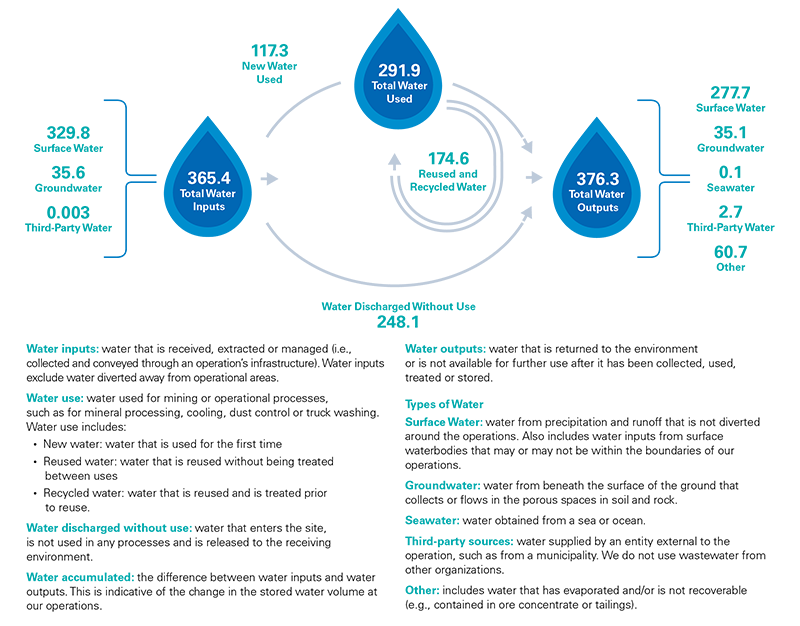 Figure 9: Total and New Water Use (m3)


Figure 9 illustrates the new water use and total water use trends over the past four years. In 2015, the significant reduction of total water use across all our operations was largely due to the implementation of a cooling tower retrofit project at our Trail Operations. Since 2015, our new water use has remained relatively constant, and we have been improving our practices and increasing our reuse/recycle water use to meet our water needs.

Water Intensity
We benchmark our water performance on the basis of a new water use intensity metric, as shown in Tables 7 and 8. Our new water use intensity is defined as the annual volume of new water used per unit of material processed by our steelmaking coal and by our milling and flotation operations. These water metrics allow us to more consistently evaluate our water use performance, independent of variations in annual precipitation and ore grades. In addition, these metrics will allow us to inform water management decisions and improvement projects at our operations.
Table 7: New Water Use Intensity at Coal Operations(1)
Coal Operations

2017

2016

2015

2014

New water use (million m3)

11.3

15.5

14.9

15.4

Raw coal processed (tonnes)

40,705,653

38,871,000

35,302,000

40,424,000

New water use intensity (m3/tonne)

0.28

0.40

0.42

0.38
(1) Includes Cardinal River, Coal Mountain, Elkview, Fording River, Greenhills and Line Creek operations.
Table 8: New Water Use Intensity at Milling and Flotation Operations(1)
Milling and Flotation Operations

2017

2016

2015

2014

New water use (million m3)

33.1

28.0

27.2

29.5

Ore processed (tonnes)

74,355,735

72,262,000

69,186,000

72,565,000

New water use intensity (m3/tonne)

0.45

0.39

0.39

0.41
(1) Includes Red Dog, Pend Oreille, Highland Valley Copper and Carmen de Andacollo operations.
Our 2017 new water use intensity metrics showed that our steelmaking coal operations improved relative to 2016, and that our base metal milling and flotation operations increased relative to 2016. The improvements in our coal operations are primarily due to improved practices at Greenhills and reduced tailings pond storage capacity at our Fording River Operations. At our Greenhills Operations, a number of system improvements within the process plant increased return flows to the tailings storage facility, providing more water for later reuse. At our Fording River Operations, the combination of a reduced tailings facility water storage capacity and an increase in water inputs from tailings slurry meant that more water was reused in 2017 than in previous years. The increase in new water use intensity at our milling and flotation operations is primarily due to a combination of factors, including:
At Highland Valley Copper Operations, increased production rates resulted in an increase of makeup water requirements, which had to be sourced from new water sources
At Carmen de Andacollo Operations, a considerably wetter 2017 resulted in more new water (rainwater and surface runoff) accumulating in the tailings storage facility, providing more new water for use

Table 9: New Water Use at Quebrada Blanca and Trail Operations (million m3)
For Quebrada Blanca and Trail operations, an intensity metric for new water use is not meaningful because the volume of new water used at both operations is largely independent of the quantity of material processed or produced. Therefore, we assess our water performance at these operations based on the absolute amount of new water used.
| | | | | |
| --- | --- | --- | --- | --- |
| | 2017 | 2016 | 2015 | 2014 |
| Quebrada Blanca (water used primarily in metal leaching process) | 1.7 | 1.6 | 1.7 | 1.7 |
| Trail (water used primarily for cooling) | 71.1 | 72.8 | 71.7 | 81.6 |