Engagement on Actual or Potential Impacts
Guided by our HSEC Management Standards and our SMART framework, we require all 12 (100%) of our operations, all four (100%) of our major projects, and all of our exploration activities to engage and consult with stakeholders and communities to address current and emerging issues and to maximize opportunities that provide strategic value for both Teck and those communities. In addition, we conduct more significant community consultation processes, including with Indigenous communities, as part of permitting processes for major projects. We demonstrate our performance in community consultation and engagement by reporting on impact management, general feedback received, grievances and disputes.
Activities across the mining life cycle may result in a range of social, economic and environmental impacts, both positive and negative. Examples of specific impacts experienced at our operations in 2017, and major engagements undertaken, are discussed in Table 10.
Table 10: Selected Major Engagement Activities in 2017
Actual or Potential Impacts on Communities from Our Activities

Sites

Major Engagement Activities

Environmental/Socio-Economic: impacts on livelihoods and community well-being related to dust from mining activities

Carmen de Andacollo Operations

We engaged with El Toro and other Andacollo community organizations due to their concerns related to our blasting procedures and the timeliness of our responsiveness to their complaints. We will continue to undertake improvements to manage both actual and perceived impacts associated with dust from blasting. A priority for 2018 is enhancing the notification system and communications related to our blasting practices.

Community: concerns about company response to environmental and social feedback as well as distribution of community benefits

We formalized working tables with municipal and community leaders, which will represent significant engagement opportunities to identify issues with local impacts and support investment in community priorities in 2018.

Socio-Economic: impacts on livelihood as a result of the sale of the Waneta Dam to BC Hydro

Trail Operations

We undertook extensive engagement with community members and local government leading up to, and following the agreement, to sell the asset and transition to a lease agreement.

Environmental: impacts associated with historical lead in local environment

We engaged the Trail Health and Environment Committee on ongoing management strategies to address lead exposure in children and to support provincial strategies for remediation in the region.

Environmental: impacts associated with natural events and impacts on water and air

Highland Valley Copper Operations

We collaborated with local communities, agencies and Indigenous groups to mitigate impacts from flooding and wildfires in the region, and to support relief efforts.

Community: impacts of activities as related to subsistence resources, traditional land use and community health

Red Dog Operations

We advanced engagement through the Memorandum of Agreement with the community of Kivalina through the Siñgamiut Working Group to set strategies related to community health, promotion of traditional land use, and subsistence activities.

We continued to work with the Subsistence Committee to review all subsistence-related issues and guide subsistence protection activities at the mine.

Socio-Economic: impacts associated with shortfalls in local taxation and community benefits to the region

We established an agreement with the Northwest Arctic Borough to establish a Payment in Lieu of Taxes (PILT) and a new Village Improvement Fund for 11 identified villages in support of local development.

We continued to undertake direct visits to communities within the region to address local concerns, advance local hiring initiatives and identify community investment opportunities.

Socio-Economic/Environmental: impacts associated with potential new project development in the region


Cardinal River Operations

We undertook extensive engagement with First Nations, communities and regulators related to the MacKenzie Redcap exploration program in order to establish impact benefit agreements with First Nations in the region.

Environmental/Socio-Economic: impacts on livelihoods and community well-being related to dust from mining activities

Elkview Operations

We responded to community-related dust concerns, (including perceived impacts on health and property) and educated residents on current dust management strategies being undertaken on-site. This engagement will continue on an ongoing basis.

We undertook a year-long engagement with the District of Sparwood to draft a Socio-Community Economic Effects Management Plan as part of the Baldy Ridge Extension project, establishing a shared process for adaptive management of community environmental impacts and targeting opportunities to improve community livability.

Environmental/Socio-Economic: impacts associated with expanding operations at Quebrada Blanca

Quebrada Blanca Phase 2 Project

We undertook extensive engagement with local Indigenous and non-Indigenous communities following our regulatory submission for Quebrada Blanca Phase 2, with the objective of establishing agreements with critical communities in support of final project approval.

Environmental: impacts on the environment

Frontier Project

We advanced Teck's proposals to further protect biodiversity and improve wildlife management in the Lower Athabasca region, which includes engagement with the Mikisew Cree First Nation in their efforts to establish a Biodiversity Stewardship Area in the region.
Teck's SMART Framework
In 2017, we launched an update to Teck's SMART framework that placed increased emphasis on the integration of key social management activities across Teck's sites. This framework continues to be supported by guidance and toolkits to support consistency and quality of key social practices at sites. In 2017, improvements included updates to negative feedback management guidance, community incident reporting guidance, community investment (benefits management) policies and guidance, and frameworks to support social aspects of closure planning.
Measuring Our Relationships with Communities
In 2017, Teck launched an annual company-wide opinion research program for communities near our operations. The quantitative data obtained during the first survey provides a baseline to measure and help guide improvements to our performance, assess the impact of events, inform our five-year planning process and support our reporting. The survey was conducted by an independent polling company.
Feedback, Grievances, Disputes and Incidents
Having a feedback mechanism that is widely accessible to community members, and providing effective remedies through this mechanism, is an important way for us to understand our impacts on communities, which in turn allows us to work to minimize negative impacts and maximize positive impacts. All of Teck's operations and major projects and most exploration projects have implemented feedback mechanisms. Feedback received is recorded using our TrackLine system and categorized into four levels:
Feedback/donation request

Question or concern

Issue, concern or grievance

Repeated and ongoing concern, or an issue, concern or grievance that is major in nature and may include a breach of law or company policy
Level 3 and 4 feedback items are referred to as negative feedback or "grievances", recognizing that they are often specific issues of concern to community members that require a response and potential further action from the company.
Feedback
In 2017, we received 906 instances of feedback through direct feedback mechanisms established across our sites, compared to 1,006 in 2016.
Figure 10: 2017 Feedback Received by Category(1)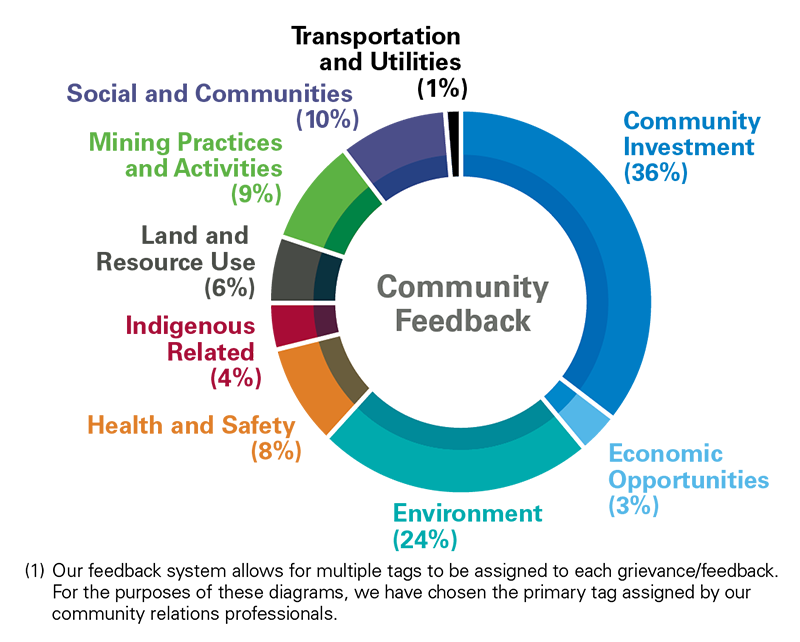 Feedback levels will vary from year to year for several reasons, including the level of permitting or project activity, which tends to increase the amount of feedback, and community use of feedback mechanisms. As efforts increase by our sites to improve the extent to which feedback mechanisms are used, we may see an increase in the amount of feedback received.
Grievances
In 2017, of the total feedback received, 147 items were considered grievances. Grievances are reflective of perceived or actual events taking place as a result of company activities, and therefore do not necessarily constitute an actual negative impact or non-conformance event by the company. Teck's practice is that all feedback, which includes grievances, is acknowledged and assessed, and a response is communicated to the complainant, with the goal of providing a satisfactory reply or resolution in a timely manner.
Figure 11: 2017 Grievances Received by Category(1)

Disputes
Disputes represent conflicts between the company and the impacted community related to land use and the customary rights of local communities and Indigenous Peoples. One example of a dispute that Teck is engaged in is related to a lack of available land for housing near our Carmen de Andacollo Operations. In the past, this has been a source of conflict between Teck and the community. Teck is working with local and regional governments, and with housing associations, to understand obstacles and opportunities that are within Teck's control, in an effort to assist in finding a collaborative solution.
Disputes are considered significant when they cannot be resolved jointly within a reasonable time frame, are repeated or widespread, or represent potentially significant or long-term financial, legal or reputational consequences for the company. In 2017, none of Teck's sites experienced significant disputes.
Community Incidents
An incident is an occurrence where individuals or groups may cite real or perceived breaches of law or company policy, real or perceived impacts on human rights (particularly related to land use) or the customary rights of Indigenous Peoples, and/or real or perceived impacts resulting in death or serious illness. In the vast majority of cases, an incident is immediately managed and has no significant implications. We actively monitor, manage, investigate and learn from incidents, including those related to health and safety, communities and the environment. To ensure we are capturing and responding to all community concerns in addition to those raised through our usual feedback mechanisms, we established a new community incident reporting system across all operating sites in 2017.
All community incidents reported were assessed on a severity scale using multidisciplinary consequence criteria that are based on impacts both on Teck (financial, legal and reputational) and on communities (quality of life, Indigenous rights, and subsistence impacts). Such incidents may be subject to further investigation within Teck. In 2017, Teck had no significant community incidents (Level 4 severity or higher) reported; however, we have included two incidents categorized as moderate (Level 3 severity) below:
A resident of Kivalina near our Red Dog Operations was not notified in time that their on-site job interview had been cancelled and thus incurred significant travel costs. Following an investigation, procedural changes were made and a remedy was provided to the individual in line with the impact.

A First Nations partner near our Highland Valley Copper Operations reported that procurement processes defined under our impact benefit agreement with them had been breached. A number of changes were subsequently made to our procurement procedures to prevent reoccurrence.
Economic Value Generated and Distributed
We contribute to the wealth and prosperity of the countries, regions and communities where we operate by generating economic value that includes tax and royalty payments, local hiring and procurement, and community investments. We work to improve efficiency of our activities and reduce our operating costs to maximize economic value generated.
Table 11: 2017 Breakdown of Economic Value Generated and Distributed (millions)
Economic Value Generated

Economic Value Distributed

Economic Value Retained

Revenues(1)

Payment to Suppliers(2)

Employee Wages and Benefits(3)

Payments to Providers of Capital(4)

Income and Resource Taxes(5)

Community Investments(6)

Total

Operating Costs

Capital Expenditures

Operating Costs

Capital Expenditures

U.S.

1,865

792

76

161

6

-

284

1

1,320

545

Canada

9,182

4,573

1,287

1,073

9

988

396

7

8,333

849

Chile

731

407

173

106

12

-

1

4

703

28

Peru

905

253

58

101

-

-

198

-

610

295

Other

-

8

-

8

-

-

-

1

17

-17

Inter-segment elimination(1)

-635

-635

-

-

-

-

-

-

-635

-

Total

12,048

5,398

1,594

1,449

27

988

879

13

10,348

1,700
(1) Revenues are presented based on an accrual basis. Internal cross-border sales are eliminated as shown.
(2) Operating costs include operating expenses at our mining and processing operations and our general and administration, exploration and research, and development expenses and costs relating to production stripping. Operating costs excludes depreciation, and employee wages and benefits, which are specified separately. Capital expenditures are payments for purchases of property, plant and equipment, excluding the component relating to capitalized wages and benefits, which is specified separately.
(3) Wages and Benefits reflects total amounts paid to employees relating to wages and benefits, including payroll taxes.
(4) Payments to providers of capital include dividends paid to shareholders, interest paid to debtholders, and payments for share repurchases less issuance of shares.
(5) Income and resource taxes include amounts paid in the year.
(6) Community investments include voluntary donations paid during the year.
In 2017, we had a profit attributable to shareholders of $2.5 billion or $4.34 per share. This compares with a profit attributable to shareholders of $1.0 billion or $1.80 per share in 2016, and a loss of $2.5 billion or $4.29 per share in 2015. See our Annual Report for more detailed information on our financial performance.
Local Hiring and Procurement
The tables below reflect our tracking of local employees and local procurement until the end of 2017. Increases and decreases in this data are influenced primarily by site-level construction and maintenance activity as well as by the availability of suitable suppliers in the local area.
We continue to focus on hiring people locally, as it helps to share the economic benefits of our industry with the communities in which we operate. Some of our sites utilize site-specific local hiring procedures. In 2017, we increased our overall average of local employees to 72% of our operational workforce, compared to 65% in 2016.
Table 12: Local Employment in 2017(1),(2)
| | | | |
| --- | --- | --- | --- |
| Operation | Local Employees | Percentage of Local Employees | Senior Management Roles Filled by Locals(3) |
| Cardinal River | 340 | 88% | 75% |
| Carmen de Andacollo | 378 | 59% | 0% |
| Coal Mountain | 113 | 69% | 50% |
| Elkview | 638 | 66% | 100% |
| Fording River | 711 | 59% | 93% |
| Greenhills | 422 | 68% | 94% |
| Highland Valley Copper | 1,260 | 95% | 26% |
| Line Creek | 337 | 62% | 100% |
| Pend Oreille | 197 | 72% | 13% |
| Quebrada Blanca | 215 | 49% | 0% |
| Red Dog | 492 | 73% | 23% |
| Trail Operations | 1,410 | 99% | 89% |
| Total | 6,513 | 72% | 55% |
1. Data is not directly comparable between operations, as there are differences in how each operation defines "local" and how each operation tracks data.
2. "Local" is defined as persons or groups of persons living and/or working in any areas that are economically, socially or environmentally impacted (positively or negatively) by an organization's operations. The community can range from persons living adjacent to operations to isolated settlements at a distance from operations, but individuals are still likely to be affected by these operations.
3. Senior management is defined by their compensation band, which is determined by job responsibilities.
Table 13: Percentage of Total Spend with Local Suppliers
| | | | | |
| --- | --- | --- | --- | --- |
| Operation | 2017 | 2016 | 2015 | 2014 |
| Cardinal River | 12% | 9% | 8% | 8% |
| Carmen de Andacollo | 13% | 18% | 19% | 9% |
| Steelmaking Coal Operations in the Elk Valley | 26% | 41% | 48% | 19% |
| Highland Valley Copper | 37% | 30% | 29% | 27% |
| Pend Oreille | 14% | 20% | 12% | 13% |
| Quebrada Blanca | 12% | 33% | 24% | 18% |
| Red Dog | 41% | 59% | 55% | 59% |
| Trail Operations | 29% | 27% | 24% | 33% |
| Total | 23% | 30% | 27% | 23% |
Community Investment
We continue to meet our target of donating at least 1% of our earnings before interest and taxes on a five-year rolling average basis. Our earnings before interest and taxes are calculated against total (100% of) revenues. Our community investment expenditures in 2017 were $13.2 million. Information on our community investment reporting framework is available on our website.
Table 14: Community Investment by Site(1),(2),(3),(4)
| | | | | |
| --- | --- | --- | --- | --- |
| Operation | 2017 | 2016 | 2015 | 2014 |
| Carmen de Andacollo | $1,773,000 | $1,929,000 | $2,310,000 | $2,157,000 |
| Steelmaking Coal Operations(1) | $675,000 | $679,000 | $672,000 | $1,970,000 |
| Duck Pond | $180,000 | $263,000 | $309,000 | $297,000 |
| Highland Valley Copper | $391,000 | $410,000 | $456,000 | $579,000 |
| Pend Oreille | $16,000 | $25,000 | $18,000 | $8,000 |
| Quebrada Blanca | $256,000 | $368,000 | $513,000 | $623,000 |
| Red Dog(2) | $541,000 | $948,000 | $1,284,000 | $556,000 |
| Trail Operations | $338,000 | $339,000 | $480,000 | $334,000 |
| Corporate Offices and Projects(3) | $8,956,000 | $6,844,000 | $10,602,000 | $12,755,000 |
| Exploration | $80,000 | $35,000 | $89,000 | $69,000 |
(1) Steelmaking coal operations include Cardinal River, Coal Mountain, Elkview, Greenhills, Fording River and Line Creek operations.
(2) The 2014 Red Dog numbers were recalculated to include investments that Vancouver Head Office made in the Northwest Arctic Borough.
(3) Includes Calgary, Santiago, Spokane, Toronto and Vancouver offices as well as resource development projects (Frontier, Galore Creek, Quebrada Blanca 2 and Quintette).
(4) The numbers represent Teck's portion of ownership (Carmen de Andacollo 90%, Quebrada Blanca 76.5%, Quebrada Blanca 2 76.5% and Galore Creek 50%).
Given that our community investment budget target is tied to earnings on a five-year rolling average, our target continued to decrease in 2017. However, to ensure continuity of programs at a community level, Teck chose to maintain 2017 community investment targets consistent with 2016 levels, thus exceeding the budget target for 2017.
Team Teck
Team Teck offers our employees the opportunity to amplify their donations to causes that they care about through donation matching from Teck. In 2017, employees across Teck supported several initiatives, such as disaster relief for the British Columbia wildfires and the major earthquake in Mexico, animal shelters, community food banks, and development charities working across the world, for a total of $97,000 provided by Teck in matching funding.