Building a Positive Culture of Safety
This year, we commenced implementation of the fourth phase of our Courageous Safety Leadership (CSL) program. Launched in 2009, CSL focuses on challenging existing values, beliefs and attitudes towards safety, and builds commitment from individuals to work safely and foster safe practices at our operations. For CSL4, we created a one-day training session that builds on previous phases of the program for both employees and contractors. CSL4 requires front-line leaders to facilitate a six-hour session with their teams to explore our culture of safety — including safety strengths, safety opportunities and safe production challenges. For each of these areas, they identify and select commitments to work on as a team to help improve their safety journey. They must also identify a means to hold each other accountable for achieving their commitments.
In 2017, we surpassed our goal of training at least 60% of employees on CSL4, with a total of more than 6,000 employees, representing 85% of our operational workforce, participating. Employee feedback on the program was positive, and we will continue to implement CSL4 throughout the company in 2018.
As part of Teck's culture of safety, it is critical that new employees and contractors understand the importance of CSL, the journey we have been on to develop our culture and safety improvements, and the part they can play in moving it forward. During the year, we had a working group complete the development of an Introduction to CSL program for new hires. All new hires to Teck will be required to complete this module within approximately six months of joining the company. Introduction to CSL will be rolled out across the company in 2018.
High-Potential Risk Control
As part of our High-Potential Risk Control (HPRC) strategy, we set a target for each operation to complete four Work Team Risk Assessments and six Effectiveness Reviews in 2017. The Corporate Health and Safety team supported operations to reach their target by undertaking dedicated HPRC coaching sessions across operations to review risk assessment and effectiveness review quality. We also developed improved guidance for what "good" looks like, both for risk assessments and for effectiveness reviews. As of the end of the year, all operations met or exceeded their targets for 2017. As a result of our improved risk assessment efforts across the company, we identified and shared stories of positive change. Teams across the company have tightened their controls for several key serious injury and fatality risks. We will continue to identify and share more stories in 2018.
Occupational Health and Hygiene
In 2017, we worked to enhance our occupational health and hygiene risk assessments, monitoring and exposure controls to protect the long-term health of employees. We also began to develop leading and lagging indicators for occupational health and hygiene reporting, and to incorporate these indicators into health and safety performance reporting.
We set a lead indicator target for 2017 for every operation (excluding those in closure planning) to complete the development of an exposure reduction plan. The objective of these plans is to demonstrate how each operation will address the outcomes of their exposure risk assessment completed in 2016, and to meet the requirements of the company's standard for occupational hygiene programs. At the end of 2017, all of our operations successfully developed their plans, which are linked to company-wide business plans and associated budgets. We also continued our exposure risk assessment efforts by completing assessments at our CESL facility and at the Sullivan Mine legacy property in B.C., and at exploration activities in Turkey.
As part of our broader occupational health and hygiene strategy, we completed planning for the introduction of a new software application to significantly improve the capture and management of our occupational exposure monitoring data. The project will be piloted at our Trail Operations in 2018, followed by company-wide implementation thereafter.
Our Occupational Health and Hygiene Committee completed the development of a comprehensive sampling training program in 2017. The objective of the program is to provide all personnel who have a role in collecting hygiene samples with standard training for the collection of quality samples — including the collection of respirable particulate samples, and noise monitoring and mapping. The training program was piloted with a group of personnel from our North American operations and will be fully implemented in 2018.
Finally, in 2017, we began developing health and safety design criteria for use in project design. Teck also continues to work with ICMM on good practice guidance for occupational exposure controls (e.g., dust controls).
Safety Performance
In 2017, we continued to build on our safety performance in areas of greatest risk. There were no fatalities, and we improved our Total Recordable Injury Frequency (TRIF) by approximately 12% compared to 2016. High-Potential Incident Frequency was 14% lower than in 2016; our Lost-Time Disabling Injury Frequency decreased by 14%. Teck's TRIF is slightly above the average compared to the ICMM, which is made up of many of the world's largest mining companies. Companies vary in terms of how they define "injury" under TRIF, as does each company's individual culture of reporting, which means that a direct comparison may not be completely accurate. Our safety performance is summarized in Table 16.
Despite our progress in safety in 2017, we are deeply saddened to report that on April 9, 2018, an incident occurred resulting in the death of an employee of a contract company. We are saddened by this tragic incident, and are currently conducting an investigation. A more detailed account of the incident will be reported in the 2018 Sustainability Report.
Table 16: Health and Safety Performance(1),(2), (3), (4), (5), (6)
| | | | | |
| --- | --- | --- | --- | --- |
| | 2017 | 2016 | 2015 | 2014 |
| Total Recordable Injury Frequency | 1.01 | 1.13 | 1.27 | 1.03 |
| Lost-Time Injuries | 89 | 73 | 84 | 74 |
| Lost-Time Injury Frequency | 0.45 | 0.42 | 0.47 | 0.41 |
| Disabling Injury Frequency | 0.17 | 0.28 | 0.27 | 0.26 |
| Lost-Time Disabling Injury Frequency | 0.62 | 0.72 | 0.74 | 67 |
| Lost-Time Injury Severity | 24.4 | 28.4 | 18.6 | 80.9 |
| Number of Fatalities | 0 | 0 | 0 | 2 |
(1) Our safety statistics include both employees and contractors at all of our locations (operations, projects, closed properties, exploration sites and offices). For sites where Teck owns more than 50%, safety statistics are weighted 100%; for sites where Teck owns 50% or less, safety statistics are weighted according to Teck's ownership of the operation. This includes the Antamina mine, in which we have a 22.5% interest. We define incidents according to the requirements of the U.S. Department of Labor's Mine Safety and Health Administration. Frequencies are based on 200,000 hours worked. Severity is calculated as the number of days missed due to Lost-Time Injuries per 200,000 hours worked.
(2) Increase in severity in 2014 is a consequence of the two fatalities, which are automatically counted as 6,000 lost days.
(3) A Lost-Time Injury is an occupational injury that results in loss of one or more days beyond the initial day of the injury from the employee's scheduled work beyond the date of injury.
(4) A Disabling Injury is a work related injury, which by orders of a Qualified Practitioner, designates a person although at work, unable to perform their full range of regular work duties on the next scheduled work shift after the day of the injury.
(5) A fatality is defined as a work-related injury that results in the loss of life. This does not include deaths from occupational disease or illness.
(6) Frequency indicators in this table are calculated by the number of events in the period multiplied by 200,000 and divided by the number of exposure hours in the period. Hours of exposure refers to the total number of actual hours worked by employees and contractors at a site where one or more employees/contractors are working or are present as a condition of their employment and are carrying out activities related to their employment duties. Hours of exposure may be calculated differently from site to site; for example, time sheets, estimations and data from human resources are inputs into the total number of exposure hours.

Occupational Diseases
We report the incidence of occupational diseases at Teck, based on accepted workers' compensation claims from each jurisdiction in which we work, for the following disease categories. For Tables 17, 18 and 19, workers' compensation claims data are for accepted claims over the past four years, and are for employees only; contractor data is not included.
As our systems for reporting occupational diseases continue to mature, we fully expect occupational disease cases and rates to increase in the short to medium term. This is a reflection of the long latency period associated with the development of occupational disease. However, at the same time, we will also continue to enhance our application of improved risk-based controls to prevent occupational diseases.
Table 17: Occupational Diseases Cases(1)(2)(3)
| | | | | |
| --- | --- | --- | --- | --- |
| Disease Category | 2017 | 2016 | 2015 | 2014 |
| Respiratory Disorders | 3 | 1 | 3 | 2 |
| Hearing Loss | 5 | 9 | 15 | 12 |
| Musculoskeletal Disorders | 6 | 9 | 9 | 14 |
| Cancer | 0 | 0 | 1 | 3 |
| Other Medical Disorders | 4 | 2 | 1 | 0 |
| Total | 18 | 21 | 29 | 31 |
(1) Does not include global exploration or marketing offices.

(2) Occupational diseases are defined as an adverse, generally chronic and irreversible health effect associated with overexposure to chemical, physical or biological agents in the workplace (e.g., silicosis, bladder cancer, berylliosis, metal fume fever, asthma).

(3) The reporting for hearing loss may be under-reported, due to limited data availability.

Table 18: Occupational Disease Cases by Gender
| | | | | |
| --- | --- | --- | --- | --- |
| | 2017 | 2016 | 2015 | 2014 |
| Female | 2 | 0 | 1 | 5 |
| Male | 16 | 21 | 25 | 23 |
| Total | 18 | 21 | 29 | 31 |

Table 19: Occupational Disease Rate
| | | | | |
| --- | --- | --- | --- | --- |
| | 2017 | 2016 | 2015 | 2014 |
| Total Occupational Disease Rate (per 200,000 hours) | 0.09 | 0.12 | 0.17 | 0.17 |
| Total Occupational Disease Rate (per 1,000,000 hours) | 0.47 | 0.61 | 0.84 | 0.83 |
Since we began the tracking of High-Potential Incidents (HPIs) in 2010, we have seen an overall decrease in HPI frequency. This improvement has been driven by our focus on learning from past incidents, and on sharing lessons learned and associated best practices across our company. While total HPI frequency and severity has declined, our business units and operations continue to experience HPIs. As such, we continue to focus on improving our understanding of high-potential risk and control effectiveness.
This improvement has been driven by our focus on learning from past incidents, and on sharing lessons learned and associated best practices across our company. While total HPI frequency and severity has declined, our business units and operations continue to experience HPIs. As such, we continue to focus on improving our understanding of high-potential risk and control effectiveness.
Figure 19: High-Potential Incident Performance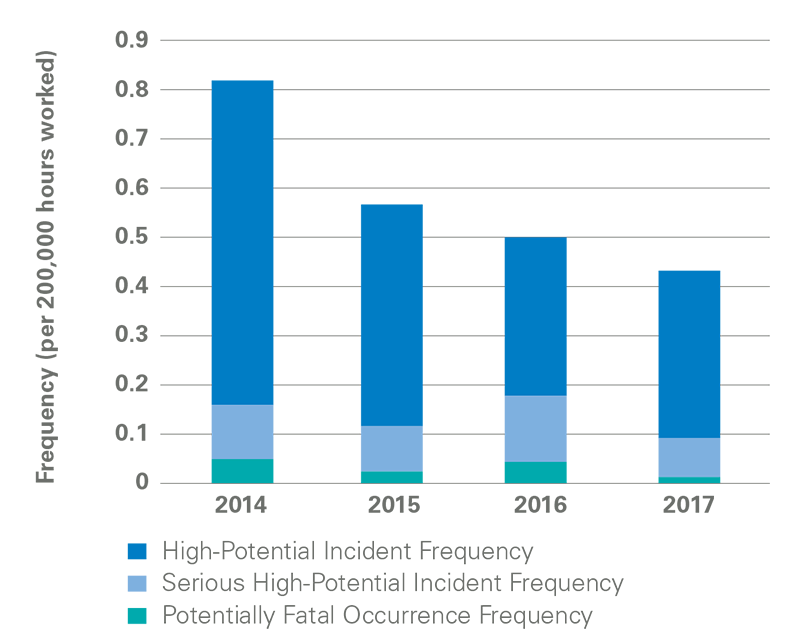 In 2017, there were two Potentially Fatal Occurrences reported at Teck-operated locations, which were investigated and for which corrective actions were developed. Where relevant, the results are shared with all of our operations in order to facilitate a local gap analysis against the findings to prevent similar occurrences.
Process Safety Events
Process safety events are those that typically involve an unexpected mechanical integrity failure in a pipeline system or processing facility that may result in a fire, explosion, rupture or hazardous chemical leak. During the year, we reported six process safety events from our total high-potential incidents. All high-potential incidents (including process safety events) were thoroughly investigated to identify corrective actions to minimize the potential for reoccurrence.