Recognizing and Respecting the Interests and Rights of Indigenous Peoples
We continue to engage with Indigenous Peoples early in our planning processes and work to achieve their free, prior and informed consent when proposing new or substantially modified projects, as outlined in our Indigenous Peoples Policy.
Significant Disputes and Litigation
While there were no significant disputes for Teck involving Indigenous Peoples in 2017, there were developments in relation to a past dispute. In 2015, there was a significant dispute at our Red Dog Operations where the Kivalina IRA Council filed a petition with the Environmental Assessment Agency to commence a Preliminary Assessment to determine if activities at Red Dog posed a human health or environment risk. To address this concern, in April 2017, Teck, the Kivalina IRA Council and the NANA Regional Corporation entered into a Memorandum of Agreement (MOA) to ensure that the Kivalina residents' health and welfare concerns regarding the mine are addressed through a collaborative approach. Subsequent to the signing of the MOA, the parties began implementation of the agreement including establishing the tripartite working group and hiring a project manager.
For more information on progress in our investigations of environmental conclusions in the Upper Columbia River, or the continuing environmental litigation regarding the Upper Columbia River and involving the Confederated Colville Tribes and the Spokane Tribe of Indians, visit our website or pages 108–110 of our 2017 Annual Information Form.
Cultural Awareness Training
Teck is committed to continually increasing our awareness and understanding of the unique rights, cultures, history and perspectives of Indigenous Peoples in the areas where we explore and operate. We regularly deliver training on Indigenous People's rights, cultural awareness and human rights for exploration, operations and management staff. This training is particularly important for those who have extensive contact with Indigenous Peoples in their day-to-day roles and for other business leaders.
In 2017, approximately 250 people attended Cultural Awareness Orientation at our Red Dog Operations in addition to approximately 800 previous participants who received refresher training. This orientation addresses the meaning of culture and cultural awareness, encourages appreciation for cultural diversity, and encourages maintaining a safe and respectful work environment in alignment with Teck's culture, values and beliefs. A key aspect of the orientation for our employees was a focus on Iñupiat Ilitqusiat: the values of the local Iñupiaq people.
At our Highland Valley Copper (HVC) Operations, 80 people participated in cultural awareness training in 2017, bringing the total number to 290 from previous years. HVC is well on the way to achieving its goal of having 100% of employees and contractors trained in this regard by mid-2019. Collaborating with Indigenous communities on the delivery of this training is an important feature of this work.
Action on Reconciliation
Teck is committed to playing a role in reconciliation with Indigenous Peoples, particularly in Canada, and is working in partnership with Reconciliation Canada to support their vision of revitalizing the relationships among Indigenous Peoples and all Canadians. As part of this effort in British Columbia, Teck is working on the implementation of the B.C. Business Council's B.C. Assembly of First Nations Memorandum of Understanding on economic reconciliation. Additionally, we are continuing to proactively engage in government-led initiatives to improve the lives of Indigenous Peoples in Canada through their participation in mining-related activities. In September 2017, we participated in the Walk for Reconciliation in Vancouver, B.C., as a partner with Reconciliation Canada. In early 2018, we developed our first Reconciliation Action Plan (RAP). Our RAP provides a framework for our work with Indigenous Peoples. It brings together our existing Indigenous policies and initiatives, and outlines practical actions we are taking to build a shared future with Indigenous Peoples. The RAP is built on four pillars: Respect, Relationships, Responsiveness and Reporting, and will be released later in 2018.
Negotiating and Implementing Agreements
In 2017, there were 54 active agreements in place with Indigenous Peoples, including 23 new agreements ranging from exploration agreements to impact benefit agreements. Exploration agreements were also signed with numerous Indigenous groups in Canada, Chile and Australia. For a full list of our active agreements with Indigenous Peoples for projects and operations, see our 2017 Sustainability Performance Data spreadsheet.
Table 15: Summary of Engagement with Indigenous Peoples in 2017
| | |
| --- | --- |
| Site | Major Activities |
| Cardinal River Operations | We signed participation agreements with the Ermineskin Cree Nation and the Whitefish Lake First Nation for our Cardinal River Operations, and engaged with the Alexis Nakota Sioux Nation, Mountain Cree, and O'Chiese First Nation, with a focus on potential mine development in the MacKenzie Redcap area. We conducted consultation on exploration activities and mine development, including the completion of several traditional land use studies for the area. |
| Frontier Project | Our engagement activities were focused on negotiating agreements with potentially affected Indigenous groups near the project. Three agreements were concluded in 2017 with the Métis Nation of Alberta Association Fort McMurray Local Council 1935, the Métis Nation of Alberta, Lakeland Local Council 1909, and a letter of intent with Fort McMurray First Nation. Additional engagement efforts included consultation with the Athabasca Chipewyan First Nation, Mikisew Cree First Nation and Fort McKay First Nation. |
| Highland Valley Copper Operations | Our engagement activities were focused on the implementation of four agreements with 16 Indigenous communities. We held regular meetings to discuss aspects of our agreements such as Indigenous business opportunities, employment, environmental and land use interests. Closure planning and contracting were also key engagement topics in 2017. |
| Quebrada Blanca Phase 2 Project | Through ongoing dialogue, our engagement addressed technical issues and social concerns related to the project. Funding was provided to Indigenous communities to complete independent studies, including social and environmental baselines, impact assessments and mitigation proposals. The regulatory Indigenous consultation process was initiated and is currently underway. |
| Red Dog Operations | We conducted engagement related to the Kivalina Memorandum of Agreement with Red Dog, the Subsistence Committee and the Northwest Arctic Borough Village Investment Fund. Items discussed were related to the proposed Aktigiruq exploration road route, changing the colour of the Port Concentrate Storage Building roof (which elders believe may affect marine animals) and reviewing how haul truck road closure decisions are made to protect caribou migration in the region. |
| Steelmaking coal operations in the Elk Valley | 2017 was the first full year of implementation of the agreement with the Ktunaxa Nation with engagement directed through joint working groups on environmental, cultural, employment and procurement aspects as well as major regulatory applications. Through these working groups, we developed annual work plans, including the identification of indicators and a monitoring framework, as well as identifying opportunities for inter-group collaboration. We continue to work jointly on the development of a cultural management plan for our activities within the Ktunaxa territory and to build internal capacity. |
Indigenous Agreements Commitments Register
The number and variety of agreements Teck has in place with Indigenous Peoples requires the management of commitments set out in those agreements to support effective implementation. In order to ensure that the obligations in agreements are understood, tracked and fulfilled, Teck began incorporating commitments into our internal data tracking framework in 2017. This will ensure that agreements with Indigenous Peoples continue to be integrated into our business management systems at all levels, which will result in better outcomes for both Teck and Indigenous Peoples, particularly in areas such as Indigenous procurement, employment and training.
Sharing Economic Benefits
Employing Indigenous Peoples
Employment is one way in which local communities can benefit from our operations, and we work with local Indigenous communities to improve the number of Indigenous Peoples employed at Teck. Commitments related to employment are an important consideration within our impact benefit agreements. Commitments in these agreements reflect the priorities of the local community and can include offering specific roles exclusively to qualified Indigenous Peoples, offering intern opportunities for Indigenous students, establishing employment processes and key performance indicators, and supporting local apprenticeship and training programs.
We are also pursuing company-wide approaches to increasing Indigenous employment, training and retention through the implementation of our Indigenous Peoples Policy and our sustainability strategy. In 2017, we made progress in the review of potential metrics for monitoring Indigenous training, employment and procurement, with the aim of establishing baselines and driving progress. Starting in July 2017, we began tracking the number of Teck's new hires that self-identify as Indigenous. We will begin reporting this data beyond that for only Red Dog (see below), in our 2018 Sustainability Report.
Figure 17: Indigenous Employment at Select Operations in 2017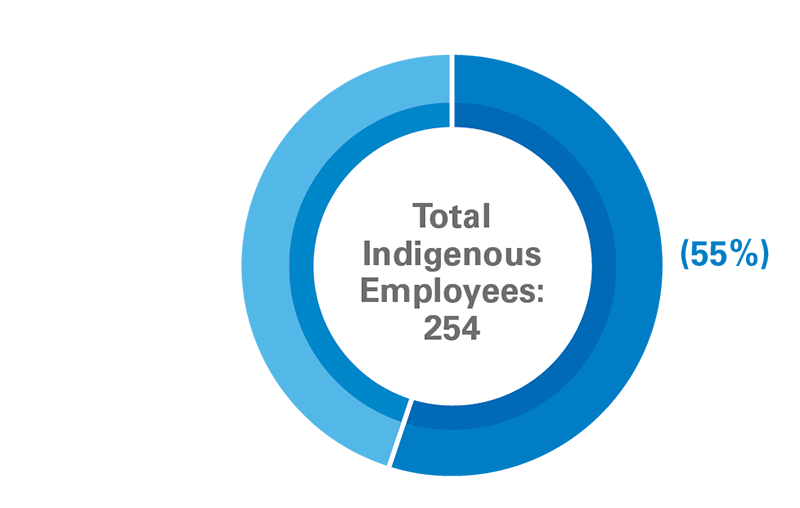 In 2017, our operations spent approximately $138 million on suppliers who self-identified as Indigenous; this represents an overall increase compared to 2016. Since 2010, our operations have spent over $1 billion on suppliers who self-identified as Indigenous. The vast majority of this spending in 2017 is at our Red Dog Operations, where Indigenous procurement is one of the cornerstones of our operating agreement, which governs the operation of the mine. In 2017, 38% ($105 million) of Red Dog's spending was with Indigenous suppliers.Procurement from Indigenous Suppliers
Figure 18: Procurement Spend on Suppliers Who Self-Identified as Indigenous


Community Investment Focused on Indigenous Peoples
In 2017, 18% ($2.3 million) of our total community investment went towards Indigenous-specific investments, compared to 37% ($4.6 million) in 2016. One of our more significant investments in this area was our support for a program with UN Women and the Government of Chile on a collaborative project to promote the empowerment, leadership, and economic and social participation of Indigenous women in northern Chile.