In this section, we report on our energy use and reduction, energy intensity, alternative energy generation and GHG emissions, including Scope 1, Scope 2 and Scope 3.
Energy Use and Reduction
In 2016, we consumed a total of 42,538 TJ of energy (i.e., electricity and fuels), as compared to 42,521 TJ in 2015. Trends in fuel (diesel, gasoline, coal, natural gas, coke, petroleum coke and other fuels) and electricity consumption for the past three years are shown in Figure 23. In 2016, four of our operations reduced their absolute energy consumption from 2015.
In 2016, approximately 28% of our energy requirements (i.e., electricity and fuels) were supplied by non-carbon-emitting sources, primarily hydroelectricity. Of our total electricity consumption in 2016, 80%, or 11,760 TJ, was from renewable energy sources, the majority of which is hydroelectricity.
Collectively, projects implemented in 2016 have reduced annual energy consumption at our operations by 97 gigawatt hours (350 TJ) — enough power for 3,250 homes for a year. This represents a 1% decrease of our total annual energy consumption. Since 2011, our efforts have resulted in reduction projects totalling 1,550 TJ.
Figure 23: Energy Consumption by Type 2013–2016(1)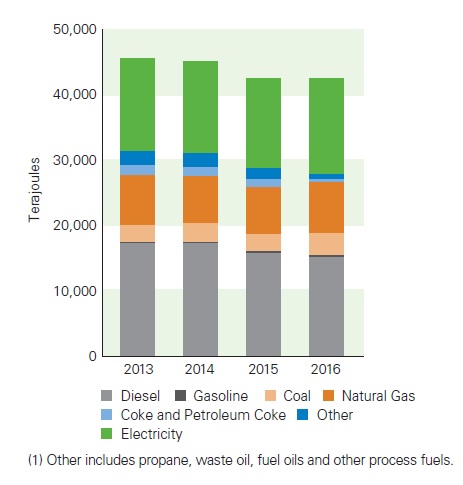 (1) Other includes propane, waste oil, fuel oils and other process fuels.
Energy Intensity
In Figures 24 to 26, we outline our energy intensity, or the amount of energy used per tonne of product, which is a measure of efficiency that helps us to better manage our performance. The variability found in the data for these figures falls within the normal parameters of mining operations.
Energy and carbon intensity for the production of steelmaking coal continued to decrease (improve) in 2016 (Figure 24). This change is due to lower strip ratios, a continued focus on productivity improvements in mining, maintenance and processing operations, as well as the increased use of natural gas to displace coal in the product dewatering process.
Figure 24: Energy and Carbon Intensity for Steelmaking Coal Production 2016–2013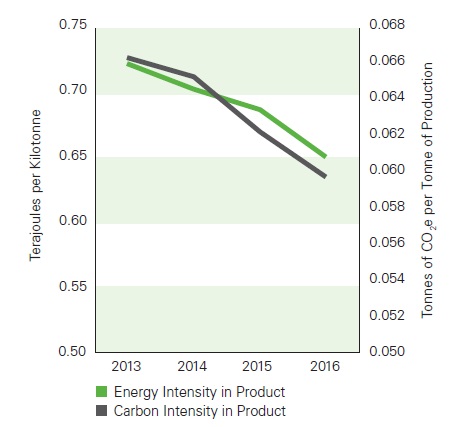 Figure 25: Energy and Carbon Intensity for Zinc and Lead Production 2016–2013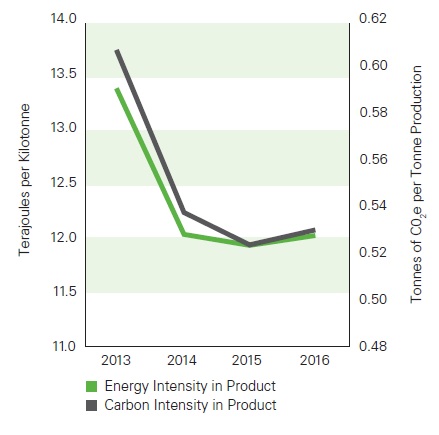 Figure 26: Energy and Carbon Intensity for Copper Production 2016–2013

Alternative Energy Generation
Our 49% share of power generation from Wintering Hills in 2016 was 138 GWh, enough power to provide 89,000 tonnes of CO2-equivalent credits (CO2).
Greenhouse Gas Emissions
In 2016, our total GHG emissions (Scope 1 and Scope 2), as CO2e, were 2,925 kilotonnes (kt), compared to 2,908 kt in 2015. Of those totals, our direct (Scope 1) GHG emissions( ) were 2,552 kt in 2016, compared to 2,551 kt in 2015. Figure 27 shows a breakdown of our emissions by fuel type. We estimate our indirect (Scope 2) GHG emissions associated with electricity use for 2016 to be 374 kt, or approximately 13% of our total emissions. These emissions are associated primarily with our Cardinal River, Carmen de Andacollo and Quebrada Blanca operations, as their electricity power grids are based heavily on fossil fuels. Elsewhere, our indirect emissions were relatively small, as operations in B.C. and Washington state obtain a significant proportion of their electricity from hydroelectric generation.
In 2016, we updated the Global Warming Potential values for all of our GHG accounting to align with regulatory requirements. Global Warming Potentials are the factors that convert greenhouse gases – like methane (CH4) – to a carbon dioxide equivalent (CO2e), thereby standardizing the quantification of GHG emissions. As a result, historical values have been restated to ensure consistency of accounting practices. Fugitive emissions from our coal operations (i.e., estimated methane release) are captured as direct emissions.
Reducing Greenhouse Gas Emissions
We implemented several energy and GHG reduction projects that contributed to our energy goals in 2016. We also identified reduction projects that were successful at a number of our sites, and worked to implement them at our other operations. In 2016, five of our operations reduced their GHG emissions.
We are working towards our 2020 GHG reduction target of 275 kt of CO2e emissions, with reductions estimated at approximately 217 kt of CO2e emissions at the end of 2016.
Figure 27: Scope 1 and Scope 2 GHG Emissions by Fuel Type(1),(2)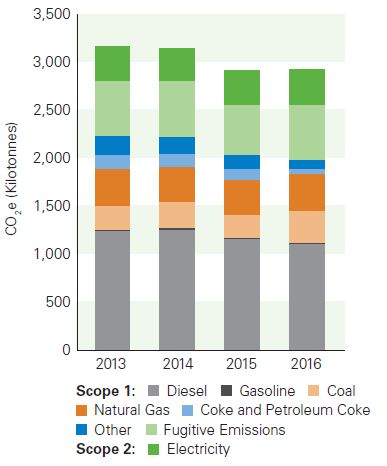 (1) Scope 1 (Direct) Greenhouse Gas Emissions: Emissions that occur from energy sources that are owned or controlled by the company.
(2) Scope 2 (Indirect) Greenhouse Gas Emissions: Emissions that occur from the generation of purchased electricity consumed by the company. Scope 2 emissions physically occur at the facility where electricity is generated.
Scope 3 Emissions
While Scope 1 emissions occur from energy sources controlled by the company and Scope 2 emissions occur from electricity consumed by the company, Scope 3 emissions are other emissions that arise from sources owned or controlled by other entities within our value chain. For example, Scope 3 emissions include those arising from business travel by employees, the use of our products, and the transportation of materials that we purchase and sell. Consequently, Scope 3 emissions cover a wide spectrum. Our approach is to identify and quantify those that are material to Teck.
Our most material Scope 3 emissions are from the use of our steelmaking coal product by our customers. Unlike the vast majority of coal, which is burned to generate electricity, steelmaking coal has special properties that make it a suitable input for manufacturing steel. Based on our 2016 sales volumes, Scope 3 emissions from the use of our steelmaking coal are approximately 79,053 kt of CO2e, compared to 76,000 kt of CO2e in 2015 and 74,000 kt of CO2e in 2014.