Positioning Teck to Thrive in the Low-Carbon Economy
Energy Use and Reduction
In 2017, we consumed a total of 43,899 TJ of energy (i.e., electricity and fuels), as compared to 42,538 TJ in 2016. Trends in fuel and electricity consumption for the past four years are shown in Figure 12. In 2017, six of our operations (Cardinal River, Coal Mountain, Carmen de Andacollo, Highland Valley Copper, Quebrada Blanca and Trail Operations) reduced their absolute energy consumption from 2016.
Collectively, projects implemented in 2017 have reduced annual energy consumption at our operations by 582 TJ — enough to power 5,404 homes for a year. Since 2011, our efforts have resulted in reduction projects totalling 2,132 TJ.
In 2017, approximately 27% of our energy requirements (i.e., electricity and fuels) were supplied by non-carbon-emitting sources, primarily hydroelectricity, compared to 28% in 2016. Of our total electricity consumption in 2017, 81%, or 11,719 TJ, was from renewable energy sources, the majority of which is hydroelectricity.
Teck is exploring opportunities for solar, wind and other low-carbon technologies across our portfolio. We are prioritizing these opportunities based on proximity to areas where we operate or have operated, opportunities where we may be able to gain expertise in renewables, opportunities to further explore specific technologies of interest to Teck, and the ability of projects to provide other sustainability benefits, such as for local communities.
Figure 12: Energy Consumption by Type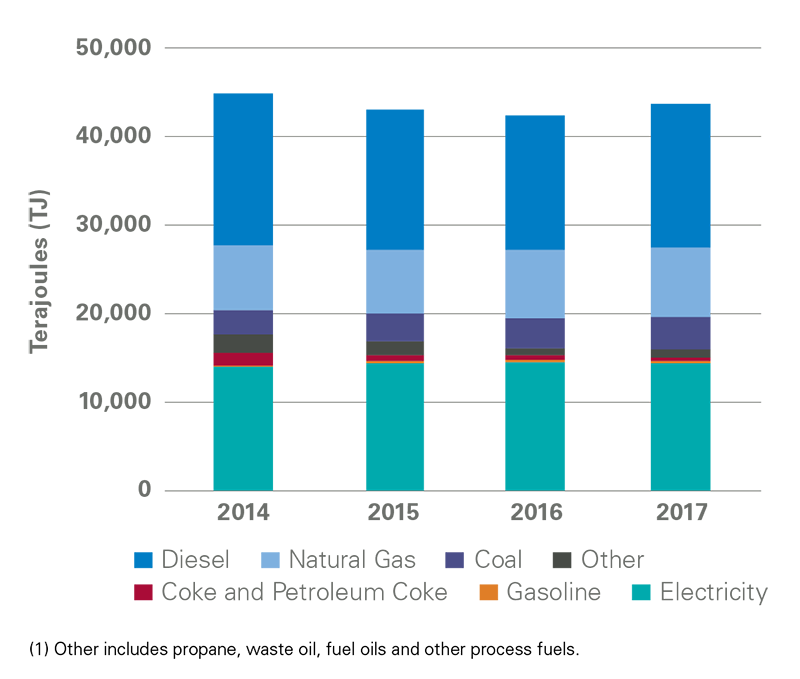 Energy Intensity
In Figures 13 to 15, we outline our energy intensity, or the amount of energy used per tonne of product. This is a measure of efficiency that helps us to better manage our performance.
Figure 13: Steelmaking Coal Production Intensity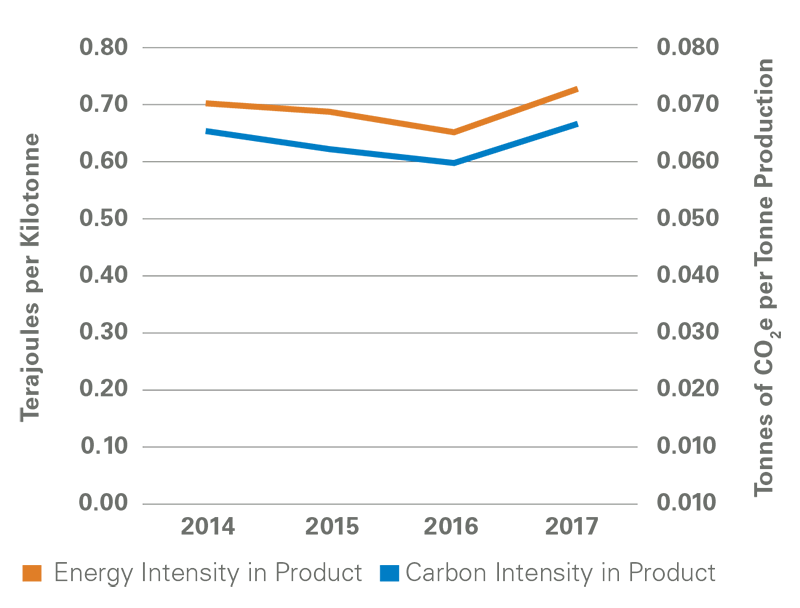 Figure 14: Zinc and Lead Production Intensity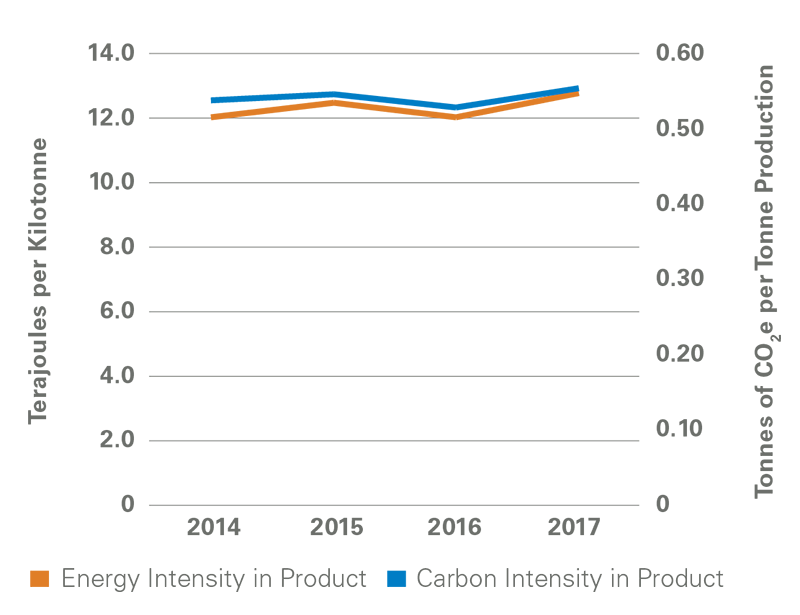 Figure 15: Copper Production Intensity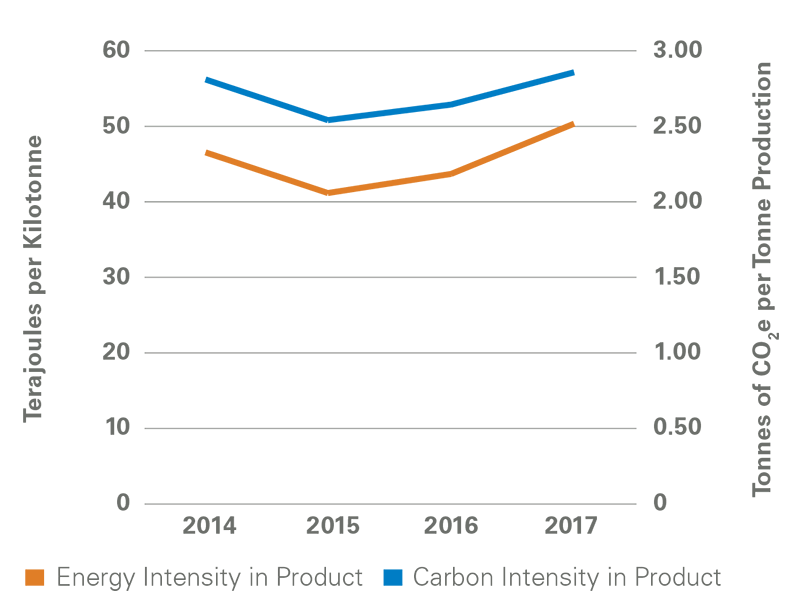 Energy and carbon intensity for the production of steelmaking coal increased in 2017 (Figure 13). This change is due to an increase in strip ratios at our steelmaking coal operations, where energy use and the associated emissions were focused on moving non-product materials to a greater degree than in previous years. It is natural for strip ratios to vary over time, so while the emissions intensity of coal has increased in 2017 and may increase again in the future, the intensity will conversely decrease in the future when strip ratios decrease.
Carbon intensity is a measure of the GHG emissions(6) generated during production of a given unit of a commodity, e.g., the amount of carbon dioxide (CO2) generated per tonne of copper or steelmaking coal produced. According to data from the International Council of Mining and Metals (ICMM), at 67 kilograms of CO2-equivalent per tonne of steelmaking coal produced, the emissions intensity of our steelmaking coal is less than half the industry average of more than 150 kilograms. Similarly, our copper production averages 2.6 tonnes of CO2-equivalent per tonne of copper produced, which is 35% below the industry average of 4 tonnes. Our goal is to continue to improve the carbon intensity of our operations and future projects.
Reducing Our Carbon Footprint(5)
In 2017, our total GHG emissions (Scope 1 and Scope 2), as CO2e, were 3,010 kilotonnes (kt), compared to 2,931 kt in 2016. Of those totals, our direct (Scope 1) GHG emissions were 2,682 kt in 2017, compared to 2,552 kt in 2016. Figure 16 shows a breakdown of our emissions by fuel type. We estimate our indirect (Scope 2) GHG emissions associated with electricity use for 2017 to be 328 kt, or approximately 11% of our total emissions. These emissions are associated primarily with our Cardinal River, Carmen de Andacollo and Quebrada Blanca operations, as their electricity power grids are based heavily on fossil fuels. Elsewhere, our indirect emissions were relatively small, as operations in B.C. and Washington state obtain a significant proportion of their electricity from hydroelectric generation.
We implemented several energy and GHG reduction projects that contributed to our energy goals in 2017 and six of our operations reduced their GHG emissions. We met our 2020 GHG reduction goal of 275 kt of CO2e emissions early, with reductions already estimated at approximately 281 kt of CO2e emissions at the end of 2017. One of the largest contributors to our progress to date has been the sourcing of solar power at our Quebrada Blanca Operations in northern Chile. The amount of solar energy sources is equivalent to 30% of the total electricity consumed at Quebrada Blanca, and avoids approximately 39,000 tonnes of GHG emissions per year.
Figure 16: Scope 1 and Scope 2 GHG Emissions by Fuel Type(1),(2)

Scope 3 Emissions
Scope 3 emissions are other emissions that arise from sources owned or controlled by other entities within our value chain. For example, Scope 3 emissions include those arising from business travel by employees, the use of our products, and the transportation of materials that we purchase and sell. Consequently, Scope 3 emissions cover a wide spectrum. Our approach is to identify and quantify those that are material to Teck.
Our most material Scope 3 emissions are from the use of our steelmaking coal product by our customers. Unlike the majority of coal, which is burned to generate electricity, steelmaking coal has special properties that make it a suitable input for manufacturing steel. Based on our 2017 sales volumes, Scope 3 emissions from the use of our steelmaking coal are approximately 78,438 kt of CO2e, compared to 79,053 kt of CO2e in 2016.
Carbon Pricing and Advocating for Climate Action
We believe that broad-based pricing of carbon is one of the most effective ways to incentivize real reductions in GHG emissions by ensuring that all emitters contribute to the solution. As such, Teck advocates for broad-based carbon pricing, and we integrate it into a variety of decision-making processes, ranging from annual operating budgets developed at the site level, to corporate decision-making for large capital investments. We also calculate and consider our carbon exposure in terms of absolute costs incurred on an annual basis and projected out for at least five years. Teck has used an internal price on carbon for a decade. Currently, all of our steelmaking coal operations are covered by carbon pricing, as is half of our copper business and all of our metals refining business. While there is uncertainty in determining the future financial implications of carbon costs, we start with the assumptions that carbon prices will be continuously adopted around the globe, and will increase over time.
Carbon pricing is integrated into a variety of decision-making processes, ranging from annual operating budgets developed at the site level, to corporate decision-making for large capital investments. We also calculate and consider our carbon exposure in terms of absolute costs incurred on an annual basis and projected out for at least five years. Where a clear and certain carbon price is present, we incorporate that price and any known or planned changes to the carbon price. Where uncertainty exists, we typically conduct sensitivity analyses to better understand what our exposures and risks are under different carbon pricing and regulatory scenarios. In addition, we continue to advocate for carbon pricing policies that maintain the global competitiveness of trade-exposed industries to prevent carbon leakage, which is when GHG emissions move from one jurisdiction to another as a result of differences in carbon prices.
Following the adoption of the Paris Agreement in 2015, the Provinces of B.C. and Alberta completed reviews of their climate change plans, including a re-examination of their primary carbon price policies, the carbon tax in B.C. and the Specified Gas Emitters Regulation in Alberta. In 2017, the Province of B.C. announced a planned increase to the carbon tax beginning in 2018, increasing by $5 per tonne of CO2-equivalent (CO2e) per year until reaching $50 per tonne of CO2e. At the same time, the B.C. Government made a commitment to addressing impacts on emissions-intensive, trade-exposed industries to ensure that B.C. operations maintain their competitiveness and to minimize carbon leakage. In 2017, the Province of Alberta also consulted on the Carbon Competitiveness Incentive Regulation, the industry-specific carbon pricing policy set to replace the previous Specified Gas Emitters Regulation, which concluded in 2017.
In 2017, the Government of Canada continued its consultation on the national Pan-Canadian Framework that includes a national floor price on carbon. Canadian provinces have until 2018 to implement a carbon price, starting with a minimum price of $10 per tonne in 2018, increasing $10 per year to $50 per tonne by 2022.
We will continue to assess the potential implications of the updated policies on our operations and projects. In 2017, our most material carbon pricing policy impacts were related to B.C.'s carbon tax. For 2017, our seven B.C.-based operations incurred $52 million in provincial carbon tax, primarily from our use of coal, diesel fuel and natural gas.
Adapting to Physical Impacts
We are taking steps to guard against the future impacts of climate change, as we recognize that ongoing changes to climate could pose a potential physical risk to our mining operations and to related infrastructure. In response, we are incorporating a range of climate parameters into our project designs and ongoing mine planning processes — including closure and reclamation planning — to minimize our vulnerability to climate variability and to ensure robustness. In 2017, we participated in the Pacific Climate Impacts Consortium as members of the Program Advisory Committee, and in the Sustainable Water Management in the Athabasca River Basin Initiative as members of the Working Group that includes a focus on addressing climate variability and climate change in a watershed management context.
---
(5) In 2016, we updated the Global Warming Potential values for all of our GHG accounting to align with regulatory requirements; therefore, historical values have been restated. Global Warming Potentials are the factors that convert greenhouse gases — like methane (CH4) — to a carbon dioxide equivalent (CO2e), thereby standardizing the quantification of GHG emissions.
(6) Fugitive emissions from our coal operations (i.e., estimated methane release) are captured as direct emissions.