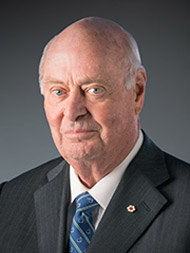 Norman B. Keevil
Chairman Emeritus
Dr. Norman B. Keevil is a graduate of the University of Toronto (B.A. Sc.) and the University of California at Berkeley (Ph.D). He received an honorary LL.D from the University of British Columbia in May 1993.

His 60 years at Teck began as Vice President, Exploration from 1962 to 1968, followed by Executive Vice President from 1968 to 1981, President and Chief Executive Officer from 1981 to 2001 and Chairman of the Board from 2001 – 2018. He is the author of the book Never Rest on Your Ores, Building a Mining Company One Stone at a Time, published by McGill Queens University Press in 2017 and updated in 2023.

Dr. Keevil is a lifetime director of the Mining Association of Canada and was inducted into the Canadian Mining Hall of Fame in January 2004 and the Canadian Business Hall of Fame in 2012. He became an Officer of The Order of Canada in May, 2015.
---