The Board provides oversight and delegates responsibility for sustainability issues to specific committees that meet at least quarterly. The following table outlines these key committees of the Board and their associated role in oversight of sustainability issues.
| | |
| --- | --- |
| Committee of the Board | Responsibilities related to sustainability issues |
| Safety and Sustainability Committee | Oversees health, safety and sustainability policies, systems, performance and auditing, including our Health, Safety, Environment and Community Management Standards. |
| Corporate Governance and Nominating Committee | Considers and recommends corporate governance programs to the Board, proposes nominees for Board and committee appointments, and assists with Board, committee and director evaluations to ensure that our governance practices are rigorous, relevant and appropriate to Teck |
| Audit Committee | Assists the Board in its oversight of a number of functions including financial reporting, disclosure practices and auditing, anti-fraud programs and controls, including management's identification of fraud risks and implementation of anti-fraud measures, and the overall governance of pension plans. |
| Compensation Committee | Responsible for recommending compensation policies to the Board and for the annual review of senior officer and director compensation. Reviews the CEO's corporate goals and objectives and recommends them to the Board, evaluates CEO performance in these areas and makes recommendations to the Board on CEO compensation. |
Our Board of Directors is responsible for the stewardship of our company and ensures that an appropriate corporate governance structure and system are in place. Our key governance practices are described in detail in our 2016 Management Proxy Circular.
We take measures to develop and enhance the Board of Directors' understanding of economic, environmental and social topics at regular meetings, strategy sessions and site visits. For example, we hosted external speakers on the current global economic climate for our Board of Directors and held special presentations for the Safety and Sustainability Committee, including presentations on the following topics in 2016: sustainability strategy, Indigenous agreements, mine closure, legacy properties, permitting, tailings management, water quality topics, climate change, climate actions and carbon pricing, safety, occupational health and hygiene, and other topics of importance to COIs.
Management Committees and Corporate Functions
Our Senior Vice President of Sustainability and External Affairs reports directly to our CEO and is responsible for sustainability, health and safety, environment, community, and Indigenous affairs, among other areas. Her direct reports include the:
Vice President, Community and Government Relations, who leads the corporate sustainability strategy and activities related to social responsibility, community engagement and investment, government relations and Indigenous affairs
Vice President, Environment, who oversees compliance with environmental standards for projects, operations and our legacy properties, and regularly reviews environmental performance risks and strategic issues, including tailings, biodiversity, water, air and energy
Vice President, Health and Safety, who provides strategic guidance in the development of a culture of safety, and assists with the development and monitoring of health and safety strategies
Vice President, Corporate Affairs, who is responsible for managing the company's public affairs, sustainability reporting, brand management and employee communications
Board Diversity, Qualifications and Expertise
The Corporate Governance and Nominating Committee believes that a Board with directors from diverse backgrounds and different experiences benefits the company by enabling the Board to consider issues from a variety of perspectives. When assessing potential candidates for nomination to the Board, corporate governance, corporate responsibility and sustainable development experience are part of the selection criteria for Board members. The Board also considers gender, ethnicity and national origin, in addition to business skills, qualifications and career history when assessing potential candidates. As of the report publication date, 14% of the Board, or two out of 14 directors, are women; a third woman was nominated to the Board at our 2017 annual meeting. Please view our 2016 Management Proxy Circular, for further details on Teck's Board qualifications, experience and diversity practices.
Shareholder and Employee Feedback to the Board
Shareholder proposals, resolutions and other mechanisms allow shareholders to convey their opinions to the Board. As provided in the Canada Business Corporations Act, registered shareholders are entitled to receive notice of the Annual Meeting of Shareholders, and to vote on resolutions. In 2016, there were resolutions presented at the Annual Meeting of Shareholders regarding the election of directors, the appointment of the auditors, amendments to the company's stock option plan and executive compensation. Detailed voting results are posted on SEDAR at www.sedar.com following the Annual Meeting of Shareholders. Investors have the opportunity to provide feedback to our company via the investor relations group through:
Email through our company's website
Direct or telephone contact with an investor relations officer (a contact person is identified in each news release)
Regular mail
Quarterly conference calls
Our Board engages directly with shareholders and governance groups with respect to governance matters. Our Board has adjusted the Shareholder Engagement Policy. Employees can engage our CEO and senior management through our "Let's Talk" sessions. At these sessions, which are held periodically, employees are able to ask questions and receive answers on a wide range of topics, including social and environmental issues.
How We Manage Sustainability
Our sustainability strategy sets out our overall goals and visions for our work in sustainability, and is supported by our company-wide commitments. These commitments are outlined in the following policy documents:
Health, Safety, Environment and Community (HSEC) Management
Our HSEC Management Standards include overarching corporate policies and guidelines, and site-level policies and procedures.
Figure 5: Health, Safety, Environment and Community (HSEC) Management System Structure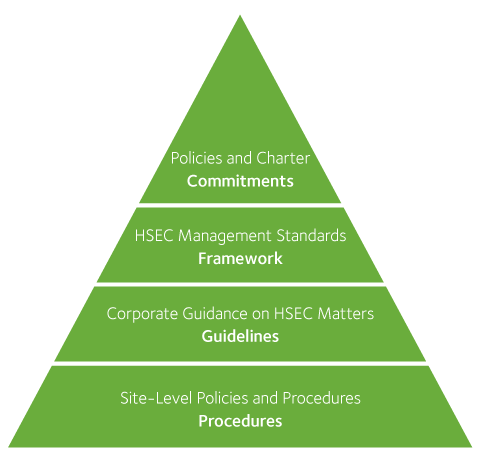 Our HSEC Management Standards provide a framework for implementing HSEC management systems at our company, in addition to our sustainability strategy. These Standards outline a set of consistent and systematic practices for the identification and effective management of HSEC issues and risks to support continual improvement in HSEC programs and performance. The Standards also provide auditable criteria for evaluating suitability and effectiveness of our HSEC management systems and set out minimum expectations for managing the HSEC-related aspects of our day-to-day activities.
Executive and Employee Remuneration Related to Sustainability
Incentive compensation of the CEO and senior officers is performance-based. Financial performance and the accomplishment of company annual objectives, as well as HSEC performance, are taken into consideration in the annual bonus review. For all executives, the bonus weighting for HSEC ranges from 15% to 20% of their overall bonus. In addition, the personal component of executive bonus ratings often includes specific objectives related to HSEC matters. Executive remuneration, including detailed information about annual objectives, is fully disclosed in our 2016 Management Proxy Circular, on pages 38-51.
For employees, the Teck Bonus Plan is aligned with Teck's primary objectives of safety, sustainability and productivity. The plan has three components: company, business unit and individual. The company component is evaluated based on financial performance measured by adjusted performance relative to budget, adjusted to reflect qualitative consideration and safety performance, which was based on Lost-Time and Disabling Injury Frequency in 2016. The business unit component for each operation has three metrics: production (33.3%), cost (33.3%) and sustainability (33.3%) of the specific operation. Sustainability performance is measured against objectives established with each operation at the beginning of the year.
Sustainability objectives are focused on the implementation of sustainable practices in the specific areas of environment, tailings management, community, water, biodiversity and energy. Therefore, employee bonuses are impacted by the sustainability rating for their operation. For functional groups (e.g., Human Resources, Finance), business unit performance is evaluated based on their objectives and the weighted average sustainability performance of the sites that they support. The individual component is based on overall job performance and stretch objectives agreed upon with each employee's manager and includes an element of safety/health/wellness. We include safety and sustainability as key metrics of our evaluation of corporate and business unit performance because they are core values that we want to embed in Teck's culture as well as in our pay philosophy.
Management Committees and Corporate Functions
Our Vice President, Human Resources, who reports directly to the CEO, is responsible for our human resources management, which includes sustainability goals related to employee attraction, training and development. Our Vice President, Risk and Security, who reports directly to the Senior Vice President, Commercial and Legal Affairs, is the Chair of our Materials Stewardship Committee and oversees our materials stewardship strategy. Our Senior Vice President, Commercial and Legal Affairs, oversees our work in managing ethics and human rights.
General Managers at each of our operations are accountable for operation-specific Health, Safety, Environment and Community (HSEC) management standards, for conformance with and certification under the International Organization for Standardization ISO 14001 standard where applicable, and for continual progress towards annual HSEC targets and our sustainability goals. Each General Manager reports to either a Vice President or the Senior Vice President of his or her respective business unit.
Figure 3: Sustainability Management Structure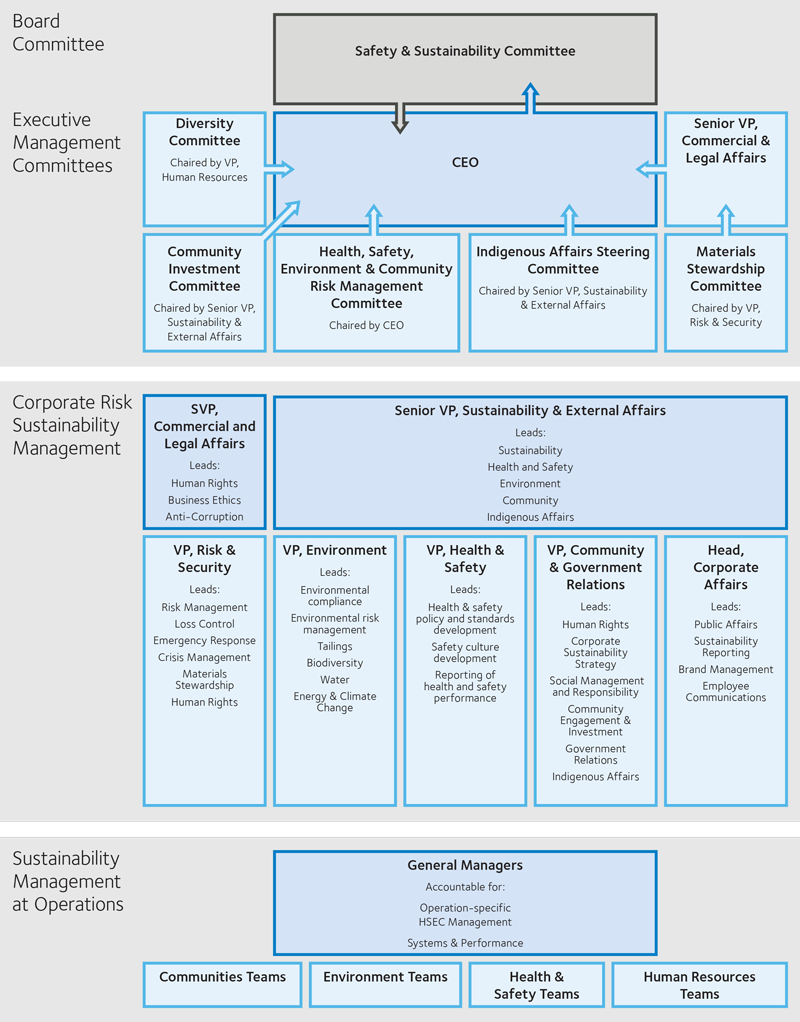 The following corporate management committees are responsible for overseeing the management of sustainability issues:
The Health, Safety, Environment and Community Risk Management Committee (HSEC RMC) is responsible for providing oversight and direction to ensure continual improvement in health, safety, environment and community performance as well as the implementation of appropriate processes and policies across the company. The HSEC RMC is a senior management committee that is chaired by the CEO.
Our Materials Stewardship Committee is responsible for understanding our products' risks and impacts, making recommendations on new product applications, managing packaging requirements, monitoring product regulations and issues, and establishing policies and procedures related to materials stewardship. This committee is chaired by the Vice President, Risk and Security.
The Indigenous Affairs Steering Committee approves policy and mandates for the negotiation of agreements with Indigenous Peoples, and provides oversight and direction for the negotiation and implementation of agreements with Indigenous groups. This is a senior management committee that is chaired by the Senior Vice President, Sustainability and External Affairs.
The Community Investment Committee oversees our community investment program to ensure that contributions are made in a manner that benefits our communities of interest and are aligned with our business objectives. The committee sets community investment policies and reviews major funding requests. It is chaired by the Senior Vice President, Sustainability and External Affairs.
The Executive Diversity Committee oversees our diversity-related initiatives. This is a senior management committee that is chaired by the Vice President, Human Resources.
Our senior management team is responsible for overseeing our sustainability strategy including goal development and progress against our goals. We also have a dedicated team of nearly 80 Teck employees whose primary job responsibilities are focused on coordinating our collective efforts on environmental, social and community issues.
External Commitments and Partnerships
We take into consideration external standards and best practices in our governance of sustainability. Through our membership and involvement with several external organizations, including the United Nations Global Compact, the United Nations Sustainable Development Goals (SDGs), the International Council on Mining and Metals (ICMM) Sustainable Development Framework and the Mining Association of Canada's (MAC) Towards Sustainable Mining initiative, we are able to contribute to and engage with others on the development of best practice in areas of sustainability performance and global sustainability trends. We also make commitments that guide and inform our sustainability performance. View a full list of Teck's memberships and partnerships related to sustainability.
Key activities in 2016 related to our memberships and partnerships included:
Supporting the ICMM's water position statement and position statement on preventing catastrophic failure of tailings storage facilities
Participation in the Carbon Pricing Leadership Coalition, a partnership of national and sub-national governments, businesses and organizations that agree to work toward integrating carbon pricing into the global economy.
Joining the Council for Clean Capitalism, a group of executives from companies who work to fully incorporate social, economic and ecological benefits and costs, and know the impacts of their marketplace actions. The Council seeks to create an economic model in which what is good for business is good for the environment and society.
Teck is also working to support progress on the SDGs. We recognize that the mining industry has an opportunity to positively contribute to all 17 of the SDGs. Teck has chosen to focus on four goals in particular: Goal 3, ensure healthy lives and promote well-being for all at all ages; Goal 5, achieve gender equality and empower all women and girls; Goal 8, promote sustainable and inclusive economies; and Goal 13, take urgent action to combat climate change and its impacts. View an overview of the work Teck is doing to address each of the 17 Sustainable Development Goals. Throughout this report, we describe how our activities are related to the SDGs in the SDG Spotlight found in the sidebar of several material topic sections.
Figure 6: Teck's Activities and Partnerships Related to the SDGs