Teck's strategy is focused on exploring for, developing and operating world-class, long-life assets in stable jurisdictions that operate through multiple commodity price cycles. We maximize productivity and efficiency at our existing operations, aim to maintain a strong balance sheet, and are nimble in recognizing and acting on opportunities. In everything we do, Teck is led by our values of safety, sustainability, integrity, respect, excellence and courage.
The success of our business depends on our ability to create value in a way that meets the needs of the company, our shareholders, communities and stakeholders while accounting for the broader environmental, social and economic context in which Teck operates. This requires us to understand the evolving global environment and to take an integrated approach to identifying, prioritizing and managing sustainability risks and opportunities.
As represented in Figure 1 below, our operations affect and are affected by communities, economies and environments. Each operation has three major phases: exploration and project development, operation (mining and processing, sales and transportation), and closure and reclamation. Sustainability is foundational throughout the phases of the mining life cycle. Strong sustainability practices are an essential part of reducing risk, lowering costs, recruiting talented people, increasing access to opportunity and building long-term shareholder value.
Figure 1: Sustainability during the Mining Life Cycle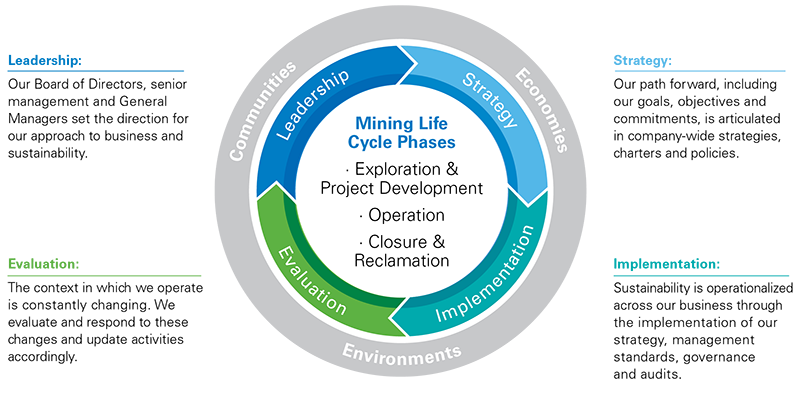 Board and Executive Leadership in Sustainability
Our Board of Directors is responsible for the stewardship of our company and ensures that appropriate corporate governance structures and systems are in place. Our key governance practices are described in detail in our Management Proxy Circular.
The Safety and Sustainability Committee of the Board supports the Board in overseeing health, safety and sustainability policies, systems, performance and auditing, including our Health, Safety, Environment and Community (HSEC) Management Standards. The Safety and Sustainability Committee met four times in 2018. As with each Board committee, our governance procedures require that we evaluate the effectiveness of the performance of the Safety and Sustainability Committee on an annual basis. A self-assessment was completed and recommendations were implemented, such as increased direct engagement with operations and reviewing additional detail about the status of community relations practices at our sites.
The Board works to enhance its understanding of sustainability topics at regular meetings, strategy sessions and site visits. For example, we hosted external speakers on the current global economic climate for our Board and held special presentations for the Safety and Sustainability Committee, including on the following topics in 2018: human rights, climate change, tailings management, water quality management, workplace hazard recognition, community and Indigenous Peoples engagement, public policy and government regulations.
Board Diversity, Qualifications and Expertise
The Corporate Governance and Nominating Committee believes that a Board with Directors from diverse backgrounds with different experiences benefits the company by enabling the Board to consider issues from a variety of perspectives. When assessing potential candidates for nomination to the Board, corporate governance, corporate responsibility and sustainable development experience are part of the selection criteria. The Board also considers gender, ethnicity and national origin in addition to business skills, qualifications and career history. Currently, 29% of our Board members are women. See our Management Proxy Circular for further information.
Executive Sustainability Management Committees
As summarized in Figure 2, the following management committees and members of the senior management team are responsible for overseeing Teck's sustainability implementation and performance. Our Senior Vice President of Sustainability and External Affairs reports directly to our CEO and is the main senior executive responsible for sustainability, health and safety, environment, community relations, and Indigenous affairs, among other areas.
Our senior management team is responsible for overseeing our sustainability strategy, including goal development and progress against our goals. We also have a dedicated corporate team of nearly 80 Teck employees whose primary job responsibilities are focused on providing oversight on our collective efforts on environmental, social and community issues. General Managers are accountable for implementing HSEC Management Standards at their operation, for conformance with and certification under the International Organization for Standardization ISO 14001 standard where applicable, and for continual progress towards annual HSEC targets, including our sustainability goals. Each General Manager reports to either a Vice President or the Senior Vice President of their respective business unit.
Figure 2: Sustainability Management Structure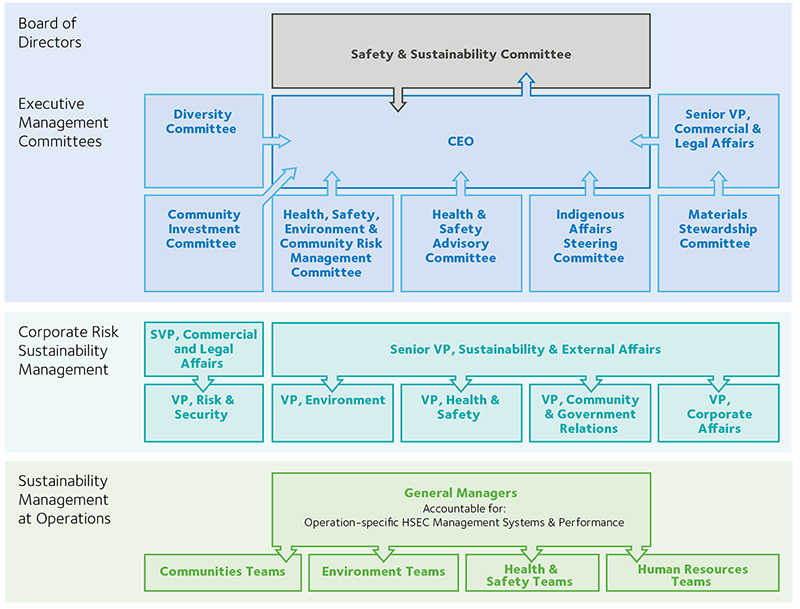 Sustainability Strategy and Commitments
Our sustainability strategy sets short-term goals to 2020 and long-term goals to 2030 in six focus areas representing the most significant sustainability risks and opportunities facing our company: Community, Water, Our People, Biodiversity, Energy and Climate Change, and Air. Our strategy is integrated into decision-making by embedding it into management standards, into remuneration and into corporate, site and employee annual plans and objectives. Corporate, site and employee objective-setting and evaluation processes are updated to reflect the broader performance objectives set out in our strategy to align priorities at all levels of the company.
Throughout the year, our senior management team and the Safety and Sustainability Committee of the Board review performance against our sustainability strategy and approve future actions. As 2020 approaches, we are working to achieve our short-term goals and are in the process of reviewing our overall strategy. We also continue to manage emerging risks and embrace opportunities that increase our competitiveness and our contributions to sustainable development.
Internal Commitments
The sustainability strategy is supported by our company-wide commitments as outlined in topic-specific policy documents on our website. In 2018, we released an updated version of our Code of Sustainable Conduct, which emphasizes our overall commitment to sustainability.
Code of Sustainable Conduct
In conducting Teck's business, we will:
Ethical Business Conduct
Always obey the law, report all incidents and conduct business in accordance with our Code of Ethics and avoid all forms of corruption, in accordance with our Anti-Corruption Policy
Ensure that no discriminatory conduct, harassment including sexual harassment, forced labour or child labour occurs in the workplace
Uphold freedom of association and the right to collective bargaining for our workforce, and provide fair living wages and working hours
Promote inclusion and diversity in our workforce in accordance with our Inclusion and Diversity Policy
Impact, Risk and Opportunity Management
Conduct activities to avoid, minimize or mitigate negative environmental, social and economic impacts, maximize positive impacts, and work to continually improve our performance
Identify and analyze risks and opportunities facing our business, and continually improve health, safety, environmental and community policies, management systems, and controls, and ensure they are fully integrated into our activities
Work to improve our longer-term social, economic and environmental performance by implementing our Sustainability Strategy
Health and Safety
Promote a culture of health and safety, and recognize and continually reinforce company-wide efforts to achieve zero safety or health incidents, in accordance with our Health and Safety Policy
Ensure that all employees and contractors have the knowledge and ability to safely perform their duties
Identify and manage occupational health and hygiene exposures for the protection of longer-term health
Environmental Stewardship
Integrate biodiversity considerations through all stages of our activities; design and operate for closure, respect legally designated protected areas, and refrain from exploring or mining in UNESCO World Heritage sites
Promote the efficient and responsible use of energy, water and other resources throughout our business in accordance with our Water Policy and our Strategy for Climate Action
Implement practices to ensure the safe operation and closure of tailings storage facilities
Community Engagement
Recognize and respect the rights and aspirations of people affected by our activities, in accordance with our Human Rights Policy and Indigenous Peoples Policy
Foster open and respectful dialogue with communities of interest throughout the mining life cycle, and work to achieve free, prior and informed consent of Indigenous Peoples
Supply Management and Economic Development
Support local communities through measures such as development programs, locally sourcing goods and services, and employing local people
Engage our suppliers in the implementation of the Code to promote responsible use and supply of materials and metals, in accordance with our Expectations for Suppliers and Contractors
Ensure the materials we use and the products we produce do not use conflict minerals
Audits and Reporting
Maintain a confidential feedback mechanism that allows employees, contractors and other stakeholders to report violations of our Code of Ethics and other concerns
Conduct regular audits to ensure adherence with this Code
External Commitments
We take into consideration external standards and best practices in our governance of sustainability. Through our membership and involvement with several external organizations, we are able to contribute to and engage with others on the development of best practice in sustainability. Two of our key memberships that help to drive our performance and management of sustainability are described here:
International Council on Mining and Metals (ICMM): ICMM is a global industry association that represents leading international mining and metals companies. As an ICMM member, we are required to implement the ICMM 10 Principles and position statements on sustainability practices, to produce an externally verified sustainability report using Global Reporting Initiative (GRI) Standards, and to implement the ICMM Assurance Procedure, which is a third-party verification process to verify that Teck meets the member requirements.
Mining Association of Canada (MAC) — Towards Sustainable Mining (TSM): MAC promotes the growth and development of Canada's mining and mineral processing industry for the benefit of all Canadians. Through MAC, we are required to implement the TSM program, which aids in improving industry performance through the alignment of actions with the priorities and values of Canadians. As a MAC member, we conduct self-assessments at our operations and are subject to third-party verification of our self-assessments in accordance with TSM standards for social and environmental responsibility.
A full list of Teck's memberships, partnerships and external commitments related to sustainability is available on our website, and updates on our work in this area can be found in the material topic chapters of this report.
United Nations Sustainable Development Goals (SDGs)
We recognize that the mining industry has an opportunity to positively contribute to all 17 of the SDGs. Teck focuses on supporting four goals in particular:
Goal 3: Ensure healthy lives and promote well-being for all at all ages

Goal 5: Achieve gender equality and empower all women and girls

Goal 8: Promote sustained, inclusive and sustainable economic growth, full and productive employment and decent work for all

Goal 13: Take urgent action to combat climate change and its impacts
An overview of the work Teck is doing to help address each of the 17 Sustainable Development Goals is available on our website.
Sustainability Governance
Our approach to implementing sustainability across our business starts with embedding it in our business planning and our objective-setting processes, which are conducted on an annual basis. For example, risks and opportunities related to health and safety, environmental management, and relationships with Indigenous Peoples and local communities are reflected in the long-term plans for each business unit and operation.
Our compensation program for employees is linked to health and safety, and sustainability performance through individual, department and company-wide objectives. Hundreds of employees across our operations are engaged in implementing specific projects and practices related to our goals. All employees are engaged in our sustainability strategy, through internal communications and day-to-day activities, to help us achieve our goals.
Incentive compensation of the CEO and senior officers is performance-based and includes several sustainability performance indicators. In addition, the personal component of executive bonus ratings often includes specific objectives related to sustainability matters.
Integrated Risk Management
Our objective for sustainability is to work within the social, economic and environmental contexts in a way that ensures positive outcomes for our business and our stakeholders in the short and long term. Our process for integrating risk management throughout the business includes identifying, evaluating and addressing economic, social and environmental risks and opportunities on a regular basis. The risks and impacts associated with our business are multi-faceted and require effective collaboration among departments, business units and external stakeholders. See Figure 3 for descriptions of some of our major risks in the various phases of the mining life cycle.
Figure 3: Mining Life Cycle Risks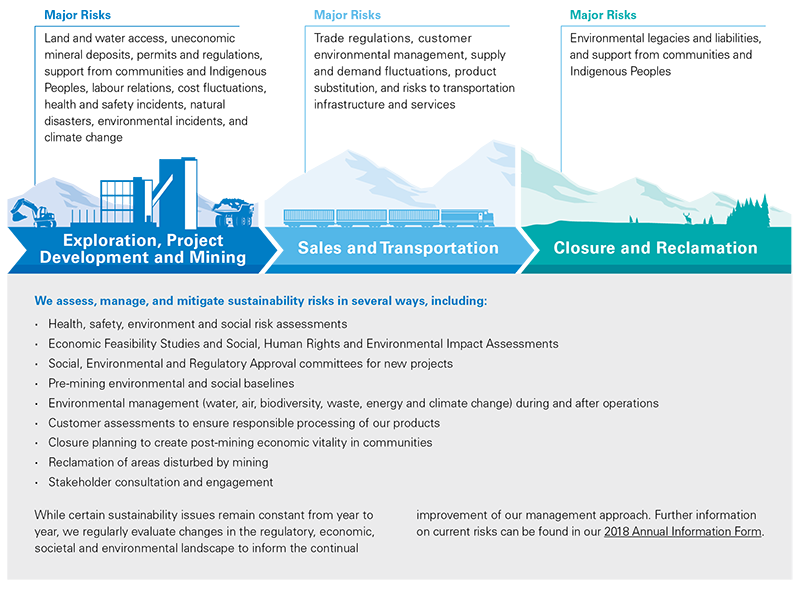 Regulation, Permitting and Approvals
Our ability to operate depends on meeting legal compliance requirements and demonstrating value to both shareholders and communities. We continually monitor and manage the social and environmental aspects of our activities in order to meet or exceed regulations and to ensure regulatory compliance. This helps us obtain and maintain approvals to operate and grow our business.
We engage directly and indirectly (through industry groups) with governments and regulators to support permitting processes that are practical and effective in protecting the local environment and communities. Once permits are granted, our assurance program is designed to confirm that we continue to meet all relevant requirements. We track our permit and other requirements, and the management of those requirements, such as discharge monitoring, in our compliance and task management systems.
Project Development
During project development, experts are engaged to facilitate early stage integration of sustainability principles and practices. In 2018, we worked on updating the criteria that projects must apply as they progress through different phases, in order to better operationalize our sustainability goals within our project delivery framework. We also trained project managers on our sustainability strategy to increase awareness and to enable them to better align their project planning decisions with our sustainability goals. During 2018, we also initiated a structured decision-making process that explicitly and transparently identifies and incorporates relevant sustainability considerations into project decisions.
Health, Safety, Environment and Community Management Standards
Teck's Health, Safety, Environment and Community (HSEC) Management Standards outline a high-level framework for the identification and effective management of HSEC issues and risks to support continual improvement in related programs and performance. They also provide context for overarching corporate policies and guidelines, and site-level policies and procedures. The HSEC Management Standards apply to current and closed properties, and to activities including waste management, engineering/maintenance, selection of suppliers and contractors, development of new products and services, product distribution, new projects, exploration, and due diligence of mergers and acquisitions. In addition to the HSEC Management Standards, nine of our 12 operations are certified under International Organization for Standardization, Standard 14001. The ISO 14001 standard for environmental management systems exists to help organizations manage environmental impacts.
The HSEC Risk Management Committee, chaired by the CEO, is responsible for overseeing the Standards and providing oversight and direction to ensure continual improvement in sustainability performance as well as the implementation of relevant processes and policies across the company.
Figure 4: Health, Safety, Environment and Community Management Structure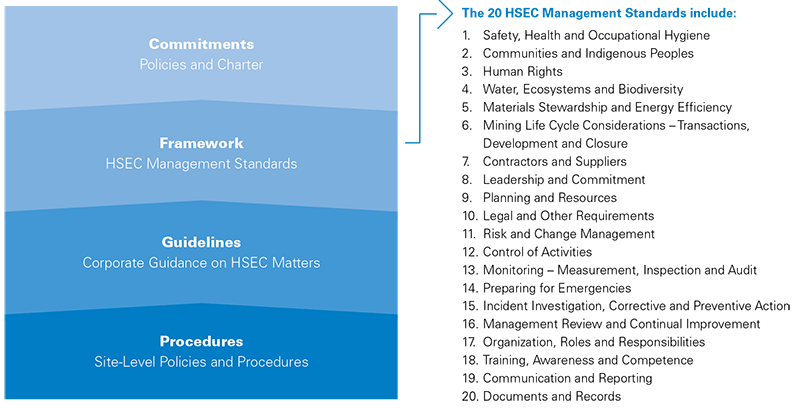 Incident Management
An incident is an unintended event that, in the vast majority of cases, is immediately managed and has no significant implications. We actively monitor and manage all incidents related to our activities, including those related to health and safety, communities and the environment.
All our operations have preventive control measures in place to minimize the likelihood of incidents and to mitigate potential effects on employees, communities or the environment in case an incident does occur. We apply a hierarchy of controls to strengthen our ability to prevent and mitigate risk. Control measures include facility design considerations, spill containment measures, monitoring systems and alarms, standard operating procedures, training, regular inspections, and the identification of potential issues through internal risk assessments and audits.
Significant incidents are investigated to identify key contributing factors, and we implement corrective actions to help prevent incidents from reoccurring. We also share learnings from Teck across the mining industry for any significant incidents.
Environmental Monitoring
We conduct a wide array of measurements to manage and evaluate our environmental performance. We monitor a range of environmental data, including:
Emissions to air

Ambient air quality, including particulate matter levels

Noise levels

Geotechnical information related to pit walls and water retention structures

Environmental incidents

Water quality (surface water, groundwater and permitted discharges to receiving water)

Biodiversity (including land reclamation)

Energy consumption and greenhouse gas emissions

Material use and recycling information
As required, we develop corrective action plans based on findings from monitoring, and we regularly assess the implementation of these plans. All our operations have control measures in place to minimize the likelihood of environmental incidents and to mitigate potential effects on the environment in case an incident does occur.
Emergency Preparedness
We identify a comprehensive range of potential emergencies and ensure we are prepared to respond to, and recover from, these situations as quickly and effectively as possible. Potential risks are mitigated through robust risk management measures. A range of emergency scenarios are tested each year via emergency drills to evaluate the adequacy and effectiveness of our emergency preparedness — including human and physical resources. Emergency preparedness and planning are conducted at a corporate and site level as well as within the communities near our operations, as outlined in Table 1.
Table 1: Emergency Preparedness at Corporate Offices, Sites and Communities
Corporate Risk Group —
Crisis Management Team

Develops and designs Teck's overall approach to risk management, including the risk management practices related to the development and oversight of sites' emergency preparedness plans, which includes annual review, design and development of crisis simulations and training at sites

Provides risk identification and analysis support for individual sites
Coordinates additional training, capacity building and simulations as necessary

Individual Sites

Develop emergency preparedness plans tailored to site-specific risks
Work closely with the Corporate Risk Group to ensure alignment with Teck's overall risk approach
Conduct training and simulations to ensure readiness and capabilities of workers and managers
Coordinate with local stakeholders

Local Communities

Develop their own emergency preparedness and response plans
May collaborate and conduct joint simulations with adjacent Teck sites
May exchange information and best practices with adjacent and non-adjacent Teck sites
Our framework within Teck's Global Risk Management Program guides the process of:
Identifying hazards
Assessing the risks associated with those hazards
Applying relevant controls to minimize the potential risks
Regularly checking effectiveness of controls
Ensuring appropriate plans and resources are put in place to respond to emergencies that may occur
Standards for emergency preparedness are updated on a regular basis as required. With the support and guidance of our Risk Group, each operation develops site-specific emergency preparedness and response plans based upon those requirements. As such, emergency response plans and preparations are appropriate for site-specific conditions and are based on a range of credible — although extremely unlikely — incident scenarios.
Cybersecurity
Cybersecurity is a risk that Teck mitigates through stringent management and governance of digital technology. Effective management and governance of cyberrisk in a world of increasing cyberthreats are fundamental to the long-term sustainability of our company.
The Vice President, Teck Digital Systems and Chief Information Officer is accountable for the effectiveness of information technology at Teck and the cybersecurity of our systems. The Director, Information Security is responsible for developing and enacting the strategy as well as for the operation of the cybersecurity program at Teck.
The nature of the cyberthreats facing Teck and the industry have evolved, particularly over the past three years, and are now primarily motivated by profit. As Teck moves to utilizing more digital technologies, our tactics for managing risks will evolve alongside the changing environment. Fundamentally, Teck believes that cybersecurity is an industry-wide concern and has partnered with other companies in the mining and metals sector to form the global Mining and Metals Information Sharing and Analysis Center to share threat information and best practices as an industry.
Evaluation of Sustainability
On an ongoing basis, our management team provides guidance on changing context and expectations, and we periodically update our policies, management standards and management systems. On an annual basis, individual and company objectives for sustainability are evaluated, and we update our business plans to reflect any changes in the past year. Our sustainability strategy is updated approximately every five years and is reflected in new short-term goals and in revisions as required to our long-term goals.
Internal and External Audits
Our environmental assurance program is designed to verify that requirements are met, as defined by applicable permits, legislation and regulations in each jurisdiction. We conduct compliance audits on a three-year rotational basis for all operations, and plans are developed to address the findings based on risk priority criteria. We monitor and report to our HSEC Risk Management Committee on the progress of our assurance program on a quarterly basis. We also conduct external verification of regulatory or external commitments. Table 2 provides an overview of the types of audits and evaluations that are conducted across our operations. Follow-up checks and audits are conducted to evaluate the effectiveness of actions implemented in response to the audits.
Table 2: Internal and External Audits of HSEC Management
Type

What is audited?

For whom?

Evaluation criteria

Internal

Risk-based Health, Safety and Environment audits at each site

Adherence to regulatory and permit requirements, effectiveness of controls based on risk profile, corporate health and safety requirements

HSEC Risk Management Committee

Legal obligations, internal standards

Follow-up effectiveness check

Validate effectiveness of closure of findings two years after initial audit

Action plans from past audit findings

Risk reviews

Control of significant risks

Internal standards

ISO 14001 internal audits

Components of the environmental management system at selected sites

Site Management

ISO 14001 Environmental Management System Standard

External

Towards Sustainable Mining (TSM) audit

External verification of data reported to TSM from sites selected on a rotating schedule.

Mining Association of Canada

TSM Protocols

Sustainability Report assurance

External assurance of report, data and practices

International Council on Mining and Metals (ICMM)

ICMM Assurance Procedure

Greenhouse Gas (GHG) Regulation Assurance

Validation of GHG data reported and quantification of methodologies

Alberta and B.C. governments

Quantification methodologies defined by regulation

ISO 14001 external audits

Components of the environmental management system at certified sites

International Organization for Standardization (ISO)

ISO 14001 Environmental Management System Standard
Sustainability, Innovation and Technology
Responsible resource development guides our approach to business. Innovation and technology are helping to improve our environmental and social performance while also making us a safer and more productive company. We focus, for example, on finding better ways to manage water, reduce greenhouse gas emissions, control dust, and improve air quality and energy efficiency, while also saving lives through improved nutrition and healthcare.
In 2018, Teck launched a program called Ideas at Work to celebrate the people, ideas and stories that are strengthening our company for the future. Through this program, we articulate our approach to innovation and technology, which is focused on four key pillars: safety, sustainability, productivity and growth.
Learn more about how we put ideas to work at Teck.