Located deep in the mountains of Norte Chico in the Coquimbo region of Chile, Andacollo is a city founded on mining. For generations, small and medium-scale artisanal mining has been the primary economic driver in the community, employing a significant percentage of the local workforce.
Artisanal and small-scale mining ranges from informal subsistence mining by individuals to small commercial mining operations. Several of these small-scale copper mining operations are in close proximity to Teck's Carmen de Andacollo (CdA) operations.
Small-scale artisanal miners in Andacollo often work under minimal safety conditions, raising significant concerns for their health and safety. To help improve safety and sustainability, Teck has developed a free land use program to help artisanal miners carry out work on Teck-owned land in compliance with all of Chile's National Geology and Mining Service safety requirements. Under this program, CdA lends the land to the artisanal miners for a specific time period to be utilised without having to pay rent. At the end of the contract period, the artisanal miners return the land to Teck.
These free loans are offered through an open and efficient application process, where local miners approach the company, provide details of their application, and request an extraction point. CdA then reviews the request and verifies all safety conditions have been met. Once the safety plan has been approved, local miners are granted access to the land for four years in order to carry out the requested work.
As of October 2020, there were 34 active sites being used for small-scale mining in the area. In addition to the free land use program, Teck has also put together a safety support plan to assist artisanal miners in adhering to the requirements from the National Geology and Mining Service.
"It is very good to have Teck's support, because it helps the artisanal miners to develop and improve their activity, said Eric Berríos, President of the Artisanal and Small Miners Union of Andacollo. "At the same time, it advances the safety culture, which has created a shift in the small miners' mind-set."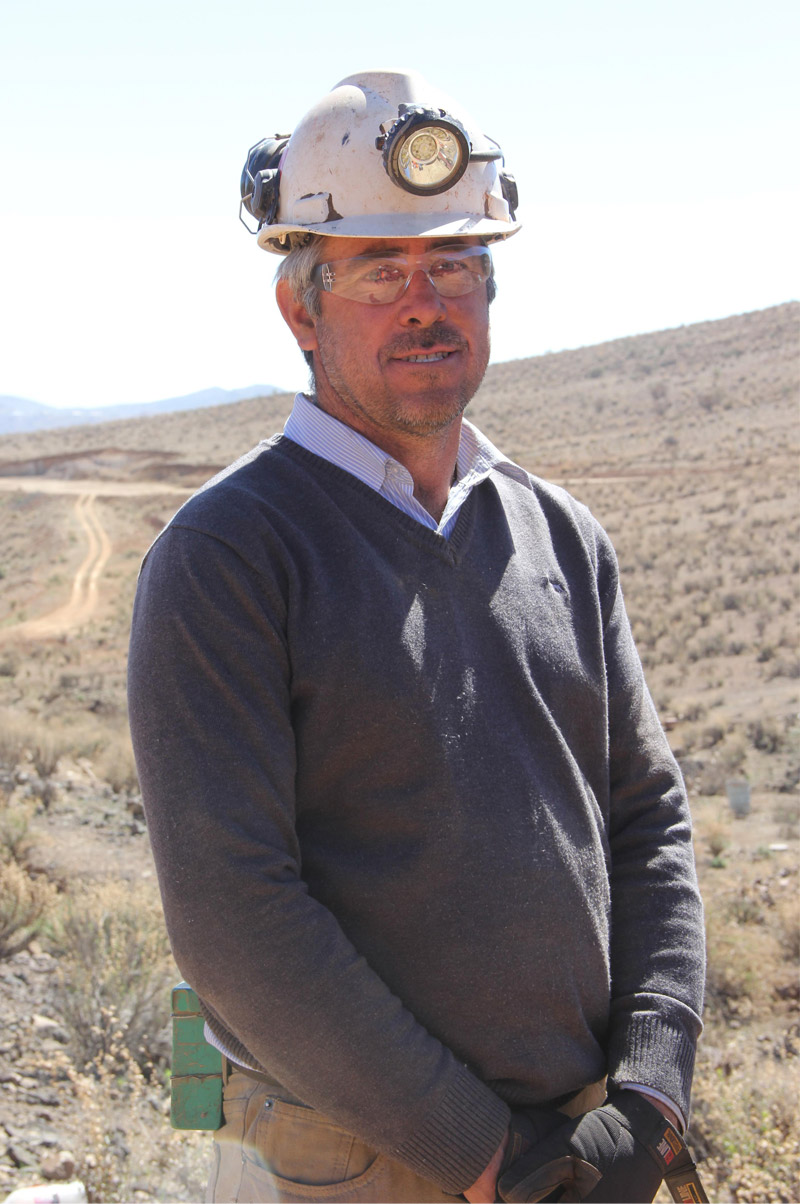 Eric Berríos, President of the Artisanal and Small Miners Union of Andacollo
This work has been achieved in coordination with the Andacollo Artisanal and Small Miners Union. Teck is also collaborating with the union on the design of an ore processing plant through the Andacollo Teck Community Worktable. Economic and feasibility studies are currently underway for the proposed plant, which would be used by small miners in Andacollo to help optimize ore recovery. This project, once complete, will be a significant achievement for local artisanal miners, improving miner safety and quality of life.
Maintaining strong relationships with artisanal and small communal miners in Andacollo is important for CdA. By loaning land for medium-term use and working with local miners on safety plans that comply with national requirements, Teck is able to improve the health and safety of small and artisanal miners, as well as local workers in the area. Moving forward, Teck looks forward to continuing to build on these relationships.
We are proud of our work—alongside local community members—to empower the local population and build on this legacy of economic achievement. Learn more about our Approach to Human Rights on our website.