Covering 100 years of Canadian mining and business history, Never Rest on Your Ores discusses the discovery and building of mines, the mechanics of financing in a volatile and cyclical industry and the role of mergers and acquisitions in building a Canadian mining company. It provides a unique, behind the scenes look at the business leaders, politicians and colourful characters who have played a key role in shaping Canada and the global mining industry.
The book is available now at major bookstores, and online at Amazon.ca and Indigo.ca, and can also be ordered directly from the McGill-Queens website. All proceeds have been dedicated to Mining Matters and MineralsEd, two initiatives designed to introduce grade school children to the wonders of metals and minerals.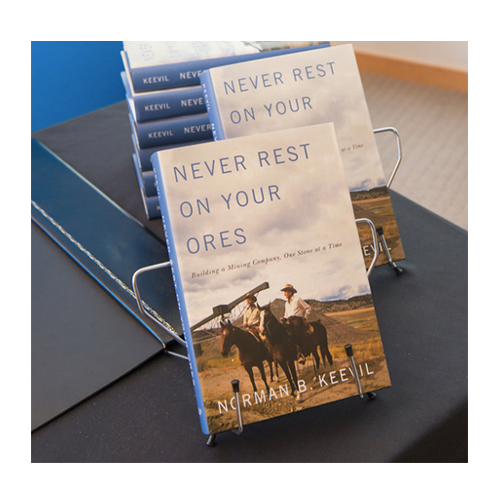 About the Author
Norman B. Keevil, a professional engineer and geologist, was an officer of Teck during its impressive growth years from 1970 through 2005, the penultimate years of the story. He is an officer of the Order of Canada and a lifetime director of the Mining Association of Canada. Dr. Keevil was inducted into the Canadian Mining Hall of Fame in January 2004 and the Canadian Business Hall of Fame in 2012. He is a graduate of the University of Toronto (B.A. Sc.) and the University of California at Berkeley (Ph.D.). He received an honorary LL.D from the University of British Columbia in May 1993.
Read the publication News Release

Order a copy of Never Rest on Your Ores