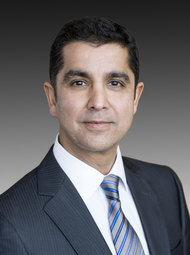 Shehzad Bharmal
Senior Vice President, Base Metals
Shehzad Bharmal was appointed Senior Vice President, Base Metals in December 2021. Prior to that he led Teck's Base Metals Operations in North America and Peru, which include copper and zinc mines and a zinc metallurgical complex. He also leads global Supply Management for Teck.
Mr. Bharmal joined Teck in 1992 as an Engineer-in-Training, and over the last 30 years, has held progressively more senior roles within the organization. Previous roles include Vice President responsible for Technology and Innovation across Teck; Vice President, Strategy and Development, Copper; General Manager, Operations Development in Chile for Teck's projects; and Director, Business Improvement, where he led business improvement activities across the company.
Mr. Bharmal holds a Bachelor of Applied Science degree, Mechanical Engineering from the University of British Columbia and a Graduate Diploma in Business Administration from Simon Fraser University. He is also a graduate of the Executive Development Program at Northwestern University's Kellogg School of Management.
---