Our Board of Directors is responsible for the stewardship of our company and ensures that an appropriate corporate governance structure and system are in place. Our key governance practices are described in detail in our Management Proxy Circular.
The Board provides oversight and delegates responsibility for sustainability issues to specific committees that meet at least quarterly. The following table outlines these key committees of the Board and their associated role in oversight of sustainability issues:
| | |
| --- | --- |
| Committee of the Board | Responsibilities related to sustainability issues |
| Safety and Sustainability Committee | Oversees health, safety and sustainability policies, systems, performance and auditing, including our Health, Safety, Environment and Community Management Standards. |
| Corporate Governance and Nominating Committee | Considers and recommends corporate governance programs to the Board, proposes nominees for Board and committee appointments, and assists with Board, committee and director evaluations to ensure that our governance practices are rigorous, relevant and appropriate to Teck |
| Audit Committee | Assists the Board in its oversight of a number of functions including financial reporting, disclosure practices and auditing, anti-fraud programs and controls, including management's identification of fraud risks and implementation of anti-fraud measures, and the overall governance of pension plans. |
| Compensation Committee | Responsible for recommending compensation policies to the Board and for the annual review of senior officer and director compensation. Reviews the CEO's corporate goals and objectives and recommends them to the Board, evaluates CEO performance in these areas and makes recommendations to the Board on CEO compensation. |

We take measures to develop and enhance the Board of Directors' and the Safety and Sustainability Committee's understanding of economic, environmental and social topics at regular meetings, strategy sessions and site visits. Some recent examples include:
Hosting external speakers on the current global economic climate for our Board of Directors
Conducting site visits for the Safety and Sustainability Committee: in 2015, site visits were conducted at Elkview Operations where an overview of safety, water quality, and biodiversity initiatives was provided and at Trail Operations where there were presentations on safety, water, and air quality management
Special presentations to the Safety and Sustainability Committee: in 2015, these presentations included the following topics: Indigenous agreements, mine closure, permitting, tailings management, water quality matters, climate change, safety and other topics of importance to COIs
Board Diversity, Qualifications and Expertise
The Corporate Governance and Nominating Committee believes that a Board with directors from diverse backgrounds and different experiences benefits the company by enabling the Board to consider issues from a variety of perspectives. When assessing potential candidates for nomination to the Board, corporate governance, corporate responsibility and sustainable development experience are part of the selection criteria for Board members. The Board also considers gender, ethnicity and national origin, in addition to business skills, qualifications and career history when assessing potential candidates. As of the report publication date, 14.3% of the Board, or two out of 14 directors, are women. Please view our 2016 Management Proxy Circular, for further details on Teck's Board qualifications, experience and diversity practices.
Shareholder and Employee Feedback to the Board
Shareholder proposals, resolutions and other mechanisms allow shareholders to convey their opinions to the Board. As provided in the Canada Business Corporations Act, registered shareholders are entitled to receive notice of the Annual Meeting of Shareholders, and to vote on resolutions. In 2014, there were resolutions presented at the Annual Meeting of Shareholders regarding the election of directors, the appointment of the auditors, amendments to the company's stock option plan and executive compensation. Detailed voting results are posted on SEDAR at www.sedar.com following the Annual Meeting of Shareholders.
Investors have the opportunity to provide feedback to our company via the investor relations group through:
Email through our company's website
Direct or telephone contact with an investor relations officer (a contact person is identified in each news release)
Regular mail
Quarterly conference calls
Our Board engages directly with shareholders and governance groups with respect to governance matters. Employees can engage our CEO and senior management through our "Let's Talk" sessions. At these sessions, which are held periodically, employees are able to ask questions and receive answers on a wide range of topics, including social and environmental issues.
How We Manage Sustainability
Our sustainability strategy sets out our overall goals and visions for our work in sustainability, and is supported by our company-wide commitments as outlined in the following policy documents:
Health, Safety, Environment and Community (HSEC) Management
Our HSEC Management Standards include overarching corporate policies, guidelines and site-level policies and procedures. This structure is illustrated in Figure 26. Our HSEC Management Standards integrate requirements from our internal corporate policies and external sustainability commitments and, as such, they form the framework for implementing sustainability at our company. The Standards provide a consistent and systematic methodology for the identification and effective management of HSEC issues and risks to support continual improvement in HSEC programs and performance. The Standards also provide auditable criteria for evaluating the performance of our HSEC management systems and set out minimum expectations for managing the HSEC-related aspects of our day-to-day activities.
Figure 26: Health, Safety, Environment and Community (HSEC) Management System Structure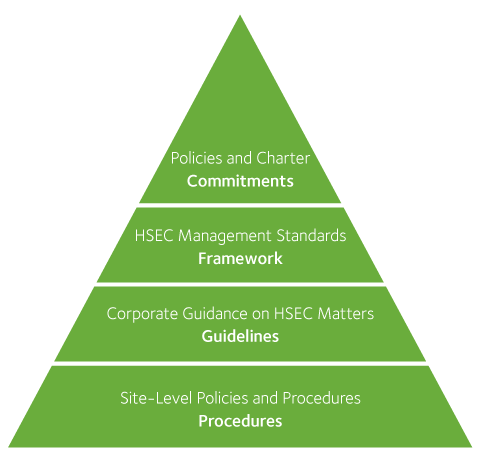 Executive Remuneration
Incentive compensation of the CEO and senior officers is performance-based. Financial performance and the accomplishment of company annual objectives, as well as HSEC performance, are taken into consideration in the annual bonus review. For all executives, the bonus weighting for HSEC is about 15% to 20% of their overall bonus. In addition, the personal component of executive bonus ratings often includes specific objectives related to HSEC. Executive remuneration is fully disclosed in our 2016 Management Proxy Circular.
Management Committees and Corporate Functions
We have a number of management committees that are responsible for managing sustainability issues. Our senior management team is responsible for overseeing our sustainability strategy including goal development and progress against our goals.

The following corporate management committees are responsible for managing sustainability issues:
The Health, Safety, Environment and Community Risk Management Committee (HSEC RMC) is responsible for providing oversight and direction to ensure continual improvement in health, safety, environment and community performance and the implementation of appropriate processes and policies across the company. The HSEC RMC is a senior management committee that is chaired by the CEO.
Our Materials Stewardship Committee is responsible for understanding our products' risks and impacts, making recommendations on new product applications, managing packaging requirements, monitoring product regulations and issues, and establishing policies and procedures related to materials stewardship. This committee is chaired by the Vice President, Risk and Security.
The Indigenous Affairs Steering Committee approves policy and provides oversight and direction for the negotiation and implementation of agreements with Indigenous groups. This a senior management committee that is chaired by the Senior Vice President, Sustainability and External Affairs.
The Community Investment Committee oversees our community investment program to ensure that contributions are made in a manner that benefits our communities of interest and are aligned with our business objectives. The Committee sets community investment policies and reviews major funding requests. It is chaired by the Senior Vice President, Sustainability and External Affairs.
The Diversity Committee oversees our diversity-related workforce initiatives. This is a senior management committee that is chaired by the Vice President, Human Resources.
Our Senior Vice President of Sustainability and External Affairs reports directly to our CEO and is responsible for sustainability, health and safety, environment, community, and Indigenous affairs, among other areas. Her direct reports include the:
Vice President, Community and Government Relations, who leads the corporate sustainability strategy and activities related to social responsibility, community engagement and investment, government relations and Indigenous affairs
Vice President, Environment, who oversees compliance with environmental standards for projects, operations and our legacy properties and regularly reviews environmental performance risks and strategic issues, including tailings, biodiversity, water, air and energy
Vice President, Health and Safety, who provides strategic guidance in the development of a culture of safety, and assists with the development and monitoring of health and safety strategies
Director, Corporate Affairs, who is responsible for managing the company's public affairs, brand management and employee communications
Our Vice President, Human Resources, who reports directly to the CEO, is responsible for our human resources management, which includes sustainability goals related to employee attraction, training and development. Our Vice President, Risk and Security, who reports directly to the Senior Vice President, Commercial and Legal Affairs, is the Chair of our Materials Stewardship Committee and oversees our materials stewardship strategy. Our Senior Vice President, Commercial and Legal Affairs, oversees our work in managing Human Rights. General Managers at each of our operations are accountable for operation-specific HSEC management systems, for conformance with and certification under the International Organization for Standardization ISO 14001 standard where applicable, and for continual progress towards annual HSEC targets and our sustainability goals. Each General Manager reports to either a Vice President or the Senior Vice President of their respective business unit.

The structure in Figure 25 provides an overview of how sustainability is structured at Teck.
Figure 25: Sustainability Management Structure
Managing Sustainability Throughout the Value Chain
We procure goods and services that support large-scale mining and refining operations such as transportation, heavy equipment, large trucks, chemicals, fuel and lubricants, explosives, and a range of other products and services. For example, Canadian Pacific Railways, which provides rail shipping services for many of our Canadian-based operations, is Teck's largest supplier.
Through responsible supply management, our objective is to ensure that we minimize our potential impacts on people or to the environment and that we manage business and reputation risks. Our Supply Chain Risk Management Strategy integrates supply chain risks into our established risk management processes, which provide a framework for mitigating or avoiding sustainability risks in, and impacts on, our supply chain.
As we operate in low-risk jurisdictions that have strong legal frameworks and high standards of performance, we expect and have a good level of assurance that our suppliers' and contractors' business conduct is aligned with environmental and labour legislation and regulation. In addition, we expect our suppliers and contractors to demonstrate strong practices in areas of Health, Safety, Environment and Community (HSEC).
Identifying HSEC Risks
Inbound supply chain risks are initially identified as part of the spend analysis and identification of critical suppliers by our Supply Management group. Outbound supply chain risks are identified by the transportation group as well as the Materials Stewardship working group, which advises and develops active risk management processes to reduce the impacts of our products and to ensure products satisfy or exceed regulatory and societal needs. Furthermore, as we are heavily reliant on third parties to transport our products, we conduct a risk-based screening of our transportation providers based on the volume and commodity transported. This screening enables us to select transportation providers who will handle our products safely and who share our commitment to safe and responsible supply chain management.
Communicating Expectations
We communicate our expectations for suppliers and contractors through our Recommended Protocols for Suppliers and Service Providers. The Protocols include our expectations that suppliers and service providers will address issues relating to ethics, health and safety, environmental stewardship, and human rights, including numerous labour law requirements. We have integrated the Protocols into our procurement and contract processes.
Supplier and Contractor Qualifications
As part of the selection process for certain large contracts, formal tender Request for Information and Request for Proposal processes allow us to evaluate suppliers on their HSEC and labour policies and practices. Furthermore, we have an online qualification program for contractors and suppliers to ensure that our requirements such as HSEC, quality management, sustainability, and Anti-Corruption/Bribery compliance have been communicated and that they meet our minimum standards. As a condition of doing business with us, each on-site supplier/contractor (of high-risk product) must:
Register and maintain an online account in good standing with our supplier database
If determined to be necessary, register and maintain an account in good standing with our Anti-Corruption Compliance program
Comply with our policies, procedures and protocols communicated through our systems
Participate in mandatory site-specific orientation and induction training
Supplier Assessments
We select key suppliers to screen for HSEC risks based on a number of criteria such as the type of product they supply, the supply spend, and potential impacts and activities they conduct. Suppliers are asked to self-assess their performance against the focus areas set out in the Protocols. The objective of this evaluation is to help us understand each company's sustainability management, determine how it aligns with our guidelines and identify specific areas for improvement. Where a potential risk is identified, the process calls for gathering additional information on the supplier. This process may involve the use of third-party consultants to gather and review additional information.
In 2015, we developed a Supply Management Best Practices Implementation Manual to support supply management teams across our company. The implementation of best practices will support improvements with our suppliers and service providers toward achieving expectations for sustainability performance and responsible business practices.
External Commitments and Partnerships
We take into consideration external standards and best practices in our governance of sustainability. Through our membership and involvement with several external organizations, including the United Nations Global Compact, the United Nations Sustainable Development Goals (SDGs), the International Council on Mining and Metals Sustainable Development Framework and the Mining Association of Canada's Towards Sustainable Mining Initiative, we are able to contribute to and engage with others on the development of best practice in areas of sustainability performance and influence global sustainability trends. We also make commitments that guide and inform our sustainability performance. View a full list of Teck's memberships and partnerships related to sustainability.
Teck is also working to advance progress on the SDGs. We recognize that the mining industry has an opportunity to positively contribute to all 17 of the SDGs. However, Teck has chosen to focus on three goals in particular: Goal 3, ensure healthy lives and promote well-being for all at all ages; Goal 8, promote sustained, inclusive and sustainable economic growth, full and productive employment and decent work for all; and Goal 13, take urgent action to combat climate change and its impacts. View an overview of the work Teck is doing to address each of the 17 Sustainable Development Goals.
Transparency and Extractive Industries Transparency Initiative
We support efforts to strengthen governance by improving transparency and accountability and we fully support the Extractive Industries Transparency Initiative (EITI). We are committed to publicly reporting revenue generated from mineral extraction in the form of taxes, royalties and other payments. The public disclosure of this information should contribute to the equitable sharing of benefits from resource development. Peru is the only EITI-implementing country where we have an operation that is currently reporting to EITI. Payments from the Antamina mine in that country are disclosed in accordance with EITI standards. Please see our company page on eiti.org for more information. Payments to governments related to our other operations are disclosed in our Business Ethics section. Teck actively supports the goals and objectives of the EITI and will continue to support efforts to improve governance through increased transparency.