Shining the spotlight on our Excellence Awards recipients and their inspiring contributions.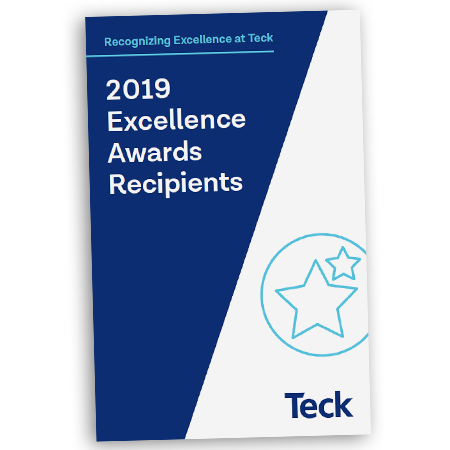 Our commitment to excellence at Teck remains as strong as ever, particularly in the face of the challenges of the past year. Teck's Excellence Awards program is an important part of how we recognize the outstanding achievements, innovations and leadership of employees from across every level and area of our business. During the last call for nominations, individuals and teams were recognized by their colleagues for bringing breakthrough ideas to life and finding new ways to build an even stronger Teck for tomorrow.
Learn more about the 2019 Excellence Awards winners and the work they were recognized for in this special publication: Recognizing Excellence at Teck.
Congratulations to these exceptional individuals for going above and beyond.
Check out People and Places and Sites and Scenes in this issue for more profiles and photos from some of our Excellence Awards winners.