In addition to a range of health and wellness resources, services and opportunities available to all employees, Teck is proud to support programming that addresses mental health and wellness in the communities in which we operate.
The following article about one such initiative was shared with Connect from Teck's Red Dog Operations Suvisi newsletter.
For the second year, Red Dog was a primary sponsor for The Winter Bear Project, an outreach program featuring a play with a message of hope, health, well-being and saving lives.
In April, the Winter Bear Project production team of 12 people travelled to the Alaskan communities of Buckland and Shungnak to put on a full performance for the communities that everyone, young and old, could enjoy at no personal cost. During the visits, the cast and crew hosted a variety of performing arts-related workshops for youth, designed to build self-esteem. Before each performance, the communities also held a special potluck for the guests, creating a safe place for open dialogue on suicide awareness.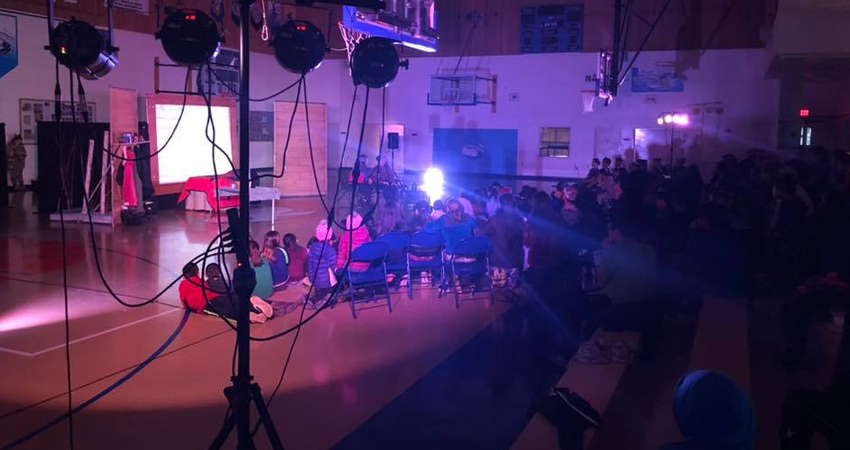 The Winter Bear play is based on the life of respected leader and role model amongst the Indigenous people of Alaska, the late Sidney Huntington. The performance tells the story of an Alaska Native teenager who is contemplating suicide, and ultimately rises above his trauma to become a leader with the help of Elder Huntington. The Winter Bear is able to present the difficult subject of suicide in a captivating way, under the mission of "changing the climate of fear and hopelessness that breeds suicide by broadening awareness, stimulating dialogue, and promoting healing through the performing arts."
Red Dog's community investment focus is on community wellness in the region, supporting programs of health, hope and life. "Suicide has impacted almost every one of us in our region, and our people are looking to leading entities for support. Teck recognizes this and is actively participating," explains Verna Westlake, Community Investment Coordinator, Red Dog. "The play portrays the seriousness of the message, while incorporating humour and clarity, in a way that students from kindergarten to high school, young adults, adults and Elders are moved by."
To read more about The Winter Bear Project, visit winterbearproject.com
Our Commitment to Health and Wellness at Teck
Supporting each other in taking care of our health and wellness will help us achieve our vision of everyone going home safe and healthy every day.
For more information about mental health resources at Teck, or if you have any questions, please contact your HR advisor.
Learn more in a video on 'Speaking Up About Mental Health', which features inspiring stories from Trail Operations' employees Gordon Menelaws and Derek Sordi.
Red Dog's community investment focus is on community wellness in the region, supporting programs of health, hope and life.