This article submission comes to Connect from the latest Teck Coal Employee Newsletter, released in March 2021.
It's been over a year since COVID-19 was declared a pandemic, resulting in hundreds of Elk Valley employees transitioning to remote work—all within 48 hours. Since then, the Elk Valley Health & Safety teams have been hard at work ensuring the health and safety of our employees and our community.
"Overnight, our world changed," said Dan Sarkany, Lead, Occupational Hygiene. "Together with corporate Health and Safety, members from other business units and specialized teams, we rapidly developed and implemented prevention procedures using prior knowledge and experience, and applying best practices from other sectors."
Here are some of the key ways the team is keeping us safe, in collaboration with groups from all operations and across Teck:
A new digital contact tracing system
The team introduced a digital contact tracing system and conducted more than 100,000 verification audits to screen employees and contractors for symptoms of COVID-19.
Elimination and reduction controls
The team implemented several tactics to eliminate or reduce the potential spread of COVID-19, using the hierarchy of controls to guide and prioritize those that are the most effective—all the way from working remotely to using physical barriers and PPE for work that could not be completed remotely.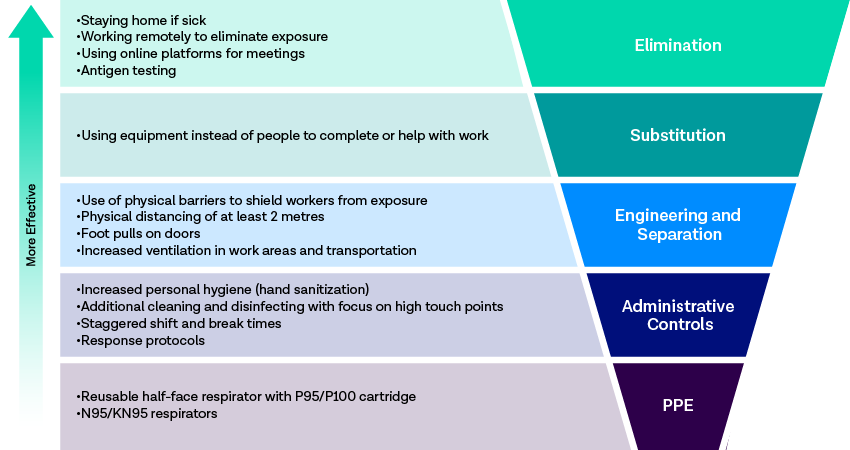 Ensuring adequate ventilation
Proper ventilation can reduce the potential for transmission of COVID-19. Teck Coal assessed high-traffic areas such as gatehouses, lunchrooms and buses to determine whether ventilation was adequate. Most areas had adequate air exchanges, with only a few requiring improvements, which have now been completed.
Ongoing community engagement
Health & Safety regularly meet with the Interior Health Communicable Disease unit, the local Interior Health Authority and Elk Valley physicians. These meetings provide an opportunity to share updates, address concerns and work together to problem-solve—all to ensure the best possible care for Teck employees, their families and the community. "Building strong relationships was really key throughout this work, and I know those relationships will last long after the pandemic," commented Sam Hornquist, Occupational Health Nurse.
Members of Teck's Health & Safety team also presented our protocols and procedures at the Occupational Medicine Specialists of Canada (OMSOC) annual conference. All initiatives met, or exceeded, the recommended best practices presented by others at the event.
And while these measures are considered a success, there's no denying the fact that they caused a shakeup in our day-to-day routines. Fortunately, many employees recognized the challenges we were facing together, and quickly offered help to their colleagues from afar. Over one year later, these tips and advice for working and living during the pandemic still ring true.
"Get outside for a few minutes every day. The fresh air will keep your spirits up."
– Dean, Fording River Operations

"Take the time to make your workspace comfortable and a place that allows you to focus."
– Jo-Anna, Sparwood office

"It has been a good time to get some renos done. Also playing music with the kids and building lots of forts."
– Daryl, Fording River Operations

"When things are getting stressful and I feel a little overwhelmed, I put on some music and dance with my toddler. He's got some seriously good moves!"
– Mariah, Sparwood office

"My three-year-old son and I are learning "Spider Man Yoga", and he has become my "muffin man", learning new nursery rhymes and how to bake."
– Jennifer, Line Creek Operations

"When I am not working, I enjoy exercising in my home gym and walking my two doggos!"
– Megan, Sparwood office
We might not be at the pandemic finish line just yet, but between a diligent and capable Health & Safety team and the support of employees all around the Elk Valley—we're in good hands.