When we hear the words virtual reality, many of us think of futuristic headsets, lifelike gaming capabilities and immersive, out-of-this-world virtual experiences. Indeed, the entertainment opportunities are fascinating, but another type of virtual reality—mixed reality—offers opportunities that can make our day-to-day jobs safer and more efficient.
When faced with pandemic travel restrictions, workers at the Louvicourt Mine, one of Teck's legacy properties in Quebec, were unable to go to the site to perform regular government-mandated inspections. But Teck's Geospatial Solutions team saw this challenge as an opportunity to use mixed reality to conduct inspections remotely.
And so, the Hazard Assessment Remote Technology (HART) pilot project was born, championed by Shari Lomon, Leader, Health and Safety, and Dave Donaldson, Manager, Geospatial Solutions. This Ideas at Work initiative brings together the HoloLens2 (HL2) virtual reality headset and a purpose-built, mixed-reality software application made by Teck—called the HART app.
"By applying new technology to routine tasks, we can transform the task into an experience, one where we engage workers—and when we engage workers in health and safety, it's a win for everyone," said Shari.
After research, stakeholder consultation, and prototyping, the Geospatial Solutions team finalized the HART app. In action, the app allows for employees to work together in a mixed-reality world, without being physically located in the same spot. For example, an employee can conduct an inspection on-site at Louvicourt, and relay the live video back to a supervisor in Kimberley, B.C. That supervisor can participate as a remote observer, helping to conduct the inspection through the lens of the employee wearing the device.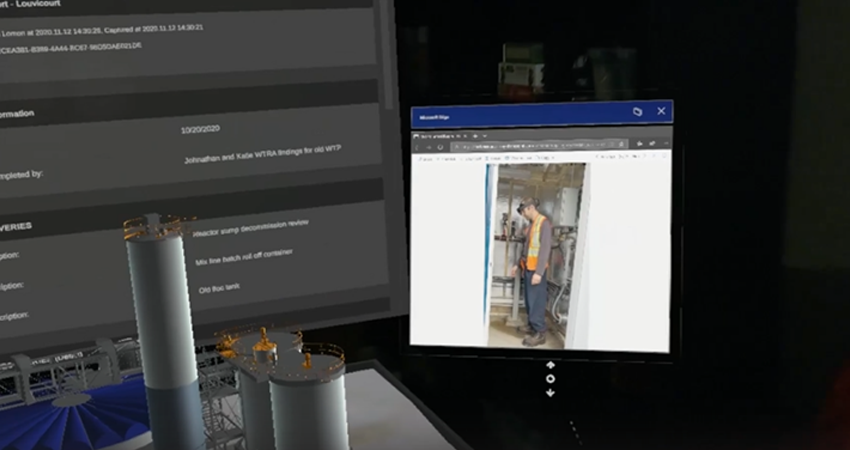 Not only does it allow for this collaborative, real-time virtual effort, but the HART app also offers functionalities such as recording photo and video, storing and syncing data, and rendering 3D models of sites and facilities. The user can also see what inspections have been completed, and view inspection reports and results within the mixed-reality interface.
While the pandemic has restricted many aspects of life and work, the HART project offers new opportunities for the application of mixed reality to support business continuity. Overall, this trial is considered a success so far, and the team is currently investigating the use of this application at other sites, including for community engagement.
Click here to watch a demo of the HART app and the HoloLens2 in action.
Ideas at Work and RACE21™: What's the connection?
Ideas at Work and RACE21™ are two important programs that work together to help drive innovation and technology at Teck.
Ideas at Work focuses on innovation with a level of uncertainty—think of it like an incubator or a test site for new ideas. RACE21™ has a strong focus on technology implementation. Once Ideas at Work projects are tested and show potential value and feasibility, they can be implemented and scaled through RACE21™. For further information on developing Ideas at Work Fund submissions, reach out to the Technology and Innovation group by contacting Dan Parker (Coal), Tammy Salway (Base Metals) or Keith Mayhew (Corporate).