Two transgender employees from the Elk Valley share their stories
Every employee has the right to a respectful workplace, one where everyone is treated fairly, with dignity and respect, difference is acknowledged and valued, communication is open and civil, and there is a culture of empowerment and cooperation.
Teck is committed to providing a supportive, safe, inclusive environment for all employees, regardless of race, gender, sexual orientation or gender identity, and we are honoured that two Teck employees, one current and one recently retired, have chosen to share their experiences of coming out as transgender with their colleagues.
Hadden's Story
"Every day when I wake up and know I have to go to the mine, I feel safe. Our vision is Everyone Going Home Safe and Healthy Every Day—and it's true. Safety doesn't just mean keeping you from accidents, it's mental health and personal safety, too. I am now able to live comfortably in my life and just be me, and that makes me healthy."
These powerful words are from Hadden Kelloway, who says he has had nothing but support and acceptance from his co-workers at Elkview Operations since undergoing hormone treatment to become a man in 2015. Hadden believes strong leadership, particularly from Elkview's Human Resources Superintendent, Amy Mac Con, helped the whole mine community accept his transition without question.
Transgender people have gender dysphoria, meaning their internal sense of being a man or a woman (known as gender identity) is not the same as the sex they were assigned at birth. It is estimated that one in 200 people is transgender.
According to a 2011 survey of more than 6,000 transgender people by the National Gay and Lesbian Task Force and the National Center for Transgender Equality, 90% of transgender people report experiencing harassment, mistreatment or discrimination at work. The transgender community also experiences unemployment at twice the rate of the general population, and transgender people are four times more likely to live in extreme poverty. Forty-one percent of those surveyed reported attempting suicide, compared to 1.6% of the general population.
Hadden says he never worried about becoming part of these stark statistics, thanks to the support he has received from his co-workers.
"Most transgender people wake up every morning not knowing what's going to happen to them that day—if they will get beaten up or cast out for being who they are. I don't have to think about that. At Elkview, they made me feel that I'm no different than the next person."
Hadden has worked at Elkview and lived in Sparwood for 23 years, first as a loss prevention officer, then becoming a haul truck driver and finally joining the blasting crew as a blaster 16 years ago. Throughout this time, he used the name and sex he was assigned at birth—Heather, a female—and did not tell anyone that internally he identified as a man.
After experiencing periods of severe depression, Hadden confronted his true identity and used Teck's Employee and Family Assistance Program to access counselling for the first time. In October 2014, he approached Amy to tell her he planned to leave Elkview and go to a city where he could be anonymous while he transitioned.
"She didn't hesitate—she just said, 'You can stay here, we'll look after you. Whatever you decide, we're here for you.'
"Over Christmas I discussed it with my family, and they felt the best thing and safest place for me was here. Teck and Sparwood had accepted me when I was living as a lesbian woman, so if they were willing to step up now, I should take the opportunity."
In January 2015, Hadden met with Amy again, this time to tell her he was staying and that he had already started hormone treatment.
"The first thing she said was 'What can we do?', and it was like the weight of the world lifted off my shoulders. It was the most heartwarming thing I had heard in a lot of years. It made me think I was going to be alright. I tell Amy that she is part of the team that helped save my life. The compassion, understanding and help she gave me went over and above what her job requires."
As Hadden had already started the weekly hormone injections that he will administer for the rest of his life, the first step was to create a separate change room for him. With full support of General Manager Don Sander, Amy presented Hadden with a number of potential locations and then discreetly asked the maintenance department to construct it as soon as possible, consulting Hadden at every stage.
The new unmarked change room has two showers and four lockers in it, in recognition that, statistically, Hadden is unlikely to be the last transgender employee at Elkview.
"It was amazing when I walked by every day past the maintenance guys and carpenters working in there," says Hadden. "They didn't know who it was for, but I knew they were doing it for me. I was on cloud nine, I felt I was the luckiest person in the world."
In February 2015, Hadden moved his belongings from the female dry to his new change room during a weekend shift, when there were few people around. The next day, Amy sat down with the supervisors and management team to inform them about Hadden's transition while Hadden talked to his direct managers and his co-workers on the blasting crew.
"They were fully supportive," he says. "I apologized to them because I felt every day I had been pretending I was something I wasn't. I wanted them to understand this wasn't a choice. I reached a stage in my life where I couldn't carry on if I couldn't live as me. I asked them for their support and that, if they heard anybody talking about it, to please take some time to educate them as I'm doing now."
From that day, Hadden has rarely heard his former name used at work; one co-worker even wrote 'Hadden' on a piece of paper and taped it to the brim of his hard hat as a reminder when calling out names over the radio.
If anyone does slip up and call him by a female name or pronoun, Hadden just asks that they say 'I'm sorry about that' and correct themselves.
"I will correct them, but I don't get upset with people. I know that I'm asking them to accept me and so I also have to help them adjust. I tell people to ask me anything—and they do. I believe it's my responsibility to help educate people, so I just try to explain it the best way I can. They ask about my injections, what the treatment does to your body, what I felt like all those years.
"I don't want anyone to feel like I used to. If there is anybody else in the company that needs to talk to someone, I'm here. Don't ever feel that you don't have anybody to go to. When I was in my darkest time, feeling I didn't have anywhere to be myself, I never thought I was going to get this level of acceptance. I feel protected there and that's huge in my world. Teck didn't just say it was okay, they proved it was okay."
Marsha's Story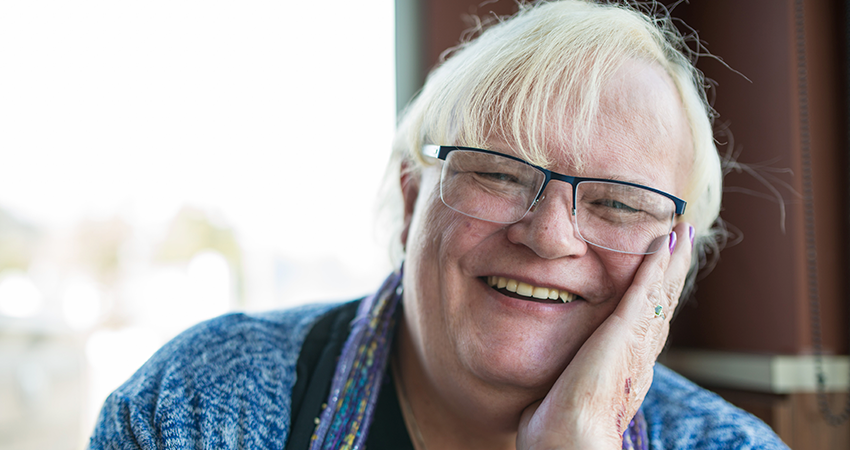 Above: Marsha Bradcoe. Photo credit: Phil McLachlan/The Free Press
Marsha Bradcoe spent much of her life walled off from her authentic self, always feeling her real identity was just below the surface. Today, she's able to reflect on her journey and freedom she's found when "your true gender finds a way through".
Growing up one of four children to a single mother, Marsha (born Marshall) grew up in a small tough area of Calgary in Alberta. At an early age, she says she was encouraged by well-meaning brothers to adopt a learn-to-defend-yourself persona, which led her to push any awareness of her female gender into the corner of her subconscious.
Over the years, Marsha defined herself by befriending outsiders and underdogs in school and life because, she says, "I knew I was one myself but couldn't figure out how to express it." When it came time to enter the workforce, she chose a career in mining, beginning as a haul truck driver at Fording River Operations (FRO) in 1979. Looking back, she feels the decision may have been a reflection of her state of denial, noting she's learned that many transgender women, before they transition, tend to seek jobs in traditionally male-oriented industries such as the military, heavy labour or mining.
Then one evening around the age of 45, she says "the floodgates just opened up" while watching the Canadian film The Journey of Natty Gann. Near the end, when one of the male characters reveals himself to be female, Marsha says she realized she couldn't deny the truth of who she was any longer, and in that instant decided she would have to make a change.
The years that followed, as she began to process that realization, were challenging, but after a 10-year stretch of depression and eventually finding refuge with Vancouver Coastal Health's transgender program, Marsha was able to set things in motion, both in her personal and work life, to begin her transition.
Guided by a therapist and support team, she reached out to staff at FRO and leadership at the United Steel Workers Local 7884 to build a process that would ensure they created a safe environment for her to reintroduce herself in the workplace and to announce her transition plans.
"It is important not to be at your own coming out," notes Marsha. "I felt it was important that my co-workers and supervisors who I had worked alongside for years, had the opportunity to absorb the information and react without being challenged by my presence."
In preparation, Marsha made information packages for Teck's Human Resources personnel and for the union executive, explaining to both parties how she envisioned it going well for everyone, as well as filming a video message from her that would be shown to the crews. Finally, with the support of the company and the union, educator Christopher Moore from Trans Connect support organization was arranged to speak to the crews on transgender issues to help them better understand the context for Marsha's transition.
While she wasn't there at the time, having taken a week off to allow some distance from the process, Marsha says she was surprised by what happened next.
"In order for everyone to participate, they shut down the mine—for nearly two hours—which is pretty unheard of. Christopher said it was the largest audience he had ever spoken to, and that there must have been 400 people."
Teck management read a letter of support for Marsha, as did the president of the union, and the crews watched Marsha's video. While Marsha says she was nervous after returning from her holiday, many co-workers came up to shake her hand in support.
"Some of these are tough men, but they know me. I have worked alongside them over the years, have been part of their team. Many commended me for my courage."
Marsha says she cannot say enough about the support she has received from Human Resources at FRO, then and now. She says the people she worked with in HR are in her corner and she now counts them among her friends.
"You don't have to wave the Treatment of Employees policy in their faces. They firmly believe in it and they enforce it," she says. "I didn't expect everyone to like or be comfortable with this, but I expected fair treatment in the workplace and got it."
After 38 years of service, Marsha retired on March 28, 2017, just past the one-year anniversary of her gender reassignment surgery. She says she is pleased at how things have gone and now helps and counsels others going through similar processes.
And while she says she feels accepted in Elkford, Marsha says she plans to move to Kelowna, which has a larger transgender community.
"It's a bit of a golden age for the transgender community right now," she says. "And I'm happy to be part of it."
Further resources
Trans Connect is an organization that provides support and resources for transgender and gender diverse people in the East and West Kootenays. Trans Connect also provides educational workshops and resources for service providers, educators, mental health workers, and police in the Kootenays. More information is available at www.kootenaytransgender.com