There are more than 370 million Indigenous Peoples, living around the world in 90 countries, who have unique rights, cultures and connection to the land. Ten of Teck's 12 operations in Canada, Chile and the United States and the majority of our exploration and development projects are located within or adjacent to Indigenous Peoples' territories. Here, we are honoured that four Indigenous Peoples with which Teck works closely—the Ktunaxa, Iñupiat, Fort Chipewyan Métis and Aymaras—shared with us some of their history, culture and traditions, to help foster greater awareness and understanding.

The Ktunaxa
The Ktunaxa people are a distinct Indigenous and linguistic group who have historically occupied and protected their land while living in balance with nature. Preserving their culture remains of high importance today, but so does integrating with the communities within and surrounding their territory, which spans southeastern British Columbia, southwestern Alberta, and parts of Washington, Idaho and western Montana.

"Our homeland really defines who we were and who we are today; we have a huge responsibility to ensure this place continues to exist for future generations of Ktunaxa, as well as non-Ktunaxa people, because we've been here from the time of what we deem to be our creation," says Ktunaxa Nation Council Chair Kathryn Teneese.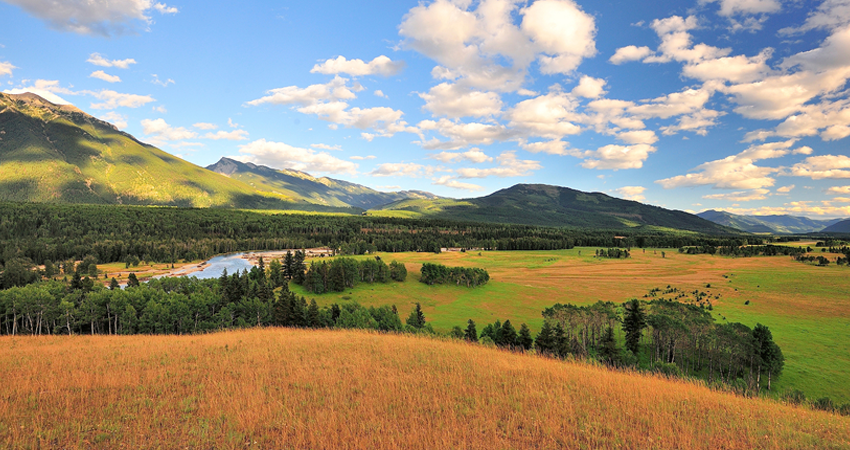 Above: Kootenay region of British Columbia, where the Ktunaxa Territory spans 43,200 square kilometers
The Ktunaxa, also known as the Kootenai or Kootenay, have occupied their land for over 10,000 years. The Elk Valley area is the main home of the easternmost branch of the Ktunaxa people, who are closely connected to families living at what is now Tobacco Plains. Additionally, three other Ktunaxa communities currently exist in Canada near Windermere, Cranbrook and Creston.

Over their long history, the Ktunaxa people have enjoyed the natural bounty of the land, seasonally migrating throughout their territory to follow vegetation and hunting cycles. Food, medicine, and material for shelter and clothing were all traditionally obtained from nature.

"The perception of our identity seems to be limited to the 150 years since we've had contact with European settlers, and that's a very flawed understanding," Kathryn points out. "We need to try to figure out how we can move forward together in a way that makes sense, but that recognizes and acknowledges that we have a unique identity and connection to our homeland that no one else really has."

The Ktunaxa Nation is achieving this by educating and supporting its neighbours, all while building relationships and economic opportunities for its people. Work done at the governing table is guided by the group's vision statement that celebrates cultural identity, partnerships, and managing land and resources in a self-sufficient way.

A Distinct Language

One of the most fascinating facts about the Ktunaxa is that their language is an isolate, meaning that it is one of a kind and unrelated to any other language in the world. Currently it is in danger of becoming extinct, as the number of fluent speakers continues to decrease. To ensure the language survives, the Ktunaxa people are preserving the existing knowledge with the help of technology, says Jesse Nicholas, Communication Manager of the Ktunaxa Nation Council, located in Cranbrook.

"We have a number of initiatives in our community and at the Ktunaxa Nation (governing body) level," adds Jesse. "We have language apps, keyboards that can be used for texting, and keyboard fonts on our computers—which we send to our partners as well—so that when we're corresponding and there is a certain Ktunaxa term, our partners can use the keyboard to ensure that it's as reflective as possible."

But their elders continue to be their greatest resource, he concludes, noting the last community census reported fewer than 20 fluent Ktunaxa speakers left in Canada, a level considered critically endangered.

"We're doing everything we can to preserve our language," says Jesse, who is confident his resilient people will be successful in doing so. "The Ktunaxa have been here for over 10,000 years and we're not going anywhere."
In May 2016, Teck signed an Impact Management and Benefits Agreement with the Ktunaxa Nation Council that is creating numerous long-term benefits for the Ktunaxa people and increased certainty around future sustainable mining development in the region. Spanning approximately 40 years and all five of our steelmaking coal operations in the Elk Valley region of British Columbia, it is one of the most comprehensive agreements of its kind in place in Canada.
Iñupiat
When a traditional dinner is served by the Iñupiat people of Alaska, there truly is enough to feed a village. The hunting of an animal benefits every member of the community, as the meat is shared amongst Iñupiat relatives and friends both near and far.

Generosity extends beyond how food is shared, according to Iñupiat Elders Christina Westlake, and her husband Larry Westlake, Sr., who live in Kiana, a village in the Northwest Arctic region of Alaska.

"I think there are some Iñupiat traits still among most of us; I see it in our children. They have that understanding of our culture rooted deep in them," she says. "There's still a lot of sharing; the young people still give their first catch to Elders in the community, and when they hunt caribou in the fall, they make sure that people who don't have hunters in their family get meat to put away for the winter."

Larry spends time ensuring traditional hunting methods are passed down from the Elders to the next generation. As hunter-gatherers, the Iñupiat continue to rely on subsistence hunting and fishing, harvesting walrus, seal, whale, bear, caribou and fish, depending on their village location, inland or coastal.

The Iñupiat traditional land spans Alaska's Norton Sound on the Bering Sea to the Canada-United States border. Today, the Iñupiat live in seven Alaskan villages in the North Slope Borough, eleven villages in the Northwest Arctic Borough, and sixteen villages within the Bering Straits Regional Corporation.

The late notable researcher Ernest 'Tiger' Burch attributed the longevity of the Iñupiat people to their incredible ability to work together no matter what the circumstances, and Christina couldn't agree more.

"That ability to get together and work as a group is still there," she says. "We see it when we have a death in the village; there's no funeral home, so we do all of the work together. All differences are put aside in favour of respect and willingness to help any family in need."

"I don't know if this happens elsewhere, but probably not to the same extent," Christina adds. "It goes deep and it's truly heartfelt. We're such a small village that one death affects all of us."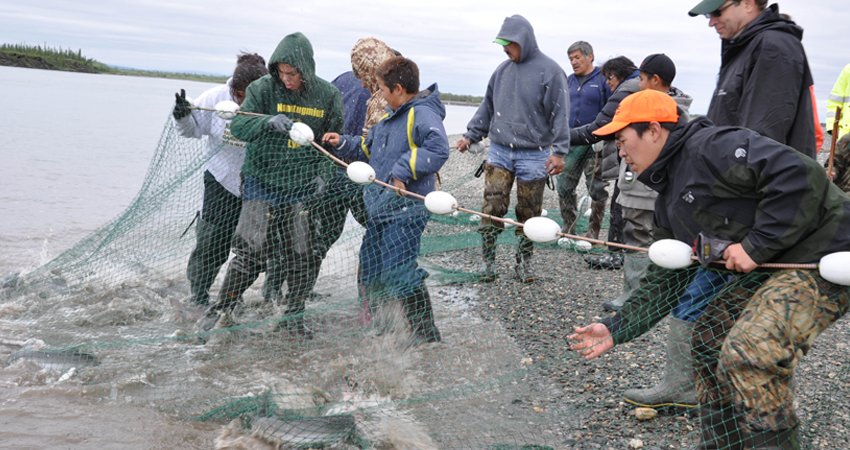 Above: Iñupiat in the village of Noatak in Northwest Alaska, participate in the traditional salmon "seine" net-style of fishing.

The Iñupiat also work together to preserve their culture, aspects of which have diminished since contact with Europeans, such as their traditional language, Inupiaq. Today, a small minority of Iñupiat speak the Inupiaq language, but revitalization work is underway in their communities.

For example, bilingual teachers share the language in the classroom setting, but with limited time set aside from the regular curriculum, only basics like the alphabet, animal names and writing are covered. Young people seldom speak the language over English, but more of an effort is being made, with technology and language conferences helping to create opportunities for youth to keep it at the forefront.

Today, the Iñupiat in the Northwest Arctic region of Alaska gather under the NANA Regional Corporation Inc., a for-profit corporation with a mission to provide economic opportunities for its more than 14,000 Iñupiat shareholders, and to protect and enhance NANA lands, on which Red Dog Mine is located. NANA is one of the 13 Regional Native Corporations created as a result of the Alaska Native Claims Settlement Act (ANCSA) passed by Congress and signed into law by President Nixon in 1971.

Larry and Christina are especially grateful their people have secured lands that were historically hunting and fishing grounds. Gathering with loved ones in a place their ancestors did for centuries is special. "These are the most important places to us," adds Christina.

Over 25 years ago, Red Dog Operations was developed through an innovative operating agreement between Teck, the operator, and NANA Regional Corporation Inc. (NANA), a regional Alaska Native Corporation owned by the Iñupiat people of northwest Alaska, who own the land. Since mining began, NANA has received approximately US$1.53 billion from the mine, and has retained approximately US$554 million. Under Alaska regulations, the corporation must share the balance with other Indigenous and tribal entities in the state. Red Dog Operations is also a significant employer in the area, providing more than 600 full-time, family-supporting jobs. Since 1989, NANA shareholders have received more than US$507 million in wages by working at Red Dog.
Fort Chipewyan Métis
Little ever goes to waste in a traditional Métis household, where trapping and hunting brings food to the table but also maintains a connection to a way of life that has been passed down through generations.

Sourcing muskrat, fox, beaver or wolf, the Métis people have lived off the land for over 200 years and many continue to do so in communities across Canada, including northern Alberta's Fort Chipewyan.

"We didn't have power then, so in the fall my dad would go out to hunt a whole bunch of geese," recalls Fred 'Jumbo' Fraser, President of Fort Chipewyan Métis Local 125. "After gutting and salting the geese, he would take a string and hang them from the peak of the house. There would be 50 geese hanging from everyone's houses in town, and come Christmastime we'd take some down, and into the roaster they'd go for supper."

While freezers have changed the way food is stored, tradition still thrives in the northern Alberta hamlet commonly referred to as Fort Chip, where about 152 Métis live today—a number that swells when family members come visiting from all over the country.




Above: View of Fort Chipewyan and Lake Athabasca in northern Alberta

Fur trade brought the Europeans to Fort Chip, located on the western tip of Lake Athabasca, in 1788 when it was established as a trading post and named after the Chipewyan people living in the surrounding area, which became headquarters for fur trade in the west. The settlement resulted in intermarriage between Europeans and Aboriginal people, creating the Fort Chipewyan Métis.

Today, they pass traditional knowledge on to the community's children. "We don't want to lose what we've got, so we try hard to keep them informed of all the Métis ways," explains Jumbo.

Programs teaching cultural skills—like how to make moccasins—are also offered as part of the next generation's education.

"We're the oldest Métis in Alberta, so we make sure the kids don't forget that."

A Tradition of Dance

Celebration is vibrant during Métis Days, when residents gather for food and fun on the dance floor, where the fiddle encourages square dancing or jigging: a combination of Plains First Nations' footwork and Scottish, Irish and French-Canadian dance forms.

Listen closely to the elders speaking "Michif", the Métis language, and you may hear familiar elements; it's mainly a combination of Cree and French, also borrowing from English and other Indigenous languages, including Ojibwa.

Jumbo, who has been President of the Fort Chipewyan Métis Local 125 for the past 12 years, acknowledges that, although they came together more formally several years ago, the organization's infrastructure took some time to develop. There was no government funding available, and with limited access to other funds, it was difficult to create a stable economic base.

Jumbo recognizes that his extremely hard-working people continue to make strides as they push forward, guided by a strategic plan that prioritizes their goals and objectives. Jumbo adds that because of the perseverance and belief in their own heritage, and in their right to be recognized—in 2016 Métis' rights and status were formally recognized with a landmark decision by the Supreme Court of Canada—Métis people have always been a strong nation.

Throughout 2016, we were engaged in agreement negotiations related to our Frontier oil sands project with Indigenous Peoples in the Athabasca region of northeastern Alberta. In 2016, we signed agreements with Fort Chipewyan Métis Local 125, Fort McKay First Nation and Fort McKay Métis. The agreements provide a range of social and economic benefits and create opportunities for meaningful engagement and communication. A framework for items such as contracting opportunities, skills development and environmental stewardship related to the project is also included in the agreements.
Aymaras
Travel up to 4,000 metres above sea level in Chile and you will find the Aymara, a distinct Indigenous group whose style of dress has become part of their ethnic identification.

The Aymara traditionally garb themselves in bright attire, often wearing bowler hats, Aguayo (woven blankets), heavy pollera skirts, and boots. Equally as rich as their style is their estimated 800-year history, which has taken place throughout the Andes in what is now western Bolivia, southern Peru and Northern Chile.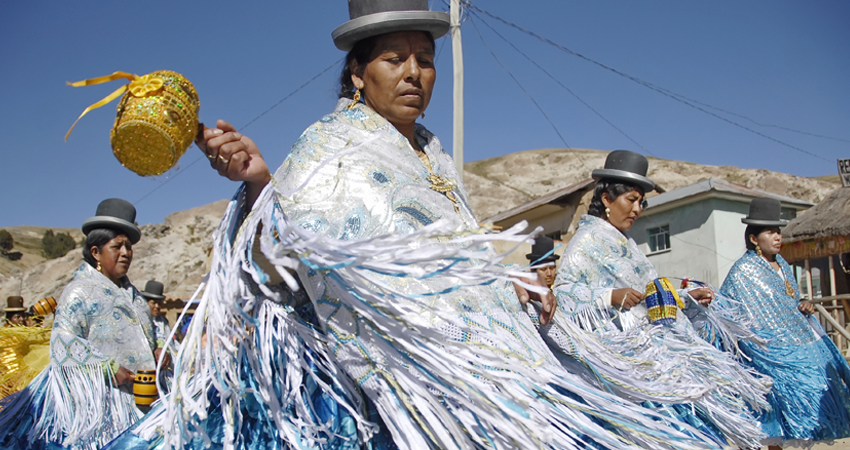 Today there are around 3 million Aymara living throughout these three countries, with the Chilean Aymara forming the smallest group. A population of approximately 48,500 live in communities including: Visviri and Laguna del Huasco in northern Chile; near the Lluta and Azapa Rivers in the foothills (Arica y Parinacota region); the Vitor, Camarones, Camiña, Huatacondo and Chiclla ravines; Pica, Matilla, Mamiña, and the Tamarugal and Quillagua Pampas; and also some urban centres (Tarapacá Region).

Many Aymara people have migrated from the highlands to the coast, where most Chilean Aymara now live and work. Some, however, remain in the high plains of northern Chile, where they live a traditional lifestyle. For these people, llama and sheep herding form the basis of economic activity, as well as the cultivation of crops such as vegetables and alfalfa.

Mario Ayavire is an Aymara who lives in the village of Queñualito in the Chiclla ravine near Quebrada Blanca Operations. He began raising livestock shortly after his daughter Daisy was born and he gifted her five llamas. "They (the llamas) began to multiply and that is how we became involved in raising livestock," he explains.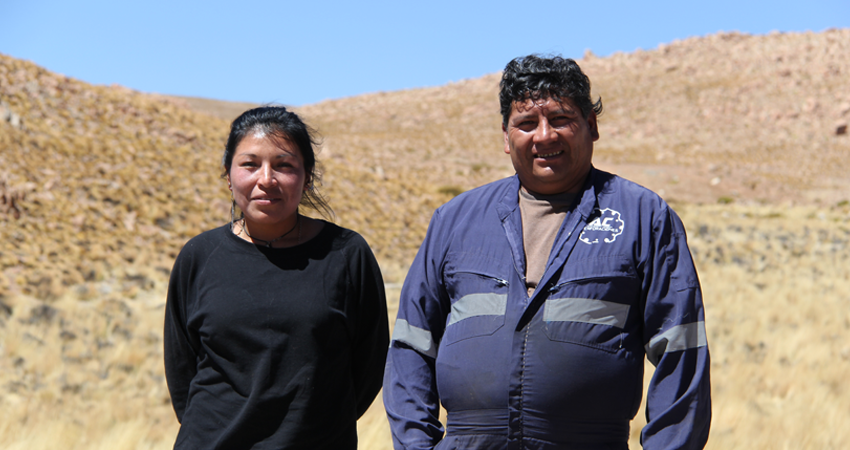 Above: Mario Ayavire and his daughter Daisy, are Aymara who live in the village of Queñualito in the Chiclla ravine near Quebrada Blanca Operations.
Language and Andean religion are both considered important parts of Aymara cultural heritage, along with fiestas and celebrations of 'Pachamama' (Mother Earth) and other patron saints.

"One of the customs that we still have in my family is the ritual called Pawa, where we give thanks to the rain and the pasture for our llamas, and we ask Pachamama—Mother Earth—for protection, by making an offering," Mario explains. "We also celebrate our patron saint and we hold the 'floreo' of the livestock."

The 'floreo' is an ancient ceremony that celebrates the addition of new livestock. Livestock are adorned with multicoloured yarn flowers called "pompons" as the Aymara appeal to the mallku or spirit of the mountain for prosperity by increased procreation of the herds.

For Mario and his family, partnering with Teck has provided positive benefits such as access to electricity, potable water, and medical and veterinary care, all of which were previously more difficult to obtain high in the Chilean mountains.
In addition to Teck's close and permanent relationship with the Aymaras of the Chiclla community near Quebrada Blanca Operations, a Livestock Development Plan was implemented by both parties, to care for livestock in the area. This plan is an innovative program that monitors the routes of llamas in the mountain area using GPS technology, providing information about their movements relating to grazing areas and waterways. This data is used to evaluate the quality of the bofedales (wetlands) and the nutritional value they provide to the llamas, leading to improved commercialization of the Aymara livestock.