External Developments in 2014
Tailings management
The August 2014 breach of the Mount Polley copper and gold mine tailings storage facility (TSF) in B.C. resulted in the release of tailings and water into Polley Lake and its surrounding water systems. While this was a non-Teck mining operation, the significance to the entire mining industry was obvious. A subsequent investigation by an independent review panel found that the breach was caused by a zone of weakness in the foundations of the perimeter dam (which had not been properly accounted for during its original design).
Implications
The event at Mount Polley raised public concerns about the integrity of TSFs in B.C. and in the mining sector more broadly. In August 2014, approximately two weeks following the event, B.C.'s Minister of Energy and Mines ordered all TSFs in the province to have a Dam Safety Inspection (DSI) with verified third-party approval of the inspection findings. These DSIs were required by the end of 2014. In December 2014, we completed and submitted DSIs for all of our TSFs in B.C., along with the third-party engineering review of each DSI and an outline of our response to inspection recommendations. These DSIs confirmed that there were no serious safety or stability issues at our operations or closed facilities in the province, and that all of our dams are safe and in good condition.
In January 2015, the Mount Polley Independent Expert Engineering Investigation and Review Panel (the Panel) delivered its final report. The report included a number of recommendations regarding items such as the use of best available technology and best available practices, governance, and increased use of tailings review boards.
Following release of the report, the government of B.C. augmented their August 2014 order to include:
Ordering all operating mines to identify whether they had foundation materials similar to those found at Mount Polley – and, if so, to confirm (1) whether sufficient testing had been carried out to determine the strength of these foundation materials, and (2) whether their TSFs were designed to address the nature of these foundation materials
Requiring all operating mines to establish independent TSF review boards
Initiating a review of the Mining Code on how best to implement recommendations regarding best available practices and best available technology
The order also noted that the Province would review how best to implement the remaining recommendations of the Panel.
We are confident in the integrity of our existing TSFs. Nonetheless, we recognize the need for the mining sector as a whole to provide assurance and to protect its social and political licence to operate. We will continue to monitor and respond to this issue as further steps are taken by the government of B.C.
We are committed to the safe and environmentally responsible development, operation and management of tailings storage facilities. Planning, design, construction, operation, decommissioning and closure are carried out in a manner such that:
Structures are stable
Solids and water are managed within designated areas
Facilities comply with regulatory requirements
Facilities conform to applicable standards, internal policies and the technical guidelines of the jurisdictions in which we operate
Our internal guidelines for tailings management are based on regulatory requirements, industry best practice and our internal criteria of excellence. The effective planning, design, construction, monitoring and maintenance of our tailings facilities is built on good corporate governance, technology, systems and procedures, inspections and reviews, COI engagement, and reporting. At all times, complacency is challenged through the use of multiple layers of system protection, as identified in our internal policies and guidelines.
We maintain site-specific Tailings Management Systems that conform to or exceed industry standards of practice, that demonstrate responsibility and leadership through the commitment and actions of our employees, and that are developed through consultation with COIs.
Our management programs include rigorous monitoring and inspection, internal and external audits, and third-party reviews. We monitor parameters related to dam safety through specialized instrumentation, and trained operators at all of our operations implement site-specific OMS Manuals. Operators inspect facilities daily, specially qualified site personnel visually inspect the facilities at least weekly, and technical specialists from our corporate head office inspect facilities regularly.
Engineers/Designers of Record, who are involved throughout all design updates and construction works, also do documented annual inspections. Third-party qualified engineers also do periodic reviews, with timing dependent upon the consequence classification of the facility.
Tailings Review Boards
The purpose of Tailings Review Boards (TRBs) is to solicit independent review and scrutiny of the technical aspects related to the design, construction, operation and closure planning of tailings facilities. Highland Valley Copper, Red Dog, Antamina, Carmen de Andacollo, Quebrada Blanca Phase 2, and Frontier all have TRBs. The need for TRBs is considered on a case-by-case basis, depending on the consequence classification of the facility. TRBs include recognized experts from relevant fields such as geotechnical, hydrogeological, hydrotechnical and geochemical.
Figure 20: Overview of Tailings Management at Teck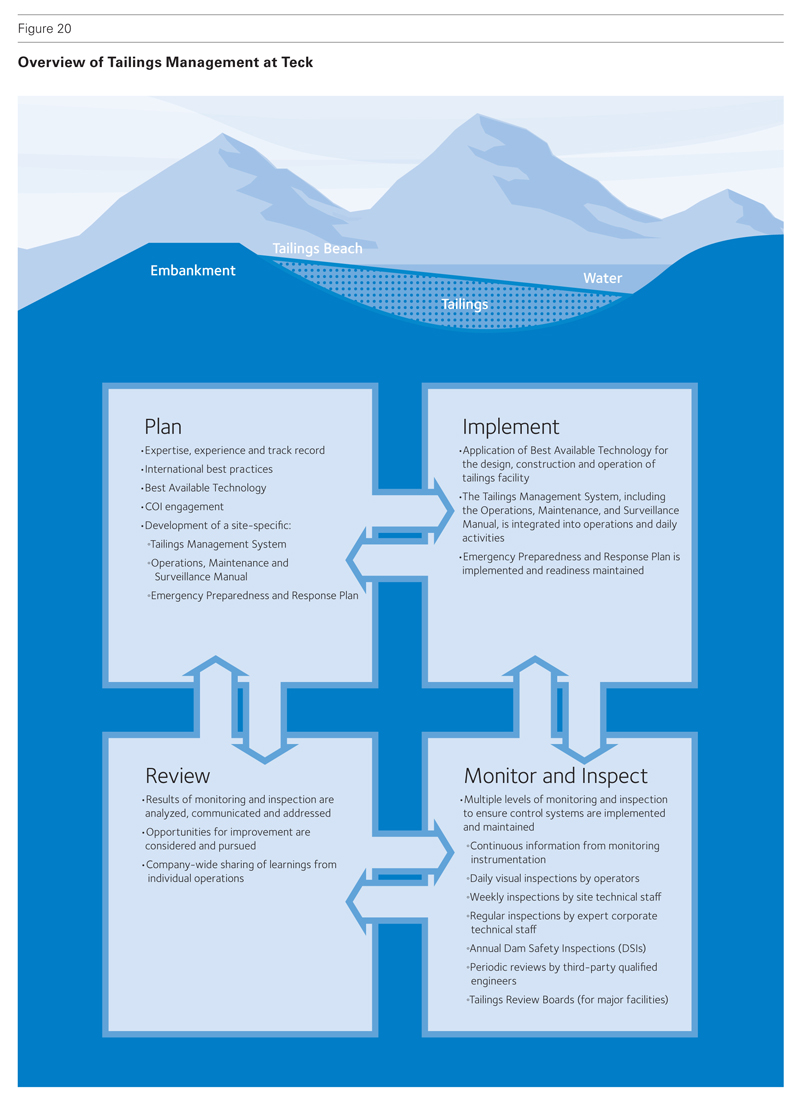 Reflecting on the Mount Polley Tailings Dam Incident
Particular emphasis and attention has been put on the integrity of tailings dams in Canada in the wake of the Mount Polley tailings dam incident, which raised many questions at both the industry and organizational level. While this did not occur at our operations, we have spent considerable amounts of time reviewing our tailings facilities and remain confident that they are safe.
Following this incident, our dam consequence classification scoring system was reviewed to demonstrate how tailing dams are classified based on risk. Our tailings dam facilities scores were also reviewed, as well as potential inundation impacts, and surveillance and monitoring practices. No gaps in either regard were identified at our company. A company-wide Tailings Database, which contains key information for our facilities, was updated and will be reviewed annually. Following the incident, we also increased COI engagement activities, and we inform COIs about our tailings management practices and about our emergency response and evacuation procedures.
In addition to internal assessments of performance against our own guidelines and practices, we assess our tailings management practices under the Mining Association of Canada (MAC) Towards Sustainable Mining (TSM) Tailings Management Protocol. Achieving a minimum of a Level A under TSM is a requirement of our HSEC Management Standards. A Level A indicates that tailings management practices that meet industry best practice, as defined by the MAC Tailings Guidelines, have been developed and implemented. The majority of our Canadian operations reach Level A, and several reach Level AAA, which indicates that excellence and leadership are demonstrated through validation by external, independent audit or assessment.
As the need for updating the TSM indicators is being evaluated and the call for industry to re-evaluate its practices is being heeded, we provided substantial support and input to the Mining Association of Canada; the Mining Association of BC; the Canadian Institute of Mining, Metallurgy and Petroleum; and the International Council of Mining and Metals in related discussions. We have played, and will continue to play, an active role in promoting best practices for tailings facility management, both in our own operations and across the mining industry.