For the purpose of our annual sustainability reporting, Teck engages internal and external resources, consults with our communities of interest (COIs) and reviews our operating environment to identify the most material topics that faced our business and our communities in the past year. This process is guided by the Global Reporting Initiative (GRI) Standards.
2016 Materiality Assessment
In preparing for our 2016 annual materiality assessment, we first reviewed the GRI disclosures grouped under each of our 16 material topics, as identified through our 2014 and 2015 materiality assessments, and determined that these material topics are still the most relevant for this year's report. Moreover, the material topics and their associated boundaries remained the same as those identified in 2015. Following this review, we conducted a five-step process to prioritize and rank the materiality of each topic.
Table 11: Our Materiality Process
Step One
Step Two
Step Three
Step Four
Step Five

Desktop analysis

A review of internal and external sources

Initial prioritization of the GRI Standards

Each of the topics identified in the GRI Standards were prioritized using a structured, quantified scale based on the following criteria:

Reflect the organization's significant economic, environmental and social impacts, or
Substantively influence the assessments and decisions of stakeholders

Each topic was assessed against a defined numerical threshold to determine whether or not it was material.

Internal feedback

An internal presentation of the initial results was provided to key managers from across multiple business units. Engagement took place through dedicated two-way feedback sessions, during which the prioritization of relevant GRI Standards was adjusted in light of feedback while the related reasoning behind such adjustments was recorded.

Consolidation of GRI Standards into higher-level material topics

Associated material and non-material standards and indicators were clustered into higher-level material topics. These material topics were prioritized according to the average scores of each aspect and were set out in a draft materiality matrix.

External feedback

The draft materiality matrix was presented to an external COI panel for feedback. The scores for each material issue were adjusted in light of COI feedback to produce the final material topics and matrix.
External COI Panel
We host an annual external COI panel with representatives from local communities near our operations, Indigenous Peoples, public/private institutions, government, investment analysts, industry and NGOs, with moderation by an independent third party. The panel reviews our materiality assessment to provide feedback on the relevance of the topics selected and their prioritization, and offers their perspective on emerging sustainability issues.
In January 2017, we convened our seventh external COI Panel. Feedback from the Panel was integrated into our assessment and into the materiality matrix. The COI Panel indicated that topics such as water management, tailings and mine waste management, relationships with Indigenous Peoples, and emergency preparedness have high concern or potential impact on stakeholders, followed closely by health and safety of workers, and business ethics. In addition to providing feedback on the ranking of our material topics, the panel indicated that we should consider and demonstrate how our topics are interconnected. For example, the topic of water management is closely related to other topics such as mine closure and relationships with Indigenous Peoples. We articulate those connections in the sidebar of each material topic section under a Material Topic Interconnections heading.
In addition to commenting on our material topics, we also asked participants to identify emerging sustainability risks and opportunities and key issues of concern to help inform our future management of sustainability and reporting. Key issues highlighted by participants included: cumulative impacts and Indigenous engagement in assessment related to those impacts, impacts on wildlife such as caribou in the potential reopening of our Quintette project in northern British Columbia, cybersecurity, and reporting on the outcomes associated with community investments.
Feedback from the panel on our 2015 Sustainability Report, 2016 material topics and emerging sustainability issues was consolidated and shared with internal subject matter experts and decision-makers, who incorporated panel input into activities related to both our sustainability and our corporate strategy.
2016 Materiality Matrix
The materiality matrix below represents the combined results of internal and external consultation and prioritization of the material topics that are included in this report.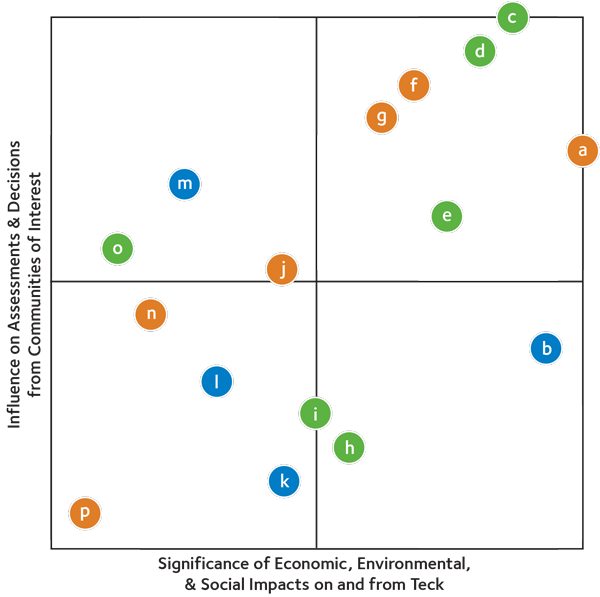 Economic (Blue dots)
b. Economic Performance and Contributions
l. Mine Closure
o. Business Ethics
k. Our Workforce
Social (Orange dots)
a. Health and Safety of Our Workforce
f. Relationships with Indigenous Peoples
j. Community Engagement
g. Emergency Preparedness
m. Human Rights
p. Product Impacts
Environmental (Green dots)
c. Water Management
d. Tailings and Mine Waste Management
e. Environmental Management
h. Air Quality
i. Energy and Climate Change
n. Biodiversity

Table 12: Boundaries of 2016 Material Topics
Material Topic

Issue Boundary (Internal/External)

*Where do impacts primarily originate from and who leads the management of the issue?

Stakeholders to Whom the Topic is Most Material

Where the Topic is Most Material

Economic Performance and Contributions

Internal/External

Shareholders
Local communities
Regulators
Society

All Teck sites
Contractor and supplier selection
Direct and indirect impact on communities

Mine Closure

Internal

Shareholders
Employees
Local communities
Contractors and suppliers
Regulators

Teck mature and end-of-life production and processing assets

Business Ethics

Internal/External

Shareholders
Employees
Local communities
Regulators
Government officials
Society

All Teck sites
Contractor selection/management

Our Workforce

Internal

Employees
Local communities

All Teck sites
Direct and indirect impact on communities

Health and Safety of our Workforce

Internal/External

Employees
Contractors
Regulators

All Teck assets (i.e., production, processing, project and exploration)
Contractor selection/management

Relationships with Indigenous Peoples

Internal/External

Indigenous Peoples
Regulators
Society

All Teck sites within or adjacent to Indigenous People's territories

Community Engagement

Internal/External

Shareholders
Employees
Contractors
Suppliers
Regulators
Society

All Teck sites
Contractor selection/management
Supplier selection

Emergency Preparedness

Internal

Employees
Shareholders
Contractors
Local communities
Regulators
Society

All Teck sites

Human Rights

Internal/External

Shareholders
Employees
Local communities
Regulators
Society
Contractors

All Teck sites
Contractor selection/management
Supplier selection

Product Impacts

Internal/External

Customers
Regulators
Society

Teck production and processing assets
Transport
Customers and end users

Water Management

Internal

Employees
Shareholders
Local communities
Regulators
Society

All Teck sites

Tailings and Mine Waste Management

Internal

Employees
Local communities
Regulators
Society

All Teck sites

Environmental Management

Internal/ External

Employees
Local communities
Regulators
Society

All Teck sites
Contractor selection/management
Supplier selection

Air Quality

Internal

Employees
Local communities
Regulators
Society

Teck production and processing assets

Energy and Climate Change

Internal/External

Shareholders
Local communities
Regulators
Society

Teck production and processing assets
Power providers
Service providers
Steelmaking coal customers

Biodiversity

Internal

Local communities
Society

All Teck sites