We procure goods and services that support large-scale mining and refining operations such as transportation, heavy equipment, large trucks, chemicals, fuel and lubricants, explosives, and a range of other products and services. For example, Canadian Pacific Railways, which provides rail shipping services for many of our Canadian-based operations, is Teck's largest supplier. Through responsible supply management, our objective is to ensure that we minimize our potential impacts on people and on the environment, and that we manage business and reputation risks. Our Supply Chain Risk Management Strategy integrates supply chain risks into our established risk management processes, which provide a framework for mitigating or avoiding sustainability risks in, and impacts on, our supply chain. As we operate in low-risk jurisdictions that have strong legal frameworks and high standards of performance, we expect and have a good level of assurance that our suppliers' and contractors' business conduct is aligned with robust environmental and labour legislation and regulation. In addition, we expect our suppliers and contractors to demonstrate strong practices in areas of Health, Safety, Environment and Community (HSEC).
Identifying HSEC Risks in the Supply Chain
Inbound supply chain risks are initially identified as part of the analysis and identification of critical suppliers by our Supply Management group. Outbound supply chain risks are identified by the transportation group as well as by the Materials Stewardship working group, which advises and develops active risk management processes to reduce the impacts of our products and to ensure products satisfy or exceed regulatory and societal needs. For example, as we are heavily reliant on third parties to transport our products, we conduct a risk-based screening of our transportation providers based on the volume and commodity transported. This screening enables us to select transportation providers who will handle our products safely and who share our commitment to safe and responsible supply chain management.
Communicating Expectations
We articulate our expectations for suppliers and contractors through our Expectations for Suppliers and Contractors, which includes our expectations that suppliers and service providers will address issues relating to ethics, health and safety, environmental stewardship, and human rights, including numerous labour law requirements. We have integrated the Expectations into our procurement and contract processes.
In 2016, we updated our Expectations to ensure they clearly reference our codes and policies related to sustainable development, namely our Code of Ethics, our Code of Sustainable Conduct and our HSEC Management Standards. The Expectations, previously called the Recommended Protocols for Suppliers and Service providers, are fundamental in how we award contracts at Teck.
Supplier and Contractor Qualifications
As part of the selection process for certain large contracts, formal tender Request for Information and Request for Proposal processes allow us to evaluate suppliers on their HSEC and labour policies and practices. We have an online qualification program for contractors and suppliers to ensure that our requirements such as HSEC, quality management, sustainability, and anti-corruption/bribery compliance have been communicated and that they meet our standards.
As a condition of doing business with us, each on-site supplier/contractor of a high-risk product must:
Register and maintain an online account in good standing with our supplier database
If determined to be necessary, register and maintain an account in good standing with our Anti-Corruption Compliance program
Comply with our policies, procedures and protocols communicated through our systems
Participate in mandatory site-specific orientation and induction training
Figure 6: Supplier Due Diligence Process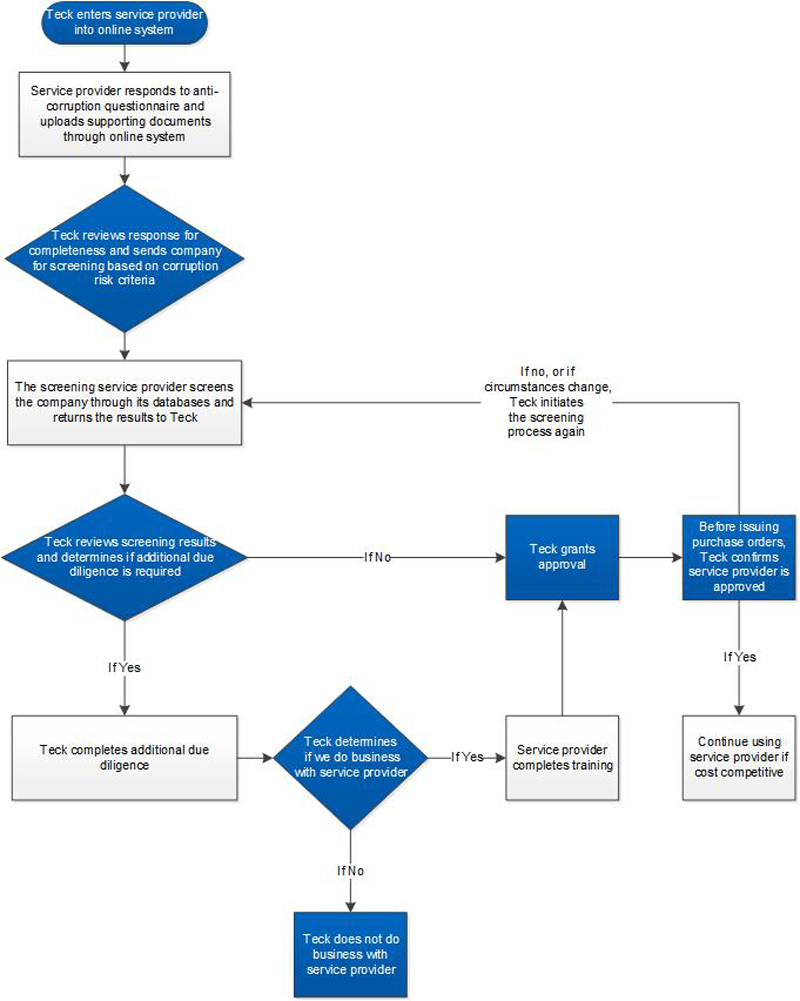 Supplier and Contractor Assessments
We select key suppliers to screen for HSEC risks based on a number of criteria, such as the type of product they supply, the supply spend, and the potential impacts of the activities they conduct. Suppliers are asked to self-assess their performance against the focus areas set out in our Expectations for Suppliers and Contractors. The objective of this evaluation is to help us understand each company's sustainability management, determine how it aligns with our guidelines and identify specific areas for improvement. Where a potential risk is identified, the process calls for gathering additional information on the supplier. This process may involve the use of third-party consultants to gather and review additional information. Our Supply Management Best Practices Implementation Manual supports supply management teams across our company. The implementation of best practices supports improvements with our suppliers and service providers toward achieving expectations for sustainability performance and responsible business practices.
On-Site Contractor Assessments
We maintain an online system for managing on-site contractors, through which we require contractors to complete a comprehensive questionnaire about their practices, including those related to anti-corruption and health and safety. In early 2017, the questionnaire was updated to include additional information about ethics, human rights, environmental management and other sustainability topics. Contractors also acknowledge our Expectations through the questionnaire.
Supply Chain and Human Rights
We expect our suppliers and business partners to share our commitment to policies and processes that support respect for human rights. We set out clear expectations with respect to the human rights performance of our suppliers and service providers in our Expectations for Suppliers and Contractors, which were established in 2012 and updated in 2016. In addition to addressing issues relating to ethics, health and safety, and environmental stewardship, the Expectations integrate stipulations regarding fair working conditions, non-discrimination and the abolition of child labour. As part of our commitment to fostering ethical practices in our supply chain, we are undertaking pilot activities to assess the compliance of our primary suppliers with the Expectations. We are conducting initial evaluations and, where we identify potential risks, we gather additional information on the supplier to support any subsequent management actions.
Evaluating the Environmental Management Practices of Our Suppliers
To strengthen the utility and impact of the Expectations, as well as inform the development of our Supply Chain Risk Management Strategy, in 2014 and 2015 we undertook additional engagement with a selection of our major suppliers through a pilot questionnaire to create greater mutual understanding of expectations, performance, and potential risks and impacts of our suppliers. In 2016, we expanded the questionnaire to 40 suppliers and service providers. Suppliers ranged in nature from small family-run businesses to railways and multinational organizations. No major issues were uncovered in our evaluation of supplier responses to the questionnaire. Where suppliers had questions, support was provided to them to assist in reporting. We will continue the assessments into 2017 and expand on the lessons learned from this process.