With strong sustainability governance, we manage social, economic and environmental risks and create value throughout the life cycle of our products. As part of our commitment to responsibility throughout the value chain, Teck works to understand a broad scope of issues — ranging from the origins of the goods that we buy to the ultimate post-sale impacts of our products — through integrated risk management. In Figure 1 below, we outline the inputs and outputs of the mining life cycle.
Figure 1: Inputs and Outputs of the Mining Life Cycle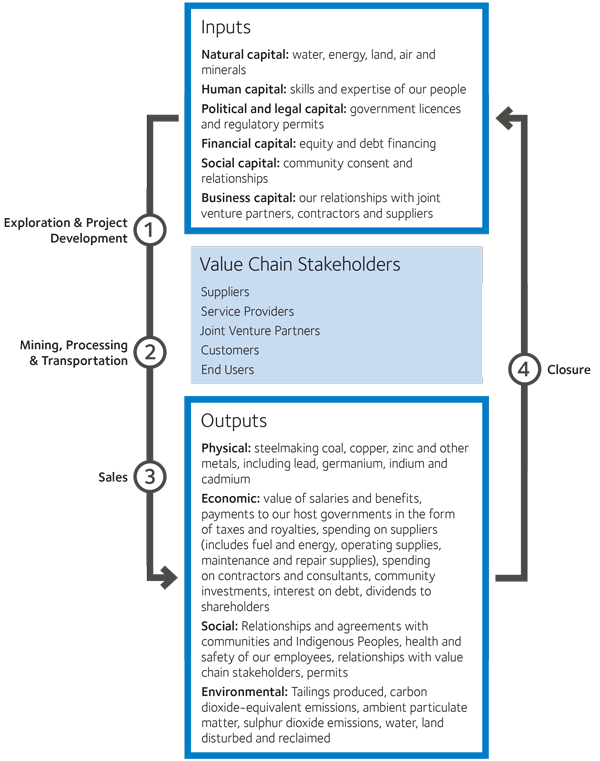 In Figure 2 we outline how we provide economic, social and environmental value for communities of interest (COIs), from exploration through to closure, through integrated risk management. Our COIs include investors, local communities in areas where we operate, Indigenous Peoples, employees, governments, contractors and suppliers. In order to provide value through the mining life cycle, we work to understand the actual and potential impacts of our activities on our COIs. Each of our exploration, development, operating sites and legacy sites possess unique characteristics that demand unique impact and risk assessment processes. These yield the nuanced knowledge necessary to manage sustainability-related risks and capitalize on opportunities to make a positive impact. With this knowledge in hand, we develop tailored management approaches that are based on established best practices and are informed by consultation with the affected COIs themselves.
Figure 2: Managing Risks and Creating Value throughout the Mining Life Cycle