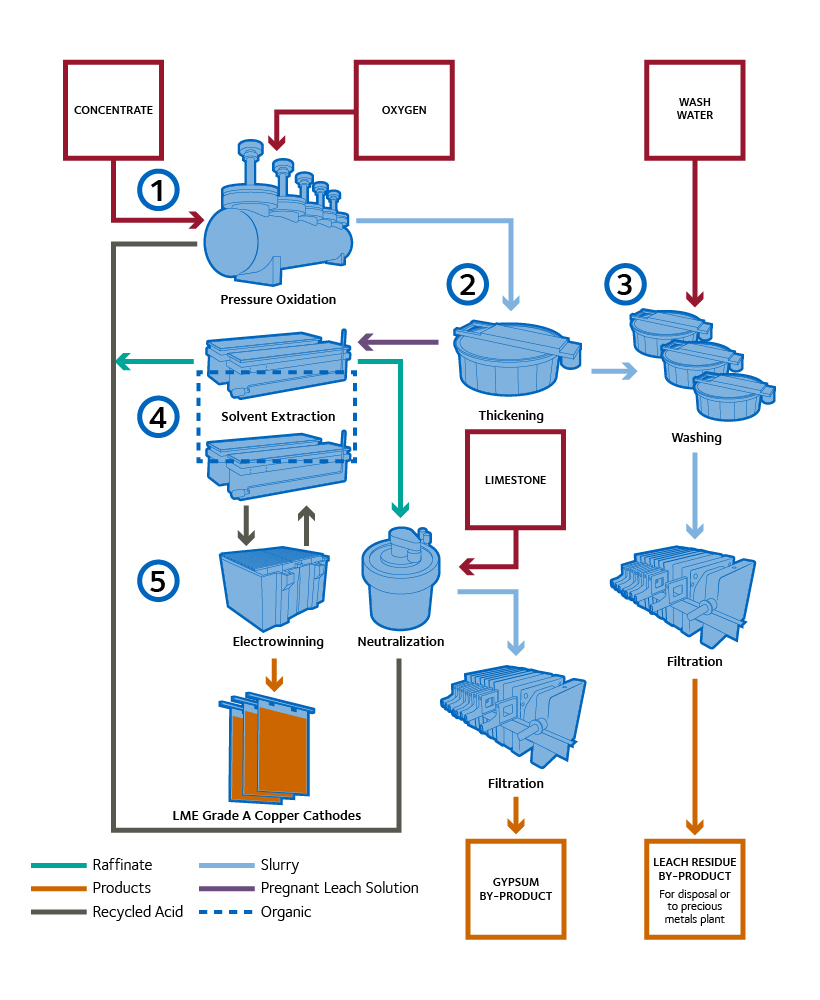 Pressure Oxidation: All copper minerals are oxidized into an acid-soluble solid (basic copper sulphate). Example: Oxidation of chalcopyrite (6CuFeS2 + 7.5O2 + 2H2SO4 + 2H2O -> 2[CuSO4▪2Cu(OH)2] + Fe2O3 + 12S°) The sulphur and the hematite (Fe2O3) solids do not leach or react in the subsequent stages of the CESL Process and are disposed of in their current forms as tails.
Thickening: Slurry from the autoclave is thickened to separate the solution containing the leached copper from the solids, and to increase efficiency of the downstream solids washing and filtration.
Washing and Filtration: A series of washing stages remove the dissolved copper from the solids in a counter-current fashion. The impure solution containing the copper is sent to the Solvent Extraction circuit. If precious metals are present, the copper-free solids are sent to the gold plant, otherwise they are disposed of.
Solvent Extraction: In Solvent Extraction, the copper solution is mixed with an organic liquid. The organic selectively removes copper ions from the solution in exchange for hydrogen ions. The two phases are then separated, leaving copper-rich organic solution, and an acidic low copper aqueous solution. The aqueous layer is used for more copper leaching, whereas the organic is sent to the stripping stage. The copper is then removed from the organic layer using a strongly acidic solution. The result is a very pure copper solution, suitable for electrowinning.
Electrowinning: During electrowinning an electrical current is passed through the copper rich solution causing the copper ions to plate onto stainless steel cathodes as LME Grade A pure metallic copper (>99.995%).
Neutralization: Any excess acid produced during the leaching process is removed from a portion of the raffinate coming from Solvent Extraction using limestone before the product solution is recycled back to the Pressure Oxidation circuit.