The Castle Project is a proposed project that will extend the lifespan of Teck's Fording River steelmaking coal mine and maintain jobs and economic activity generated by the operation in the Elk Valley.
The Castle Project will provide a new source of mineable steelmaking coal and is located immediately south of the current mining operations at Fording River. Within the next few years, less economically mineable coal will be available from current operating areas at Fording River. Over time, Teck anticipates that all steelmaking coal for Fording River would come from the Castle Project.
The extension of mining will allow for continued social and economic contributions to the local and regional economies, extending the life of Fording River by several decades.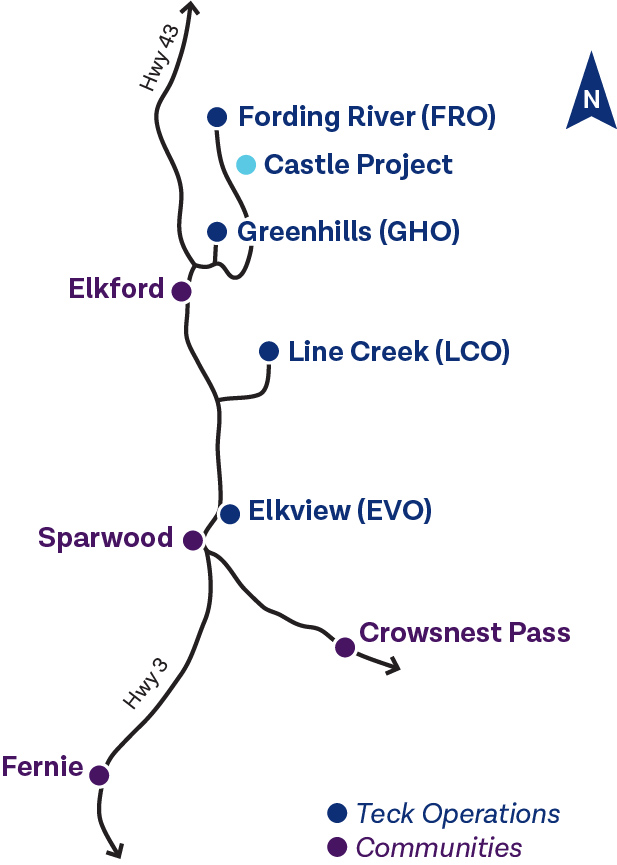 Project Location
The Castle Project is located adjacent and to the south of Teck's existing Fording River Operations. By making use of existing equipment and infrastructure at Fording River, the Project will minimize the footprint of the new activities.
Project Timeline
The Castle Project is currently in the design stage, during which time Teck is defining specific aspects of the Project using the feedback gathered from Indigenous Peoples, local communities and governments.
Regulatory Process
The Castle Project will require an environmental assessment, a process that provides a comprehensive evaluation of a range of potential effects, including positive effects, that may occur over the life of a proposed project, including environmental, economic, social, cultural, and health effects.
The British Columbia Environmental Assessment Office (BC EAO) oversees the environmental assessment process in British Columbia. In April 2020, Teck initiated the early engagement phase of the environmental assessment process with the submission of the Project's Initial Project Description and Early Engagement Plan to the BC EAO. During this phase, there is an opportunity for local communities, Indigenous Peoples, regulators, and others to learn about the Project, engage with Teck and the BC EAO, and help identify potential interests and concerns early on.