At Teck, we explore new and innovative ways to generate significant value and improve safety, sustainability and efficiency across everything we do. We are partnering to test antimicrobial copper coatings on high-touch surfaces on public transit vehicles in Metro Vancouver, B.C. The project is the first of its kind on a transit system in North America and the latest in Teck's ongoing efforts to promote the use of antimicrobial copper surfaces in healthcare and public spaces through our Copper & Health Program.
The pilot project is fully funded by Teck and is in partnership with TransLink, Vancouver Coastal Health, VGH & UBC Hospital Foundation, Coalition for Healthcare Acquired Infection Reduction ("CHAIR"), and the University of British Columbia. Various forms of copper protection were installed on frequently touched surfaces on two buses and two SkyTrain cars, and during the four-week pilot, the copper surfaces were swabbed twice a week to test for the presence of bacteria and viruses. The findings are now being assessed by the research team, with results expected in 2021. Beyond bacterial load, the study also assessed product durability and maintenance alongside customer trust and comfort.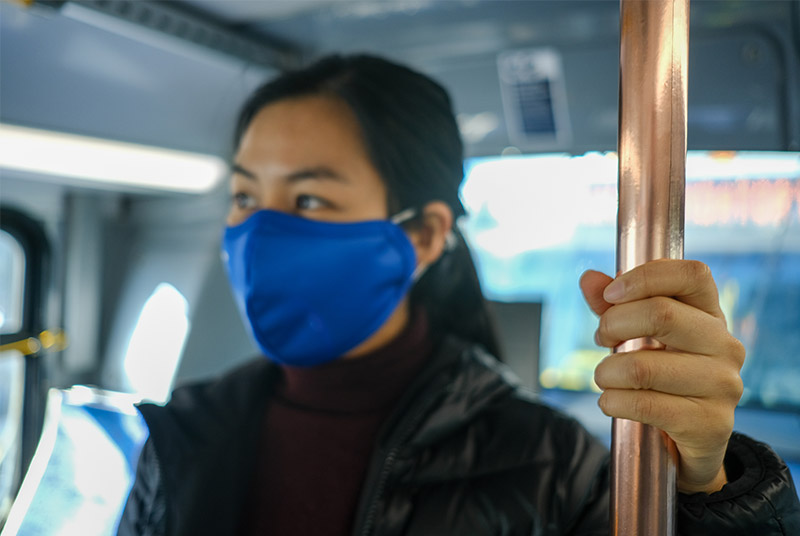 Antimicrobial copper coatings on high-touch transit surfaces are being piloted for their capacity to help reduce the spread of infection
"We are proud to be working with our partners on this important pilot project to expand the use of antimicrobial copper in high-traffic public areas and prevent infections," said Don Lindsay, President and CEO, Teck. "Through the Copper & Health program, Teck has been partnering with healthcare professionals, academia and others for years to help make communities safer. This pilot builds on those efforts at a critical time as the world works to prevent the spread of COVID-19."
"We're proud to be the first transit agency in North America to pilot this industry-leading technology and I look forward to working closely with our project partners. We've been carefully examining new ways to ensure transit is one of the safest public spaces throughout the pandemic. The risk of COVID-19 transmission on transit remains extremely low and this initiative will only bolster our comprehensive cleaning and disinfection protocols which are already in place. Any findings from this pilot project will be shared with our fellow transit agency colleagues and other industries which may be able to use this emerging technology," said Kevin Desmond, TransLink CEO
"This project builds on preceding research and will increase our understanding of the effectiveness of copper in killing organisms on frequently-touched surfaces. Positive findings will then be used to study the impact of copper on bacteria and viruses such as COVID-19 and norovirus," said Dr. Marthe Charles, Medical Microbiologist at Vancouver Coastal Health.
Many everyday objects are made from alloys, a substance made from blending two or more materials and a majority of which is a metal. Copper-containing alloy surfaces are naturally antimicrobial with self-sanitizing properties, with research showing that these surfaces eliminate up to 99.9% of harmful bacteria and viruses. Its efficacy has already been proven for use within healthcare spaces, with exciting potential now in public, high-traffic locations. See our case study on how Teck is Supporting Community Healthcare with Copper for more details.
By advocating for the use of copper to help protect our communities, we hope to encourage broader use of this science-based solution to keeping people safe and healthy while using public spaces and services in Canada.
Learn more about antimicrobial copper and our Copper & Health program at www.coppersaveslives.com.