This summer, the Twin Sisters Native Plants Nursery at Moberly Lake held a grand opening of their second greenhouse, celebrating the growth of a unique business that brings together environmental responsibility with economic opportunity. Members of the Saulteau and West Moberly First Nations came together to celebrate the expansion of the nursery, which grows native plant species for use in reclamation and restoration of mine sites.
Planting a Vision
In 2010, the West Moberly and Saulteau First Nations recognized British Columbia's need for a leader in native plant propagation and distribution in the province. For that reason, the two groups began working together to create an Indigenous-operated nursery. It was at this stage that Teck first got involved with the Twin Sisters Native Plants Nursery and stepped in as one of the primary funders of the nursery training program.
Preserving our Natural Habitat
As the only native plant nursery operating in northeast BC, Twin Sisters is focused on propagating Indigenous plants. Twin Sisters' work will help restore the natural habitat of the area and contribute to the success of wildlife conservation efforts in the region.
"Teck's aim at all of its reclamation sites is to leave the ecosystem and biodiversity of the mining area better off than before mining occurred," said Ray Proulx, Senior Coordinator Environment & Social Responsibility at Teck. "Supporting a nursery such as Twin Sisters not only guarantees the availability of native vegetation for replanting as part of our mine reclamation work, but also supports local Indigenous employment."
When the nursery opened in 2014, Teck's B.C. steelmaking coal operations were also one of the first customers. Teck purchased almost 20,000 tree seedlings to plant at our Quintette project's reclamation areas in northeast British Columbia.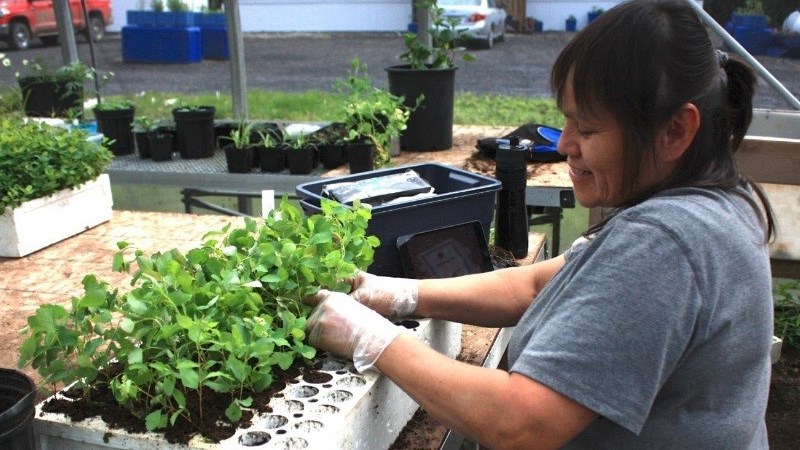 Seed Collection
Another important aspect of the nursery's work is in seed collection to preserve native plants in the area. Teck implements seed collection programs at some of their sites, such as Red Dog Operations, as a way to engage with the local economy and share in traditional Indigenous practices, while also playing a role in mine site reclamation. For Twin Sisters, Teck provided the framework and work plan for a seed collection program for the nursery to lead and implement.
Local Development
Twin Sisters continues to act as a training facility in an effort to support sustainable, full time employment opportunities for Indigenous Peoples. The nursery's success continues to expand, with about $460,000 in sales in their first year, a projected $1 million in sales for 2017, and now the opening of their second greenhouse. This year, Teck's Quintette project is again engaged with Twin Sisters on new propagation and seed collection projects for their legacy activities, which will continue over the next decade.
In October 2017, Twin Sisters Native Plans Nursery won the Aboriginal Business Partnership of the Year award at the B.C. Aboriginal Business Awards in Vancouver.