In Canada, about 30% of short- and long-term disability claims are linked to mental health issues.1 The COVID-19 pandemic has further impacted mental health globally,2 but also led to a reimagining of what future mental health care could look like.
Mental Health Awareness at Teck
At Teck, mental health is an important component of our health and safety vision of everyone going home safe and healthy every day. Our Employee and Family Assistance Program (EFAP) provides resources and support to help maintain good mental health. These resources include support for stress arising from grief and loss, crisis situations, relationship and family, workplace challenges and nutrition, as well as services for financial and legal advice.
Teck's Inspiring Wellness and Learning Programs Committee was originally established at Trail Operations in 2005. Since then, the programs have expanded to all our operations. In addition, various health and wellness initiatives, including mental health awareness training, health screening events and family programs have been implemented across Teck.
The Mental Health Awareness Crew Talks program at Trail Operations is one such program. This involved 45-minute face-to-face mental health awareness sessions that were delivered to over 1,000 employees over the course of 2016. In 2019, the program was supplemented by the Safe and Sound 2 program, which includes video testimonials and real-life stories from employees at Teck. These programs have now been expanded to other operations, including Elkview, Line Creek, Greenhills, Highland Valley Copper, Red Dog, Pend Oreille and Teck's Corporate Head Office. For supervisors, three-hour Safe and Sound 2 training sessions took place at Red Dog, which helped to train supervisors in having difficult conversations related to mental health among their employees. To supplement these programs, Teck has also produced a mental health awareness video that is now used in our company-wide Courageous Safety Leadership training program.
Teck is also currently in the process of developing a company-wide Mental Health Policy to further support our existing initiatives.
COVID-19 and Mental Health
In response to the mental health impacts of COVID-19, Teck has implemented new and expanded services to help support our people. This includes providing our employees and their families in Canada, the U.S. and Chile with access to telemedicine services via phone, video or mobile health app. Our Canadian employees also have access to the Best Doctors Mental Health Navigator, a virtual service that provides plan members with confidential and expert mental health guidance, and MindBeacon, a mental health service provider offering a full spectrum of digital mental health support, including face-to-face live therapy, therapist-guided programs, immediate crisis support and free resources. Employees can use these virtual health services to speak with, and seek advice from, clinicians, including psychologists and psychiatrists, about medical or mental health concerns.
Employees can access these resources via Teck's intranet, connect.teck, on the Information on COVID-19 page.
The global health crisis posed by COVID-19 is unlike anything previously faced by our employees, families, communities and company. Through this challenging time, Teck is committed to putting in place measures to support the mental and physical health of our workers and their families. We are also closely monitoring and following guidance from public health agencies and government.
Learn more about our approach to Our People and Our Response to COVID-19.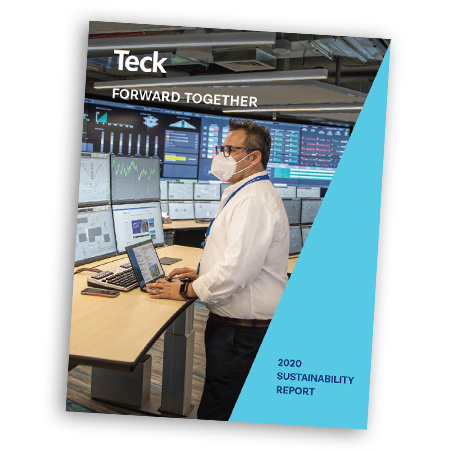 This case study was first published in Teck's 2020 Sustainability Report released in March 2021. Teck's 2020 Sustainability Report marks our 20th year of annual reporting on the topics that are most material to our stakeholders and to our business.

For the complete report and more stories on sustainability in action at Teck, visit teck.com/responsibility.