A look at how we are implementing our strategy in three of our strategic themes: Water, Communities and Indigenous Peoples, and Climate Change.
Water: Building the First Large-Scale Desalination Plant for Mining in Chile's Tarapacá Region
Chile's Tarapacá Region is one of the driest places on earth, making water scarcity a growing challenge that impacts the well-being of the area's people, ecosystems and local economies. The Quebrada Blanca Phase 2 (QB2) desalination plant will be the first large-scale facility of its kind for mining in the area, the second largest desalination plant in Chile, and key to protecting freshwater resources in the region.
"Using desalinated seawater will have many positive benefits for the region and for mining. It's just one way we are meeting our commitment to reduce freshwater use in water-stressed regions and preserving this essential resource for others."
– Francisco Raynaud, Port Manager, Quebrada Blanca Phase 2
How the desalination plant works
Seawater will be drawn into the plant and desalinated, then pumped by five booster stations up 4,300 metres to the QB2 concentrator plant, where it will be used for processing ore in place of freshwater.
Suction pipes used to collect seawater are almost a metre in diameter. These pipes, which are located nearly 250 metres from shore at a depth of 30 metres, are designed to ensure full compliance with coastal protection requirements.
The concentrated saltwater from the desalination process is discharged safely back into the Pacific Ocean at a depth of 40 metres and 750 metres from shore to ensure adequate protection of the ocean ecosystem.
When operating at full capacity, the plant will produce about 1,300 litres of desalinated water per second.
Progress on construction
Construction of the plant foundation started in August 2019 at the QB2 port area, with approximately 1,200 workers involved. After a brief work suspension due to COVID-19, work has resumed, with nearly 1,500 workers on site at the port area and desalination plant.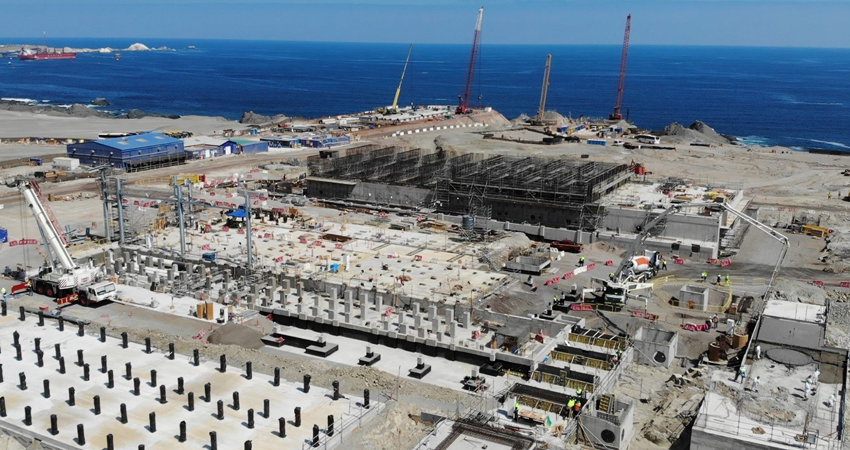 Communities and Indigenous Peoples: A Shared Path Forward for Teck and the Ktunaxa Nation
At Teck, we are committed to building strong relationships with Indigenous Peoples to help us understand our respective priorities and perspectives, and to ultimately create lasting, mutual benefits. These relationships are a critical component of our commitment to sustainable resource development and advancing the journey to reconciliation.
Impact Management and Benefits Agreement
The Impact Management and Benefits Agreement (IMBA) signed jointly by Teck and the Ktunaxa Nation in 2016 formalized this important relationship and set out mutually agreeable commitments and obligations for continued sustainable mining in the Elk Valley.
In addition to providing certainty for Teck and the Ktunaxa Nation, the IMBA also supports our sustainability goals under the strategic themes of Communities and Indigenous Peoples, Water and Biodiversity.
The IMBA framework covers four key topics:
Consultation and engagement

Environment and land stewardship

Cultural resource management

Employment and business opportunities for Ktunaxa citizens
To oversee the IMBA's implementation, four working groups were established with equal representation from both the Ktunaxa and Teck:
Cultural Working Group (CWG)

Employment Task Group (ETG)

Environmental Working Group (EWG)

Procurement Task Group (PTG)
Recently, the working groups completed a four-year progress review of the IMBA in the form of an annual implementation report, with each working group providing an update on key initiatives.
Cultural Working Group
Objective: To broaden cultural understanding through education and integration.
Initiatives undertaken in support of the CWG's objective included tours that helped familiarize Ktunaxa citizens with Teck's mining operations and reclamation work; providing leadership to the Ktunaxa Culture Camp and assistance to the implementation of the Wild Foods Program; and offering development training and skills building in the area of conflict resolution. The CWG also increased its engagement with other IMBA working and task groups, particularly the EWG, and welcomed new members to the Cultural Working Group through efforts to grow its membership.
Employment Task Group
Objective: To support lifelong learning, provide employment support, and build relationships and linkages with Ktunaxa citizens.
To help meet the group's objective, the ETG advanced the restoration of the Yaqan Nukiy cenotaph, which pays tribute to Yaqan Nukiy veterans, through funding secured from Teck. Other initiatives included capacity development support to the language teachers at both the ʔaq̓am and Yaqan Nukiy schools, the development of an award of excellence program that recognizes outstanding contributions by local Ktunaxa citizens, and sponsorship of a hunting event for the yaqit ʔaqnuqⱡiit community.
Environmental Working Group
Objective: To focus on environmental issues in Qukin ʔamakʔis and continue engagement on projects related to environmental mitigation and mine development.
To meet these objectives, in 2020, the EWG facilitated several targeted workshops on topics related to the Upper Fording River, the Goddard Marsh Water Diversion and Cedar North projects, the Castle Project, and the Cougar Pit Extension Project. Review of new water treatment technologies was also undertaken by the EWG with support from Teck.
Additionally, the EWG has been focused on process improvement recommendations, including those related to the permit classification process, EWG indicators, the process for developing enforceable conditions and covenants related to major applications, and the development of a process to review regulatory plans.
Procurement Task Group
Objectives: To maximize direct award opportunities, to identify opportunities for Ktunaxa-owned businesses in capital projects, and to annually evaluate and support sustainable communications.
The PTG has undertaken a wide range of initiatives to meet these objectives. In 2020, these included the coordination of several mine tours to help familiarize Ktunaxa business owners with Teck's operations, hosting a networking event that brought together Ktunaxa businesses and helped establish new contacts within the community, and supporting the deployment of the Ktunaxa business directory.
In addition, the work of the PTG supported an increase in Ktunaxa business spend to approximately $7 million for 2019, building on increases over the last ten years.
Moving Forward Together
Teck's long-standing relationship with the Ktunaxa is one of many important relationships we have with Indigenous communities, and we are proud to have signed 14 new agreements in 2019, bringing the total number of agreements to 75.
By continuing to build on the success of the IMBA, our relationship with the Ktunaxa and other Indigenous communities will continue to flourish. Working together, we can continue to build strong and lasting relationships that will create a prosperous and sustainable future for all.


Climate Change: Decarbonizing our Operations in Chile with Renewable Energy
Reducing emissions at our operations requires that we shift away from higher carbon sources of power. At our Chilean operations, where the majority of electricity was traditionally generated by conventional sources like coal and natural gas, increasing our use of renewable energy brings opportunities to greatly reduce greenhouse gas (GHG) emissions while creating potential for long-term savings on energy costs.
As part of our new sustainability strategy, we have set ambitious goals for our Chilean operations: procuring 50% of our electricity from clean energy by 2025, and 100% by 2030. These and other goals act as short-term milestones towards our long-term aspiration of becoming carbon neutral across operations by 2050.
"Setting new climate and energy targets not only helps us further reduce emissions – it can also help us find economical long-term energy supply options at our operations."

– Marcos Cid, Manager, Energy, Teck Chile
Meet Marcos Cid and hear more about why he's so passionate about climate action.
Restructured and New Power Agreements
In February 2020, our Quebrada Blanca Phase 2 (QB2) project restructured part of its power agreement with AES Gener to increase the project's use of renewable energy to 118 megawatts (MW) starting as early as 2022. Once effective, more than 50% of QB2's total operating power needs will be from renewable sources, including wind, solar and hydroelectric energy.
The switch to renewable power displaces previous fossil fuel power sourced for QB2 and will eliminate approximately 800,000 tonnes of GHG emissions annually – the equivalent of taking 170,000 combustion engine cars off the road. This is equal to permanently parking more than half of all cars in the city of Vancouver or all of the cars in the Tarapacá Region of Chile, where QB2 is located.
And, in September 2020, Carmen de Andacollo (CDA) entered into a long-term power purchase agreement with AES Gener to provide 100% renewable power for the operation. Under the agreement, CDA will source 72 MW (550 gigawatt hours/year) from AES Gener's growing renewable portfolio of wind, solar and hydroelectric energy. The transition to renewable power will replace previous fossil fuel power sources and eliminate approximately 200,000 tonnes of GHG emissions annually, which is equivalent to removing more than 40,000 passenger vehicles from the road.
The switch to renewable power for QB2 and CDA provides reliable, long-term power at reduced cost while helping to shrink our environmental footprint. These agreements also build on Teck's existing track record of utilizing low-carbon power sources. In 2019, 82% of all Teck's electricity consumption was from renewable power sources.
Copper Critical to Low Carbon Economy
In addition to increasing our use of renewable power, Teck is also focused on growing our production of copper, a material critical to the low carbon economy. For example, renewable energy systems such as solar can require 10 times more copper than traditional energy systems, and zero-emission electric vehicles need up to four times as much copper as an internal combustion vehicle.
"Securing zero-carbon, renewable power for our operations in Chile is part of Teck's commitment to environmental responsibility in every aspect of our business," says Alejandro Vásquez, Vice President, South America. "QB2 will be a major producer of copper, a critical material for building the low-carbon economy."
Commitment Recognized
Efforts to reduce carbon at our existing Chilean operations have not gone unnoticed. In 2019, CDA was awarded with the Chilean Ministry of Energy's Energy Efficiency Silver Seal. This award recognizes years of commitment from CDA staff to improve electricity and fuel efficiency at the operation, and to reduce emissions and costs without compromising production.
Realizing Opportunities
"By transitioning to renewable energy, Teck's Chilean operations can realize opportunities to reduce emissions, save on energy costs and support the broader shift to renewable energy sources in Chile as the country works towards its own decarbonization goals," says Chris Adachi, Manager, Sustainability and Climate Change.