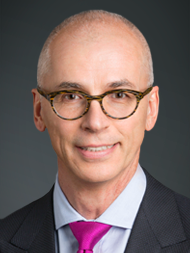 Réal Foley
Senior Vice President, Marketing and Logistics
Réal Foley was appointed Senior Vice President, Marketing and Logistics for Teck in October 2019. He has more than 30 years of marketing and logistics experience in the mining industry. He joined Teck in 2008 as Vice President, Marketing, Coal and was appointed Vice President, Marketing with responsibility for Coal and Base Metals in 2018.
Prior to joining Teck, Mr. Foley worked with BHP Billiton Marketing Asia while living in Singapore. He was responsible for the global marketing of BHP Billiton's manganese ore and marketed BHP Billiton / Mitsubishi Alliance's metallurgical coal. Prior to that, he was Director, Marketing for Fording Coal Limited and Senior Manager, Marketing for Canadian Pacific Railway.
Mr. Foley holds a Bachelor of Commerce from the University of Montréal and a Master of Business Administration, jointly from the University of Montréal and Simon Fraser University.
---