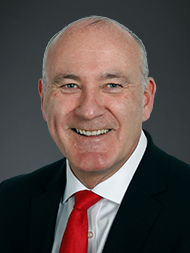 Kieron McFadyen
Senior Vice President, Energy
Kieron McFadyen joined Teck as Senior Vice President, Energy in March 2018. In his new role, he will provide leadership and direction to Teck's energy business unit to achieve the company's short-, medium- and longer-term business objectives for its oil sands assets. He will also develop and implement overall business and growth strategies for Energy consistent with the company's overall strategy.
Mr. McFadyen brings to the role a strong technical background with more than 30 years of operational and commercial experience, particularly within large-scale, multi-functional energy assets. Prior to joining Teck, he held numerous senior-level positions within the energy industry, including Executive Vice President and President, Upstream Oil and Gas with Cenovus Energy and Group Vice President, Non-Operated Ventures with Royal Dutch Shell plc.
Mr. McFadyen holds a Bachelor of Science degree in Mechanical Engineering from the University of Glasgow in Scotland.
---